Davis delivers winning blast for Orioles in 10th
Cruz belts 29th homer as Gausman duels with Felix for 6 2/3 innings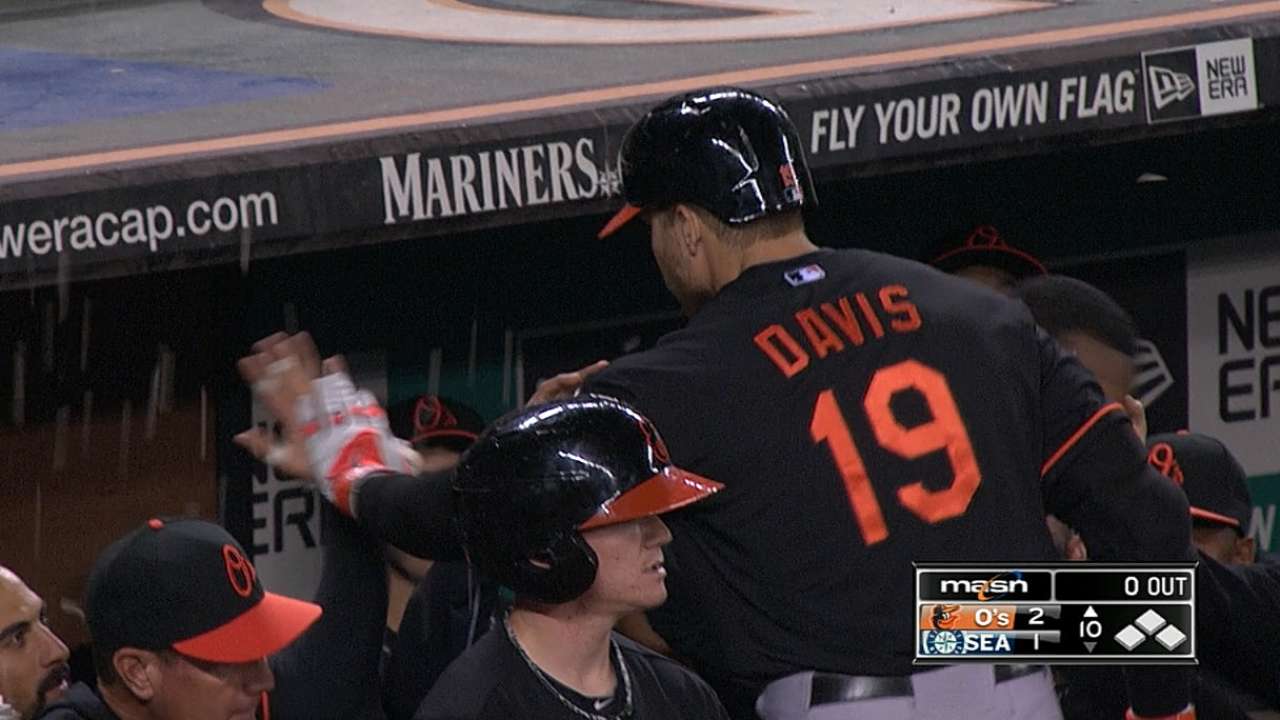 SEATTLE -- The Orioles are quickly making the West Coast the best coast.
Despite a brutal three-city road trip out of the All-Star break -- against three clubs that ended the first half all with a better record than Baltimore -- the first-place O's have shown no signs of slowing down. If anything, the Orioles are cranking it up, especially in extra innings.
Led by Chris Davis' decisive 10th-inning homer, the Orioles -- who continue to get impressive pitching performances on a nightly basis -- broke through to capture their fourth win in five games with a 2-1 victory over Seattle on Friday night to keep their American League East lead at three.
The win, their fifth consecutive in extra-inning contests, guarantees the Orioles (57-45) will at least finish .500 on the tough 10-game trip with two games to play.
"It's been a good stretch for us," manager Buck Showalter said of his rotation, which has pitched to a 1.26 ERA in the last five games, all of which have been quality starts. "Something that we needed. It's not something you call a meeting and challenge everybody with, it falls under the obvious. They know what's at stake."
Baltimore, which saw Nelson Cruz connect for his 29th homer, has won 16 of its last 23 road games and did so Friday in impressive fashion, as Orioles starter Kevin Gausman went toe-to-toe with former AL Cy Young Award winner -- and this year's All Star starter -- Felix Hernandez.
Hernandez, who held the Orioles to one run over seven innings, tied Tom Seaver's Major League record and became just the second pitcher since 1900 to go 13 consecutive starts of at least seven innings and allow two or fewer runs.
"I think any time you face a guy like that, everybody knows about it," said Gausman, who was still at Louisiana State University the last time Hernandez faced the O's. "He just went 13 straight [quality starts] or something like that. That's pretty ridiculous. I definitely knew I was going to have my 'A' game tonight, and as the game got on I just tried to stay locked in. When we got that home run [from Cruz] it was almost a sigh of relief. It was like, 'OK, we got one and that might be all we get.' You got to try to pick up your stuff there."
Gausman did exactly that. Showcasing a fastball that topped out at 97mph, the righty allowed one run in 6 2/3 innings. The 23-year-old, who turned in his second-longest outing this season, scattered seven hits and three walks -- navigating out of several jams in the 103-pitch no-decision.
"I don't think you ever go into it trying to match him. You are just trying to keep the scoreboard close to what he's doing," Showalter said of Hernandez, who is 7-1 with a 1.36 ERA over his last 13 games. "He's special. Everybody in Seattle knows that. Very few pitchers you will see that have that good of hand and can manipulate the ball and do so many things with it. He almost invents pitches out there."
Davis ensured the Orioles' effort wouldn't be wasted, driving reliever Charlie Furbush's 1-2 pitch into right field for a leadoff 10th-inning homer. The blast, the second of the road trip for Davis, was another key hit for the slugger, who has managed to help the O's in key spots despite a down year at the plate.
"Chris doesn't let things snowball mentally," Showalter said of Davis, who had 53 homers in 2013. "You know it's so frustrating -- can you imagine doing what he did last year knowing you are capable of that? And going through some of the challenges. But he's had some really big hits for us this year. Tonight was a good example of that."
Davis was involved in another key play in the bottom of the 10th, as closer Zach Britton fielded Robinson Cano's comebacker, turned and fired high to first. Davis corralled it, although Cano was originally called safe, but after a review, the call was overturned to end the game.
Britton picked up his 19th save in 22 opportunities when the call was made, with Darren O'Day picking up a pair of strikeouts and lefty Brian Matusz getting a big five outs, including three strikeouts, after Gausman.
Cruz put a hurting on a rare mistake pitch from Hernandez, getting the Orioles on the board in the second inning.
"That was a rocket," Hernandez said of Cruz's ball, which gave him a sixth consecutive season of at least 20 homer and 75 RBIs. "Unbelievable. I thought that ball was going to hit the wall. I didn't get angry. It was just a mistake. After that, I just tried to throw good pitches."
Hernandez retired 11 straight -- 16 of his final 18 -- after Caleb Joseph's third-inning double.
"Felix was locating every pitch, and at times it felt like he was just kind of playing around out there," Davis said. "That's how he's been all year. He's at the top of his game right now. There's, in my mind, not a better pitcher, in the league at this point. And you know you have a tough task when you go up against him."
After Hernandez navigated around Nick Markakis' one-out double, the Mariners evened the score in the bottom of the sixth inning to mark the first run off an Orioles starter in 18 innings. Cano tripled to the right-field corner, on a ball that hit off the hustling Markakis' glove, and Kendrys Morales -- in his first game since being traded to the Mariners -- drove him in with a sacrifice fly.
Gausman, who stranded runners at third in the third and fourth, got a lift from his defense in the fifth inning. After Brad Miller walked and was hit by Endy Chavez's single for the second out, Gausman gave up a left-field single to James Jones with outfielder Steve Pearce coming up firing to nab Chavez at home plate. Gausman exited in favor of Matusz after striking out Chavez for the second out of the seventh inning, with Hernandez recording one more out.
"I'm a fan of pitchers and good pitchers and he's probably the best in baseball right now," Gausman said. "The last couple years he's been pretty unbelievable, so I definitely knew I was going to have to have my 'A' game. But I think it's definitely exciting [to go against him] and makes it a lot more fun for us."
Brittany Ghiroli is a reporter for MLB.com. Read her blog, Britt's Bird Watch, and follow her on Facebook and Twitter @britt_ghiroli. This story was not subject to the approval of Major League Baseball or its clubs.