Historic start for Felix doesn't end in Mariners win
Ace extends record-setting run, but Davis lifts O's with homer in 10th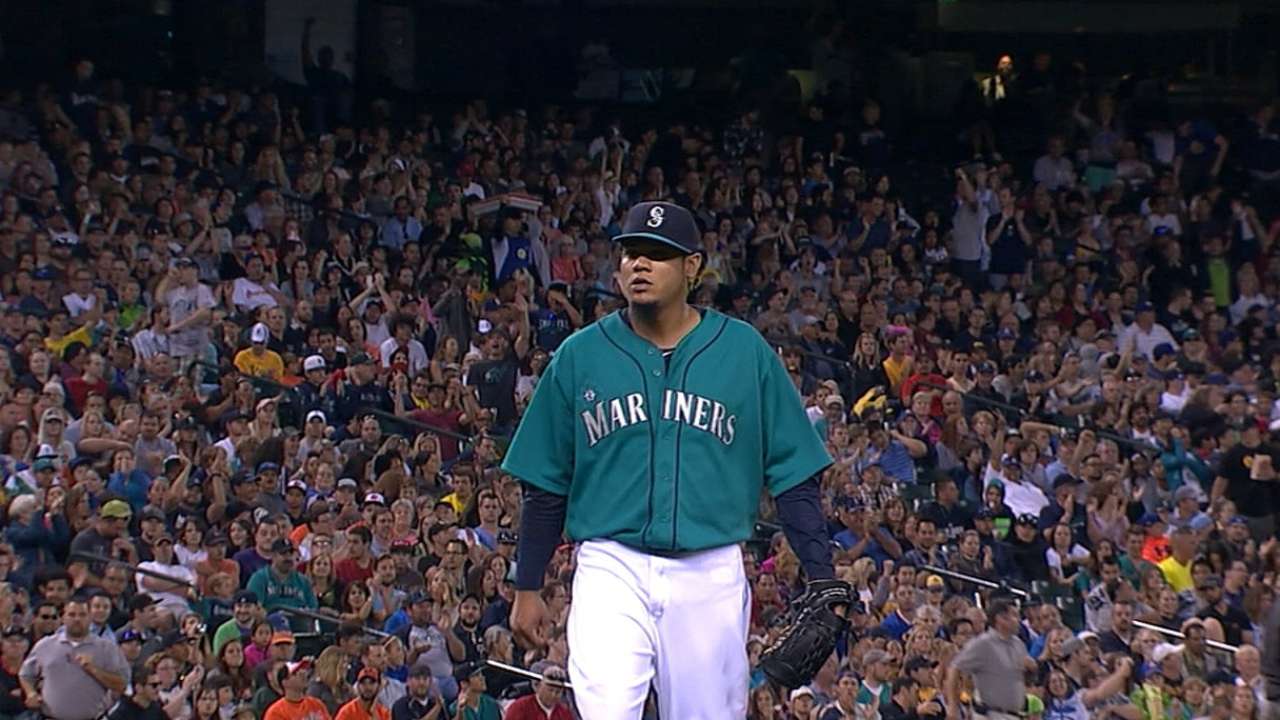 SEATTLE -- Felix Hernandez put his name alongside Tom Seaver in the Major League record books Friday with another pitching gem, but the Mariners' ace was more concerned about not having a win to go along with it.
Despite seven innings of one-run ball from Hernandez, Seattle endured its fourth straight setback when the Orioles rallied in the 10th inning for a 2-1 victory that continued a troubling trend for a Mariners club that has now fallen out of position for the final American League Wild Card slot.
The Mariners have scored two or fewer runs in 12 of their last 18 games and are 1-11 in those contests. They've lost 10 of their last 14 overall to fall to 53-50.
Hernandez settled for another no-decision, but he recorded his 13th straight start of seven or more innings while allowing two or fewer runs, breaking the American League record of 12, previously held by Hall of Famer Chief Bender of the Philadelphia A's in 1907, and tying the Major League record set by another Hall of Famer, the Mets' Seaver in 1971.
"It doesn't matter, because we lost," Hernandez said. "It's all about the team. It's about winning. … It means a lot for myself, but I don't care about myself. I just care about the team."
Hernandez allowed one run on five hits over seven innings, with 10 strikeouts and no walks, before turning the game over to the bullpen with a 1-1 tie.
The no-decision left Hernandez's record at 11-2, while he lowered his AL-leading ERA to 1.99. Over his last 13 starts, the five-time All-Star is 7-1 with a 1.36 ERA, but he has no-decisions in three of his last four outings despite allowing just three earned runs in those three games.
It was Hernandez's 35th career no-decision when he allowed one or no runs and the 29th time he's received a no-decision when allowing one or no runs in a start of seven or more innings. Since Hernandez debuted in the Majors in 2005, the second-most no-decisions with seven-plus innings and one or no runs is the Giants' Matt Cain with 18.
But the five-time All-Star refuses to get caught up in any woe-is-me games. Hernandez came into Friday's contest with the highest run support of any Mariners starter this season at five runs per game and he said there's no panic over the recent offensive downturn.
"It's going to come," Hernandez said. "We always talk, me and Robbie [Cano] and all those guys talk. It's going to come. We have a lot of talent in here and these guys are going to hit."
The AL East-leading Orioles improved to 57-45 with the win and knew they'd earned this one.
"I don't think you ever go into it trying to match him. You are just trying to keep the scoreboard close to what he's doing," Baltimore manager Buck Showalter said. "He's special. Everybody in Seattle knows that. Very few pitchers you will see that have that good of hand and can manipulate the ball and do so many things with it. He almost invents pitches out there. What people miss, he's got such a great feel for pitching."
After giving up a second-inning home run to Nelson Cruz, Hernandez trailed, 1-0, until the Mariners finally ended a string of 15 scoreless innings when Cano tripled in the sixth and scored on a sacrifice fly to right by Kendrys Morales, playing his first game since being acquired from the Twins on Thursday.
Cruz scorched a first-pitch fastball over the left-field fence on a line drive leading off the second, just the sixth home run Hernandez has given up in 22 starts this season.
"That was a fastball away that just ran into his bat. I think if [third baseman Kyle] Seager had jumped, he'd have caught it," Hernandez said with a wry smile. "That was a rocket."
Cruz, who signed a one-year deal with the Orioles after eight seasons with Texas, is one behind White Sox rookie Jose Abreu for the league lead in home runs with 29 and has 75 RBIs. Cruz has five career home runs off Hernandez in 62 at-bats.
The Orioles, who are tied with the Blue Jays for the most home runs in the AL with 125, won it with Davis' blast off Charlie Furbush on a 1-2 slider leading off the 10th.
"It was up in the zone and he hit it out of the park," Furbush said. "It was the pitch I wanted to throw, I just left it up."
The Mariners struggled to come up with timely hits once again, stranding runners at third in the first, third and fourth innings and going 1-for-10 with runners in scoring position for the game.
When they did bunch some hits in the fifth, they got nothing out of it in a strange run of events. Brad Miller walked with one out and Endy Chavez followed with a sharp single to the right side, but Miller was out on that play when the ball glanced off his foot as he tried to leap over it while running to second.
After Chavez stole second, James Jones singled to left, but Chavez was easily thrown out at home when he was sent by third-base coach Rich Donnelly.
Cano opened the next inning with a leadoff triple and scored on Morales' fly ball to right fielder Nick Markakis, with Cano slapping the plate as he slid home around the tag of catcher Caleb Joseph.
The game ended on an overturned call. After recording the first two outs of the inning, Orioles closer Zach Britton fielded Cano's comebacker, turned and fired high. Davis corralled it, although Cano was originally called safe. After a review, the call was overturned to end the game.
Greg Johns is a reporter for MLB.com. Follow him on Twitter @GregJohnsMLB as well as his Mariners Musings blog. This story was not subject to the approval of Major League Baseball or its clubs.