Rockies break out seven-run frame to top Bucs
Anderson spins great outing, but forced to leave early with injury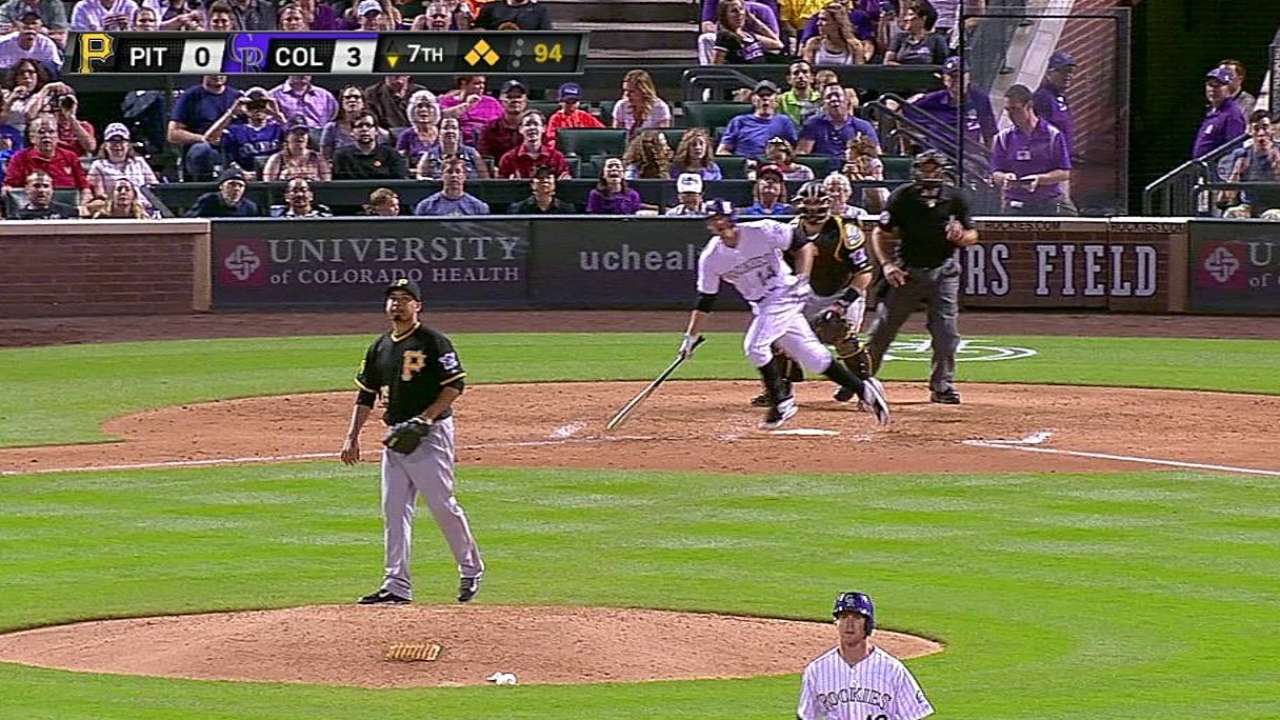 DENVER -- Just when they seemed headed for another shake-your-head loss on Friday night, the Rockies put up seven runs -- three on a Josh Rutledge double, two on a Carlos Gonzalez homer -- in the seventh inning of an 8-1 victory over the Pirates at Coors Field in front of 38,487.
The Rockies led narrowly for six innings, but remember, they were swept three games by the Pirates at PNC Park last weekend in games they led by narrow margins until the late innings. The game had the hallmarks of a story that started so good, but ended so bad.
Rockies manager Walt Weiss issued a punitive benching to third baseman Nolan Arenado for not immediately running out a grounder to the box that the pitcher didn't handle cleanly. Then, starting pitcher Brett Anderson, who didn't yield a hit until the fifth and was rolling along, left with a blister on his pitching hand after issuing a walk with one out in the seventh.
But this time the Rockies flipped the script.
Anderson, who gave up two hits in 6 1/3 mostly-dominant innings, ended up with his first win in Purple Pinstripes. The sizzling Rutledge drove in four runs with two doubles, and has been hot since regular shortstop Troy Tulowitzki sustained a left hip flexor strain. Gonzalez, who had struggled since returning from surgery to remove a benign tumor from his left index finger, responded to being placed in the cleanup spot with his 10th homer of the season.
The Rockies have won consecutive games for just the second time since the middle of June. For a club that felt it could be a surprise contender before it was zapped by a rash of injuries, it was both a stinging reminder of what might've been and a reason to hope.
"It's hard to compete when you have your best players on the DL -- I spent a lot of time on the DL," Gonzalez said. "I haven't been myself. But this is baseball. Sometimes baseball will kick your butt, but you've got to stay focused, keep grinding and believe in yourself."
Rutledge is fast regaining his belief in himself, and being at his normal position could be part of it. He is 10-for-21 with four doubles, a triple and a homer since Tulowitzki's injury forced him into action.
It's shades of 2012, when Rutledge made 73 appearances at short with Tulowitzki out with a right groin injury and hit .274 with eight home runs and 37 RBIs. Rutledge began last year starting at second base, but soon found himself in Triple-A and finished the year at .235.
While Rutledge has learned to handle utility duty -- he's hitting .308 this season after spending time in Triple-A -- it seems everything comes together when he's at short.
"I'll always probably feel more natural over there -- I've been playing that position my whole life," Rutledge said. "It's definitely an adjustment going from one to the other. But once you get time at one position, you start feeling more comfortable, no matter what position it is."
Anderson held the Pirates to one run in seven innings Saturday at PNC Park and left with the lead, but the Rockies fell in 11 innings, 3-2. This time the club upheld his lead.
Anderson didn't give up a hit until the fifth, and was the reason the Rockies led, 1-0, while he was in the game. The seventh-inning rally assured him of his first win since last April 7 for the Athletics, before injuries marred his season. The Rockies believe Anderson can be a rotation leader, and Friday supported that belief.
"Whenever we play ballgames like this, you can see the positive things and how we started the season," Anderson said. "The season's not over by any stretch of the imagination. We can try to get on a roll here."
Righty reliever Tommy Kahnle replaced Anderson in the top of the seventh, forced a Jordy Mercer fly ball and struck out Pedro Alvarez to preserve a 1-0 lead.
In the bottom of the seventh, Ben Paulsen and Wilin Rosario doubled off Pirates starter Charlie Morton, with the latter hit driving in a run. DJ LeMahieu, who had tripled and scored in the third, chased Morton with a single.
Drew Stubbs and Charlie Blackmon singled off Pirates reliever Ernesto Frieri to load the bases for Rutledge, whose second double of the game cleared the bases and upped his RBI total to four.
Weiss placed Gonzalez in the cleanup spot Friday even though he entered 7-for-32 (.219) in his first eight games after returning from surgery to remove a benign tumor from his left index finger. Gonzalez was hitless in his first three at-bats Friday, but launched Frieri's 1-1 slider into the right-field bullpen for his 10th home run of the season for an 8-0 lead.
The Pirates scored their lone run in the ninth off struggling righty Matt Belisle, who has given up 16 hits, nine earned runs and five walks in his last seven innings.
Thomas Harding is a reporter for MLB.com. Read his blog, Hardball in the Rockies, and follow him on Twitter @harding_at_mlb. This story was not subject to the approval of Major League Baseball or its clubs.