Abreu's MLB-best 30th HR leads White Sox
Rookie slugger hits three-run blast in first; Viciedo has four hits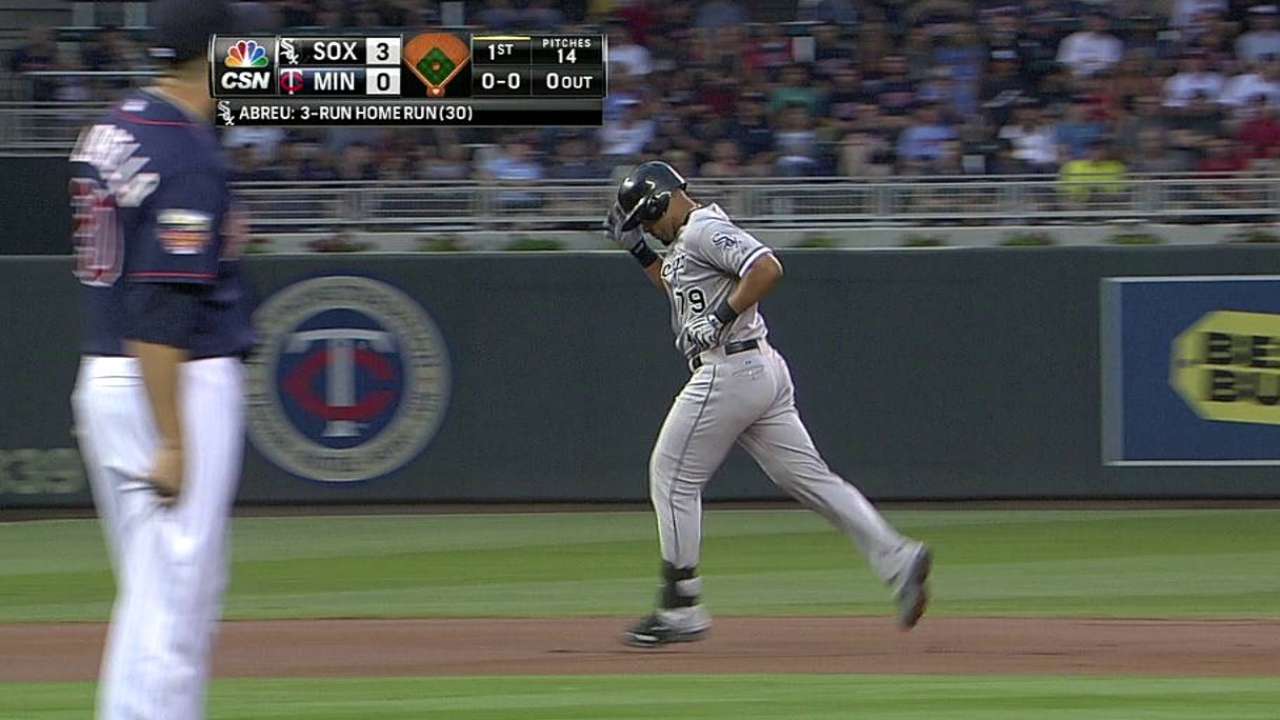 MINNEAPOLIS -- For the second straight night, the White Sox followed a winning formula perfectly, and for the second straight night they looked like more than also-rans in the American League Central.
John Danks worked seven strong innings, Dayan Viciedo had four hits and Jose Abreu hit his Major League-leading 30th home run Friday night as the White Sox beat the Minnesota Twins, 9-5, at Target Field.
Alexei Ramirez and Tyler Flowers also homered, part of a 17-hit attack for the White Sox, who have won the first two games in the series with ace Chris Sale set to start on Saturday night.
Danks was coming off his shortest start of the season, lasting just 4 1/3 innings against the Astros on Sunday. But he bounced back strong, at one point retiring 12 straight Twins in the middle innings.
"I did put a little extra pressure on myself this time, coming off that one," Danks said. "I didn't want that to turn my season around. I didn't think it would, but I certainly wanted to get back out there."
On Friday, Danks gave up four earned runs on six hits, walking nobody and striking out five to reach nine wins for the first time since 2010. But instead of focusing on the past, or worrying about trade rumors of the present, he's happy to look to the future.
"We don't want to stop there," Danks said. "We're just going to keep grinding. We've got a long season ahead of us and we don't feel like we're out of it. We're going to try to win as many games as we can and hopefully creep back up in the Central and see what happens."
The offense took a lot of pressure off with seven runs in the first four innings, allowing Danks to focus on throwing strikes, getting ahead of hitters and letting his defense take care of the rest. It's a pattern that worked well for him when he won 40 games from 2008-10. And after an injury-plagued stretch, it seems to be working for him again.
"It's certainly a humbling game," Danks said. "There was a day when I felt like if I didn't get to certain plateaus it would be a bad season, and now I'm excited to get back to where I think I was."
Abreu got the White Sox off to a quick start with a three-run blast in the top of the first. Adam Eaton and Ramirez led off the inning with singles against Twins starter Kevin Correia. Abreu then crushed a 1-2 curveball 427 feet to left-center that landed in the Twins' bullpen. Just like that, three batters in, the Sox led, 3-0.
The long ball snapped a seven-game streak without a home run for Abreu, who extended his current hitting streak to 15 games. In his last 34 games, Abreu has been held hitless once.
"You just expect him to be in the middle of things when it's happening," manager Robin Ventura said. "If he's hitting well, it seems like we're doing well. There's a lot of good things that happen when we get guys on base and he's up there."
The Twins got one back on Kurt Suzuki's sacrifice fly in the second, but Ramirez restored the three-run cushion by blasting one off the facing of the second deck in left leading off the third.
Chicago's hits weren't all highlight-quality, however. For example, picture this two-run rally: Ramirez drew a one-out walk in the fourth and moved to second on Correia's errant pickoff attempt. Adam Dunn drove him in with a bloop single to left, moved to second on a wild pitch and scored on Viciedo's bloop single to right.
"We were hitting chalk lines and dribblers out front," Ventura said. "You don't see that very often, that kind of stuff happening. It makes you feel good. You feel optimistic going to the plate. You feel like you're going to score some runs and you feel like you've got a little luck on your side too."
Given the state of the White Sox starters -- who as a group have the second-best ERA in the American League since June 23 -- a breakout night like this on offense could serve as a springboard for a playoff run in August and September.
"A lot of it has to do with our offense," Dunn said. "We pretty much get consistent pitching each and every night. If we can go put up five, six runs a game, I definitely like our chances."
Patrick Donnelly is a contributor to MLB.com. This story was not subject to the approval of Major League Baseball or its clubs.