Tribe helped, then hurt by homers vs. Royals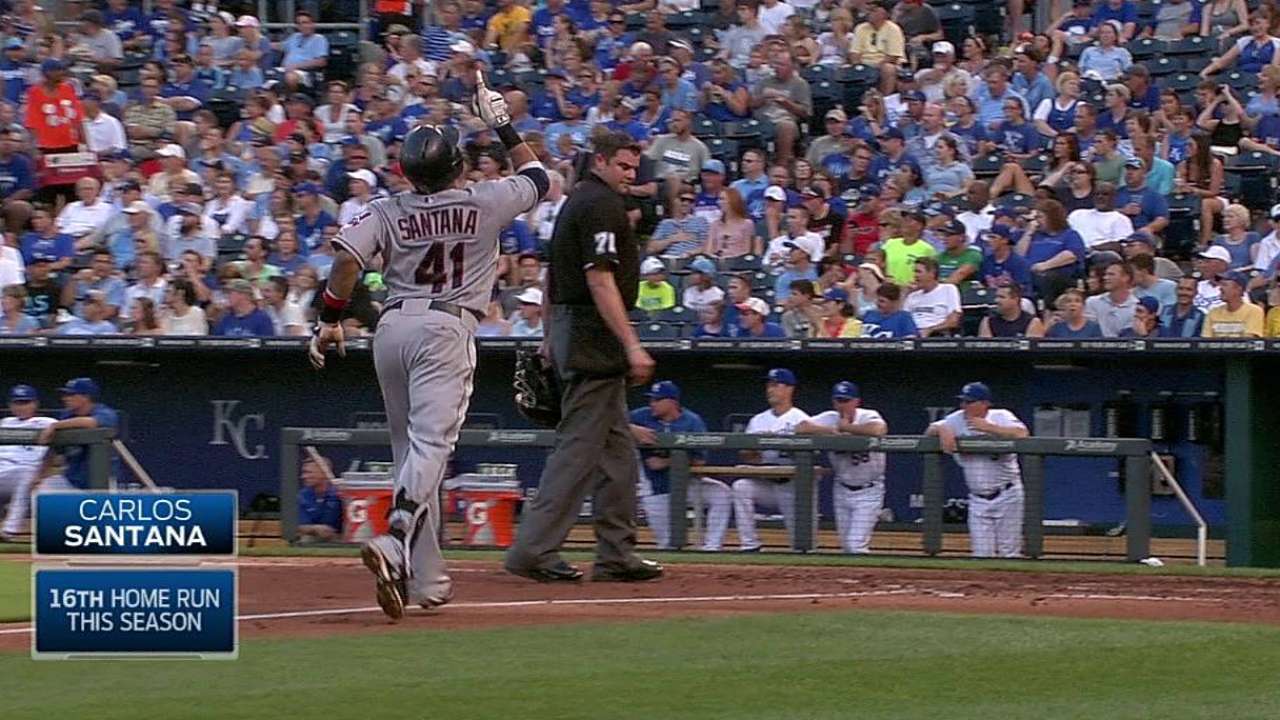 KANSAS CITY -- John Axford probably hoped to have regained his role as closer by now. For the past two months, he has served as a middle reliever, seemingly showing incremental signs of improvement with every trip to the mound.
But in Friday's 6-4 loss to the Royals, he issued a reminder of his early-season woes, surrendering an ill-timed pinch-hit home run to Billy Butler that sealed Cleveland's fifth defeat in six games. The Tribe has lived by the long ball throughout July, but on a hot night at Kauffman Stadium, they died by it.
"It was just a bad pitch, really," Axford said. "I just let it stay out over the plate a little too high up. It was supposed to be low and away and didn't end up there, so it ended up in the seats."
The rocket off Butler's bat -- a two-run shot that represented only the fourth home run of his troublesome season -- nearly struck the Royals Hall of Fame behind the left-field seats. It was the fifth homer of the game, which saw back-to-back shots by Kansas City in the second inning and a two-homer showing from Carlos Santana.
The consecutive shots from Salvador Perez and Mike Moustakas in the second came off right-hander Josh Tomlin, who has been hurt by home runs all season. Tomlin has yielded 16 blasts in his 15 appearances this season, creating another problem within a rotation full of inconsistencies.
"It's a problem that needs to be solved," said Tomlin, who was charged with four runs (three earned) in 5 1/3 innings. "I have to do a better job of working on it and seeing what pitches they're doing that to, and seeing what I'm doing mechanically to make those balls stay over the middle of the plate."
If Little League-style home runs counted, Kansas City had three homers on Friday night.
In the fourth, 42-year-old Raul Ibanez pulled a pitch down the right-field line for an unlikely RBI triple. On the play, the relay throw from cutoff man Jason Kipnis skipped wildly beyond third base for an error, allowing Ibanez to jog home for Kansas City's fourth run of the game.
Cleveland did what it could to counter, receiving a pair of homers from Santana, who torched Royals starter Yordano Ventura for a solo shot in the fourth and a two-run long ball in the sixth. The second homer -- giving Santana a team-high 17 for the season -- came on a 100-mph fastball.
"[Santana] can hit good pitching," manager Terry Francona said. "That guy tonight has a pretty special arm. He took some really good swings to give us a chance to get back in the game."
The Indians evened things up, 4-4, in the seventh, when catcher Yan Gomes reached on a throwing error by Moustakas at third base and later scored on a sacrifice fly from Kipnis. The comeback allowed Tomlin to walk away with a no-decision.
"For them to battle back after I put them in a hole was huge," Tomlin said. "That was my fault for putting them in a hole, and they did a good job against a pretty good pitcher to get us back in the game."
With two outs and Perez on first base in the eighth inning, the Royals called upon Butler to pinch-hit against lefty Nick Hagadone. That prompted Francona to summon Axford.
Entering the night, Axford had a 2.22 ERA with a .205 opponents' batting average in 27 games since being removed from the closer role after May 9. In 24 1/3 innings over that span, he had given up only one home run. In 11 appearances prior to Friday, he had a 0.93 ERA with 14 strikeouts, four walks and no homers in 9 2/3 innings.
"He's been throwing the ball very well," Francona said. "Tonight was about a perfect scenario. You don't have a guy on first that's a runner. [Axford] can let his stuff work. He just made a mistake in locating it."
And Butler took full advantage.
"Axford's got a good fastball," Butler said. "Coming off the bench, it's hard to lay off that first-pitch slider. You're looking for a fastball. I was seeing it pretty good -- some days you do as a pinch-hitter, some days you don't."
Butler's home run came one night after Axford surrendered a walk-off single to Nori Aoki in the 14th inning of a 2-1 loss. The past two games aside, he has kept his head up while realizing that a return to his former job might not be in the cards this season.
"I've been there before," Axford said. "At first it was obviously a hit on your pride, tough to deal with. But it's not something you don't expect when I was in the spot that I was in. You've just got to keep going through it and keep chugging along and be patient, really. That's what I've been doing.
"I've just been working as hard as I can to prepare myself, get ready to go back in that role if that time ever comes. If not, I'm just going to be as strong as I can, the best as I can, to pitch to the best of my ability and just be patient along the way."
Jordan Bastian is a reporter for MLB.com. Read his blog, Major League Bastian, and follow him on Twitter @MLBastian. This story was not subject to the approval of Major League Baseball or its clubs.