Hammel pitches better, but result is same vs. Rangers
Righty loses third straight since being acquired by A's from Cubs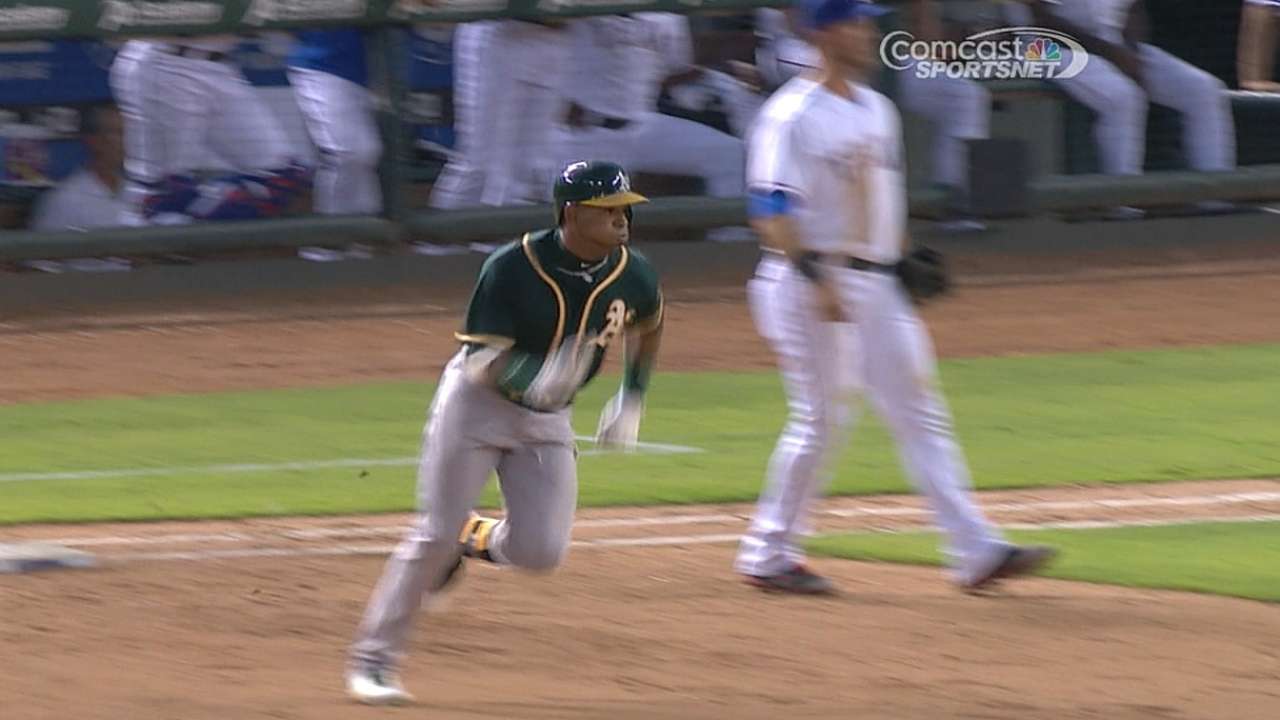 ARLINGTON -- Jason Hammel hasn't had the easiest time adjusting to his new colors, and he could've used a boost Friday evening at Globe Life Park.
But his teammates could only offer one run of support, after plating 22 total in their previous two games, thus magnifying Hammel's own miscues in a 4-1 series-opening defeat to the Rangers that ended the A's six-game win streak in Arlington.
"The easy thing to do here is to start getting down on myself, but I'm not going to do that," said Hammel, 0-3 with the A's. "Lot of good things tonight, save for a few hard-hit balls, just balls that fell in, a couple walks pushed guys to scoring position."
"He's always been a really effective guy," said Jed Lowrie, "and I think he's going to start locating that stuff and help us where we want to go."
Coming off a two-inning, five-run outing against the Orioles, Hammel did showcase better command and made it through 5 2/3 frames this time. But he's still yet to prove with conviction he can hang with the American League crowd again.
The veteran posted a 2.98 ERA in 17 starts for the Cubs before he was packaged in a Fourth of July deal with Jeff Samardzija to a first-place team. The A's, though, have gotten just 12 2/3 innings from him over three outings, with Hammel posting a 7.12 ERA in that time.
The pitcher whose roster spot he took has since requested a trade. Tommy Milone, who was 6-0 with a 2.62 ERA in his previous 11 starts at the time of his demotion, is still toiling with Triple-A Sacramento, and there doesn't seem to be a rush to get him back.
Asked about the matter, in the wake of another Hammel loss, manager Bob Melvin replied, "We traded for him for a reason. He's had a lot of success. We expect him to."
"Honestly it's been quality pitches," said Hammel. "Execution hasn't been there. It's a matter of making those mistakes fewer and fewer and putting yourself in position to succeed. The walks, that's not me. I've had a few more walks than normal."
Hammel issued two on Friday, including one to Alex Rios with one already on in the sixth, setting up Adrian Beltre's RBI single. Cespedes, starting in center field in place of Coco Crisp, committed a throwing error on the play, allowing both baserunners to advance ahead of Jim Adduci's sacrifice fly.
Hammel notched one more out, before Melvin went to Eric O'Flaherty, and was charged with four runs -- three of them earned.
"I thought I had a strike on Rios," Hammel said. "That was a ball there. I've got to move past that and work on that and make better pitches."
His counterpart, Jerome Williams, overturned his usual misfortunes with the A's. Oakland's starting nine entered the night with a .400 average against the right-hander, who proceeded to limit them to one run and five hits over six strong innings in his first start for the Rangers.
This was the same Williams that was released by the Astros on July 8. Four days later, Texas inked him to a Minor League deal, and he posted a 6.10 ERA in two starts for Triple-A Round Rock before his promotion.
The A's lone run came in the sixth on Cespedes' one-out RBI base hit, a line-drive single to left field. But John Jaso attempted running from first base to third and was easily called out, hampering the A's chances of getting at least another run out of the inning.
"That's probably a little aggressive, he knows that," said Melvin. "Maybe center or right, but he's trying to make something happen. We didn't have a whole lot going on."
"The grass here is a little faster than the Coliseum," said Jaso. "I was out, but I don't know, I thought it was close. If that play was at the Coliseum, I think I would have been safe. I tried to take advantage of it. It was a one-run ballgame. If it was a four-run ballgame I wouldn't try to push anything like that."
The A's, who still maintain baseball's best record at 63-39, have played the last-place Rangers to a 5-5 record this season.
"We just got beat," said Melvin. "Any Major League team can beat you at any time. This is a team we've had a lot of battles with."
Jane Lee is a reporter for MLB.com. Read her blog, Major Lee-ague, and follow her on Twitter @JaneMLB. This story was not subject to the approval of Major League Baseball or its clubs.