Bautista's two HRs not enough for Buehrle vs. Yanks
Blue Jays drop 17th straight game at Yankee Stadium in series opener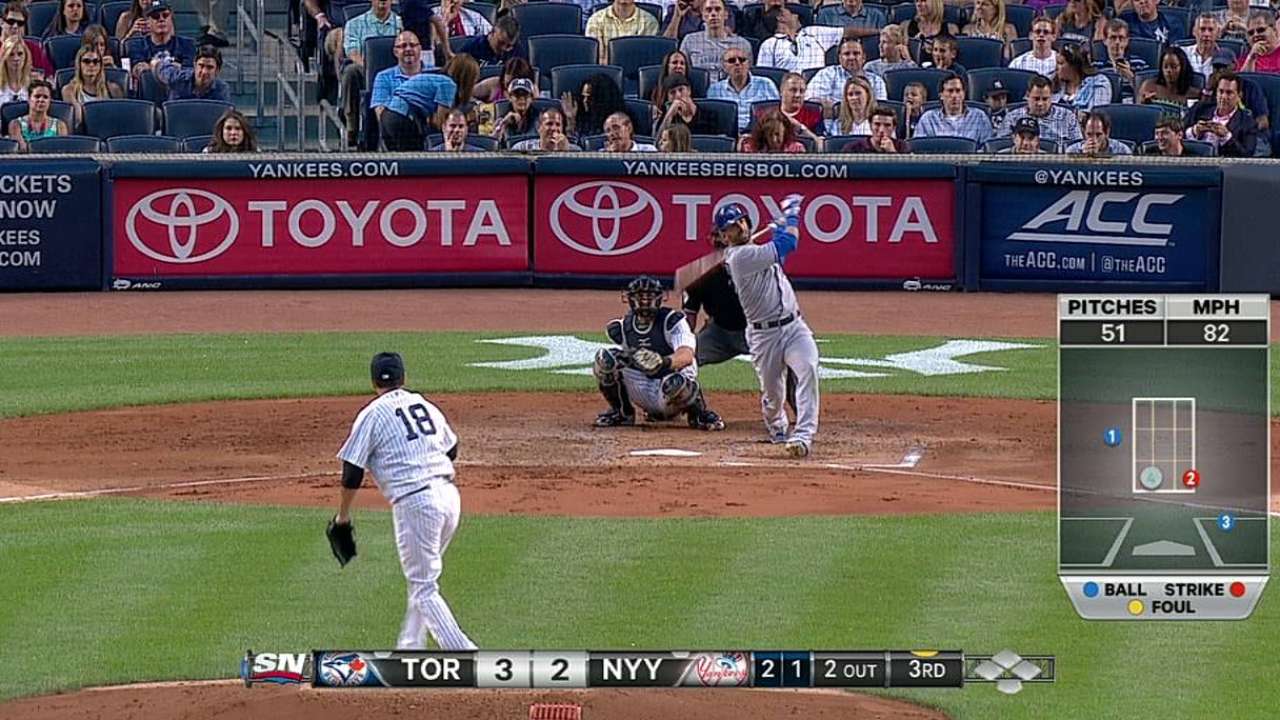 NEW YORK -- The Blue Jays' losing streak at Yankee Stadium has taken on a life of its own.
Toronto began a pivotal three-game set Friday night in a weekend affair that could have major implications on the American League East standings. From the Blue Jays' perspective, there probably isn't a worse location to hold such an important matchup.
The club's skid in New York was extended to 17 games as Mark Buehrle surrendered six runs over three innings to offset a pair of home runs by Jose Bautista in a 6-4 loss to the Yankees.
"Obviously it's frustrating, big game like this, we needed to come out and try to make a point," said Buehrle, who hasn't won since June 1.
"I felt like I made some pitches, they put the ball in play. I made a mistake and they made me pay for it. That's part of this game. I'll come in tomorrow, get ready for my next start, just like I did when I was 10-1."
Toronto is now two losses shy of tying the longest losing streak at an opponent's ballpark in franchise history. The club record was set from 1978-81, when the Blue Jays lost 19 consecutive games to the Orioles at Memorial Stadium. This current streak vs. New York dates back to Sept. 19, 2012.
It's also the fourth-longest losing streak by a Major League club vs. any team since division play began in 1969. Toronto also made that list for its issues vs. the Orioles, while the Pirates lost 22 straight road games vs. Milwaukee (2007-10), and the Rays lost 18 consecutive to the Indians (2005-10).
The strangest part of the lengthy struggles in New York is that 12 of the losses have come in games decided by two runs or less. Even worse is that the Blue Jays had the lead in 13 of the 17 games but were unable to come away with the victory.
That was the case again Friday night, as Bautista opened the scoring in the first inning with a three-run homer. Bautista's 19th of the season was crushed to left-center field and came on a 3-0 pitch from Yankees right-hander Hiroki Kuroda.
The lead was short-lived as Buehrle gave two runs back in the second inning and then found himself in all kinds of trouble during the third. Carlos Beltran hit a solo home run to left, and after a pair of back-to-back singles, Ichiro Suzuki put New York in front with a three-run shot to right, the right fielder's first long ball of the season.
"They just got good pitches to hit," Yankees manager Joe Girardi said of the home runs. "They got pitches up in the zone. Buehrle is the master at deception, getting you to chase, getting you to be anxious. We just did a good job of being patient and getting good pitches to hit."
Buehrle was pulled from the game after the third. He was charged with six runs on nine hits and one walk in his shortest outing of the season. The six earned runs tied a season high, and he is now 0-6 with a 4.92 ERA over his past nine starts.
Toronto's losing ways against the Yankees mirrors the type of results Buehrle has experienced throughout his career. Buehrle has yet to win a game at Yankee Stadium and is 1-12 with a 6.15 vs. New York in 19 starts. His last victory against the Yankees came on April 10, 2004.
Buehrle doesn't have an explanation for that, but he does think he's thrown better over his last two months than the record would indicate. With the exception of his past two starts (11ER/9IP), Buehrle has pitched relatively well even though he doesn't have a win to show for it.
"I don't feel like I've thrown [bad enough] not to get a win in the last two months," Buehrle said. "Obviously these last couple of outings, I have, I've pretty much tanked. But before that, I felt like I was throwing pretty good.
"I think the ball's not going to guys, it's finding holes now. When you're going lucky, when you're going good, those balls go to your defensive guys. The bloop singles, when you make pitches, they're not making you pay for them."
Bautista added a solo home run in the third, but that was all of the offense the Blue Jays could generate off Kuroda, who pitched 5 2/3 innings. The positive for Toronto is that Bautista appears to be heating up after going through a slump prior to the All-Star break. Bautista has two homers and three doubles to go along with four walks over his past seven games.
Toronto will have to reverse its fortunes in New York very quickly if the club wants to remain in the mix for the postseason. Friday's loss dropped the Blue Jays to third place in the AL East, and they now trail the Yankees by one game. Toronto has two games remaining at Yankee Stadium before continuing its lengthy road trip through Boston and Houston.
"Hey, it is what it is, man," Blue Jays catcher Dioner Navarro said. "We still have two more games. Come back tomorrow and see what happens."
Gregor Chisholm is a reporter for MLB.com. Read his blog, North of the Border, and follow him on Twitter @gregorMLB. This story was not subject to the approval of Major League Baseball or its clubs.