MLB.com Columnist
Bill Ladson
Leading man: Roark rolls through Reds in Cincy
Once fighting for a job, Nats starter heads rotation after 7-inning gem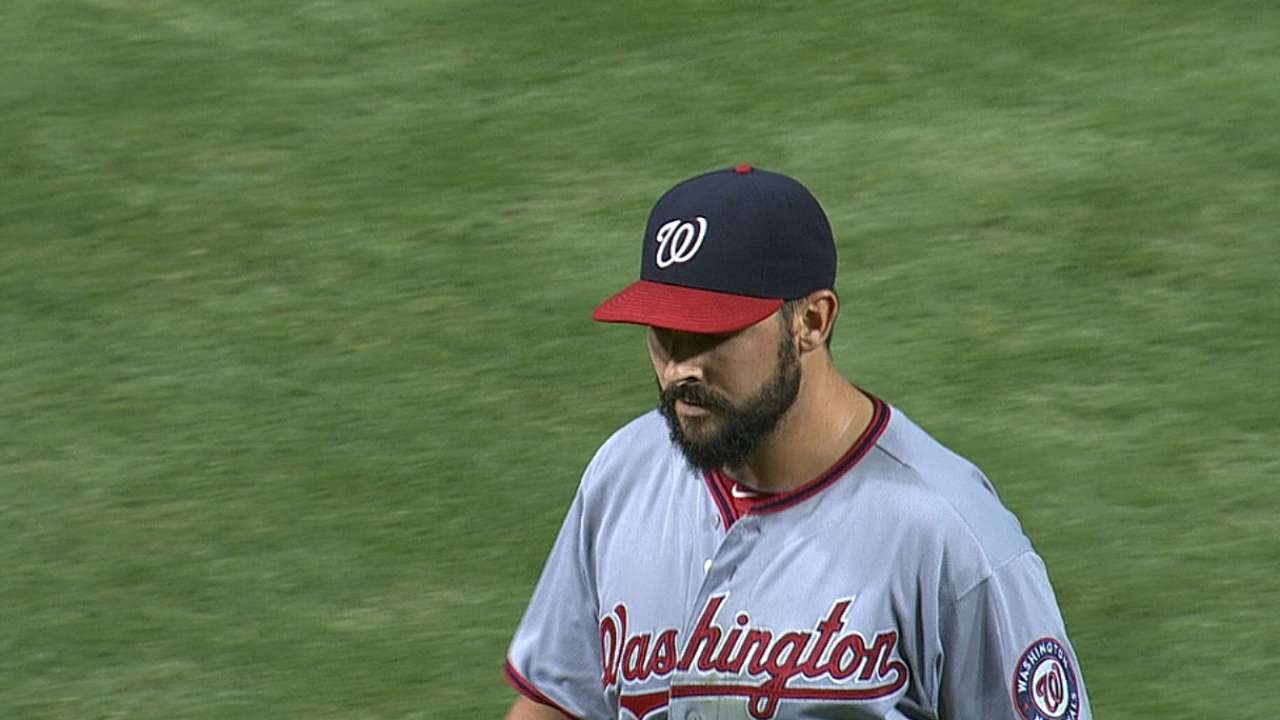 CINCINNATI -- It was as recent as Spring Training when Nationals right-hander Tanner Roark was fighting for the fifth and final rotation spot. He made the team after Doug Fister started the season on the disabled list because of a lat strain. The days of fighting for a job are over.
Fast forward to Friday night: It's safe to say that Roark is arguably Washington's best starter. He took advantage of the fact that the Reds were without key players -- such as Brandon Phillips and Joey Votto, because of injuries -- and the Nationals posted a 4-1 victory at Great American Ball Park.
Roark (10-6) retired the first nine hitters he faced before Billy Hamilton singled past shortstop Ian Desmond in the fourth inning. Cincinnati collected only three more hits in the game after that, one of which was an infield RBI single off Roark's glove by Ryan Ludwick in that fourth frame. Roark pitched seven innings, allowing the one run on three hits and striking out six.
"He was really efficient with his pitch count," manager Matt Williams said. "From the first batter, he was throwing it the way he wanted to. He gave up the one run, but if he doesn't dive for the ball and deflect it, he may not have given up any runs. He pitched really well."
Roark now leads the Nationals' rotation with 10 wins and a 2.82 ERA. It's a dream come true for the 27-year-old.
"It's pretty cool just to think about it," Roark said. "Ever since I was a kid, it's my dream to be up in the big leagues. I had the chance last year. I took the opportunity to try and run away with it."
He ran away with it, all right. After joining the team in August, Roark won seven games and had a 1.51 ERA.
"He has the ability to throw any pitch at any count for a strike. If he doesn't have one [pitch working], he can go to other pitches," Williams said. "That's the art of pitching. He just continues to pound the strike zone. He gives us a chance every time he goes out there."
Denard Span gets a kick watching Roark from center field. Span went so far as to say that Roark solidified the rotation.
"We have the big guns and the big names. They have earned a lot of respect, but you have to give him a lot of credit, being in the back of the rotation and doing what he has done," Span said. "I told him after the game, it's fun to watch him set up hitters and pitch from center field. It's unbelievable."
Roark received all the run support he would need in the fourth inning off right-hander Alfredo Simon, who defeated Washington, 2-1, on May 21 at Nationals Park. With runners on first and second, Zach Walters doubled to right field, scoring Bryce Harper.
Two batters later, Span -- who recorded his second consecutive four-hit game -- singled to right field, scoring Wilson Ramos, while Walters came home on a single by Anthony Rendon. Rendon also made two dazzling plays in the field, with Harper also adding an outstanding diving catch as the Nats starred defensively.
"A couple of pitches were up, and I wanted them down in the zone," Simon said. "I was behind in the count. When you get behind in the count, it's easier for them to hit the ball. We have to put everything together and work like a team as we did before."
In the sixth, with Reds reliever J.J. Hoover on the mound after replacing Simon -- who threw 89 pitches and allowed three runs on nine hits over 4 1/3 innings -- Adam LaRoche singled to center field, scoring Span.
With the victory, the Nationals have won five out of their last six games, improved their record to 56-44 and increased their lead to 2 1/2 games over the Braves in the National League East. The Padres defeated Atlanta, 5-2, at Turner Field.
Bill Ladson is a reporter for MLB.com and writes an MLBlog, All Nats All the Time. He also can be found on Twitter @WashingNats. This story was not subject to the approval of Major League Baseball or its clubs.