Home holds no answers as Reds' skid continues
Simon lasts 4 1/3, production at a minimum in seventh straight loss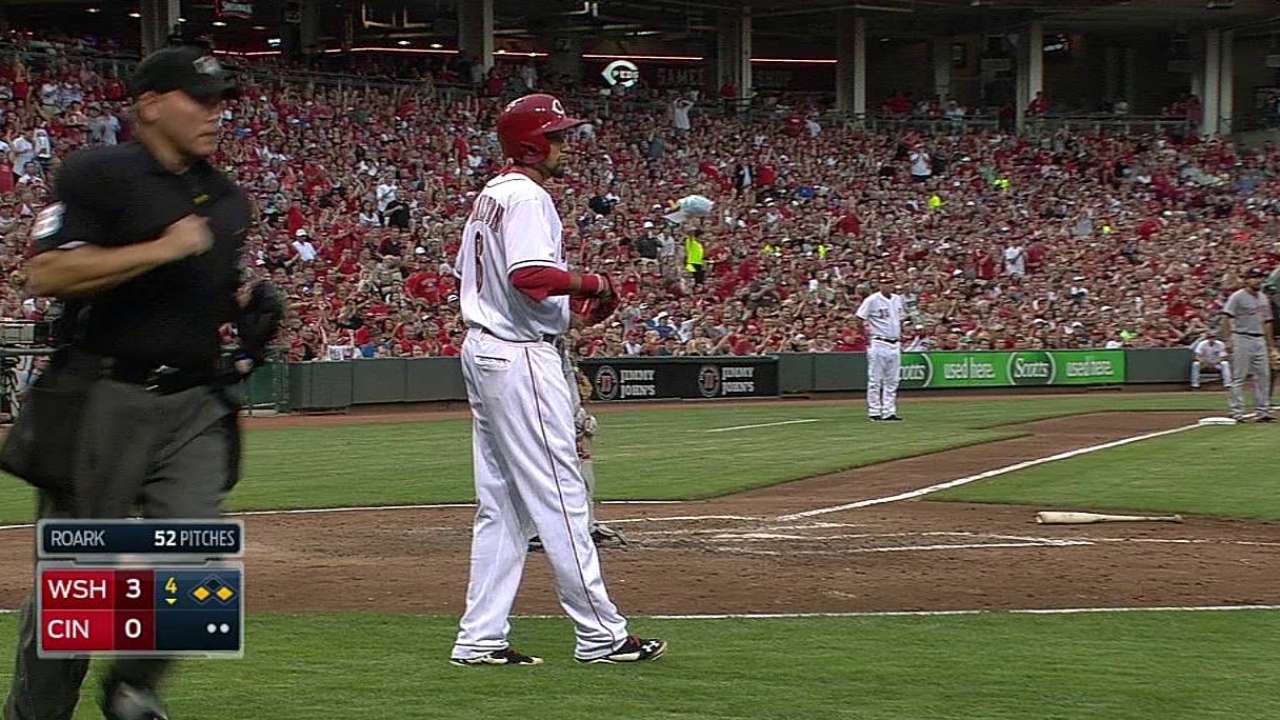 CINCINNATI -- The Reds are now almost two full weeks removed from enjoying a victory. They remain winless since the All-Star break.
A season-high losing streak reached seven games in a 4-1 defeat to the Nationals on Friday night at Great American Ball Park. Cincinnati's last win was on July 13 vs. the Pirates, but it feels like eons ago. Once seven games over, the club is now at .500 again with a 51-51 record.
"Sometimes when you struggle, and obviously, we're struggling ... you kind of end up putting way too much on your plate," Reds manager Bryan Price said. "Everyone does it; we do it as coaches and managers, players, etc. -- you put a bunch of hurdles in front of yourself, and you get away from what you do naturally, comfortably."
The strong and reliable starting pitching that skillfully kept the Reds out of long losing streaks during the first half has turned up missing. One of the rotation's two All-Stars, Alfredo Simon, was desperately needed to be a stopper.
What Cincinnati got was a second straight subpar performance. Simon (12-5, 2.86) was done after 4 1/3 innings, having already thrown 89 pitches while allowing three earned runs and nine hits with two walks, a hit batter and three strikeouts.
"A couple of pitches were up, and I wanted them down in the zone. I was behind in the count," Simon said. "When you get behind in the count, it's easier for them to hit the ball. We have to put everything together and work like a team as we did before."
Now 0-2 with a 4.82 ERA in his last two starts, Simon's previous outing saw him reach only five innings vs. the Yankees last Saturday. He had 16 quality starts in 18 outings and 12 victories before the All-Star Game.
It was a scoreless game until the fourth, when the Nationals' hits started piling up against Simon. He allowed three straight hits to begin the inning, including an RBI double to right field by Zach Walters. One-out RBI singles by Denard Span -- who recorded his second consecutive four-hit game -- and Anthony Rendon gave Washington a 3-0 lead.
"Next time, I have to do better," Simon said.
Simon was done after a leadoff double by Adam LaRoche and a one-out walk to Bryce Harper in the fifth. Reds starting pitchers are 0-5 with a 4.90 ERA during the losing streak and have one quality start between them.
"He's the one guy that really didn't have a lull in his season," Price said. "He didn't have a stretch where he had two or three games in a row where he struggled, and probably to a man, the rest of the guys have, outside of [Mat] Latos because he hasn't been here all that long. So I'm not concerned about it."
The Nationals added a run in the sixth inning against J.J. Hoover.
Good starting pitching often kept the Reds afloat when the lineup struggled previously. Now, the losing streak is a collaborative effort as Cincinnati's offense has collected 13 runs in the last seven games. On Friday, Washington's Tanner Roark allowed one run and only three hits over seven innings.
"I think everybody is trying to do their part," Reds third baseman Todd Frazier said. "Right now, everybody is just not doing it, the whole. Pitchers are doing their thing. They're keeping us in ballgames. Four runs they gave up today, we should find a way to manufacture a couple of runs. We just haven't. It's frustrating."
In the bottom of the fourth, already trailing 3-0, the Reds got on the board against Roark when they caught a break. Billy Hamilton, who had their first hit of the night, was on third base when Ryan Ludwick tapped a check-swing grounder off the glove of a diving Roark. Ludwick reached safely ahead of a desperation throw from Walters near second base as Hamilton scored.
It was only the Reds' third hit in 44 tries (.068) with runners in scoring position during the losing streak. They are not doing much at the plate with or without runners in scoring position as they are batting .176 in the seven losses.
"Everything gets expanded more when you lose," Frazier said. "That's the toughest part. Maybe missing a sign. Maybe not backing up. Every little thing comes into play. Everything is getting blown up. We had a good talk today in the hitters' meeting. We feel fine. It's just a matter of producing."
Mark Sheldon is a reporter for MLB.com. Read his blog, Mark My Word, and follow him on Twitter @m_sheldon. This story was not subject to the approval of Major League Baseball or its clubs.