Wood tagged as Braves can't cash in vs. Padres
Poorly supported lefty allows four earned runs on career-high 12 hits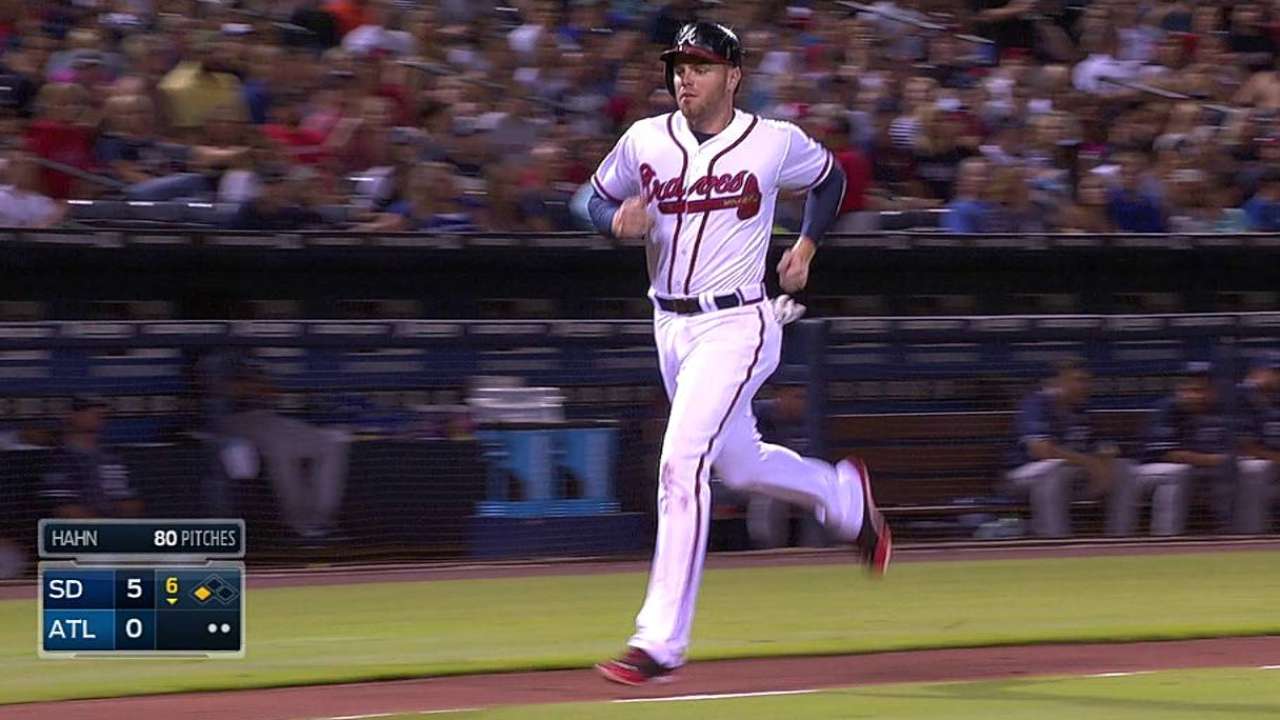 ATLANTA -- One game into the second half, the Braves were flying high. They won and the Nationals lost on July 18, giving Atlanta a one-game lead in the National League East following the first night of a season-long 11-game homestand.
One week later, the Braves are reeling. The Padres brought their recently red-hot offense to town and beat Atlanta, 5-2, on Friday night at Turner Field. The Braves must win the final three games of the series to have a winning record in the homestand.
Meanwhile, Washington won on Friday, increasing their NL East lead to 2 1/2 games over the second-place Braves, whose inconsistent offense has scored two runs or fewer in four games and five runs or more in the other four games since the All-Star break.
"We've got to score runs," first baseman Freddie Freeman said. "We've got to keep the line moving. We're not doing that right now, so that's one of the things we've got to do. Get a couple of guys on and get that big hit, so everybody relaxes and calms down. Then everybody's got to go out there and have some fun playing some baseball again."
A typical lack of run support for Alex Wood magnified the southpaw's atypical showing. He surrendered five runs (four earned) on a career-high 12 hits in five innings. Eleven of the 12 hits were singles.
"I've never seen so many ground balls go through the infield," Braves manager Fredi Gonzalez said. "I think he kept getting ground balls and they just kept getting through the infield, really. That's the bottom line. ... We just couldn't get them to hit it at anybody really, and that was it. That was the game."
"Obviously there [were] a lot of ground balls that got through that on another day, maybe they're right at guys," Wood said. "But at the same time, I thought it was a combination of that and I don't think I adjusted quick enough in changing my game plan that we had going in. … We didn't go in enough early on, and I probably could've thrown a few more breaking balls."
Wood gave up a hit to begin each of his five frames. Leadoff batters in every inning are hitting .308 (28-for-91) against the lefty this season. San Diego's ability to get to Wood quickly each inning contributed to the Padres scoring five or more runs for a third consecutive game, something they haven't done since May 9-11.
San Diego hurler Jesse Hahn never let a leadoff batter reach base, as Atlanta plated just one run on three hits and three walks in six innings against the rookie. Hahn's gem drops Wood's average run support per start to 2.69, which ranks 123rd out of 124 Major League pitchers who have logged more than 80 innings this year.
"He had almost two breaking balls. I haven't seen a breaking ball -- a curveball, almost a true curveball -- like that in a long time," Gonzalez said. "Listening to some of the guys talk, it's sometimes hard to adjust [to a] 73-mph curveball, and then he had another one that's a little bit faster."
The Braves threatened a couple of times against Hahn, but they couldn't do much in either instance. Atlanta put runners on base in five of six frames against the rookie, but the only one to advance past second base was Freeman, who tripled in the sixth.
Freeman's fourth triple of 2014 and the eighth of his career put him in position to score on a sacrifice fly from Justin Upton, but Atlanta sputtered otherwise. The Braves' best chance came after Hahn had left the game, when they loaded the bases in the bottom of eighth. However, a bases-loaded walk from Evan Gattis was the only damage they inflicted upon the Padres' bullpen as Chris Johnson was retired on a flyout to end the threat.
"They hit the ball. Can't take away anything from their team," Gattis said. "They did hit the ball, and we scored two runs only, but a lot of them found holes. ... They found holes. We didn't."
Joe Morgan is an associate reporter for MLB.com. This story was not subject to the approval of Major League Baseball or its clubs.