String of singles, sharp Hahn lift Padres over Braves
Medica tallies four of San Diego's 13 base knocks to open series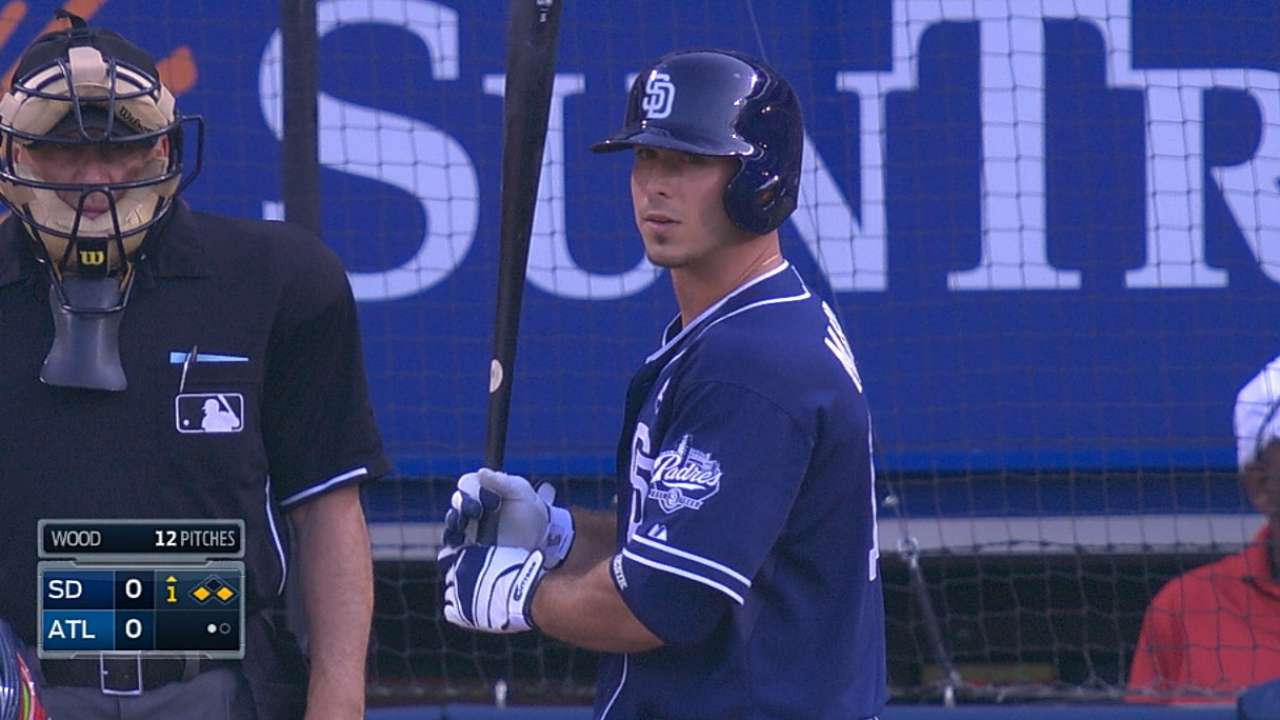 ATLANTA -- The way Chris Denorfia has it figured, it does him and his teammates absolutely no good trying to figure out why the Padres' offense fell into such a collective offensive morass early and often during the first three-plus months of the season.
What's done, he said, is done.
What can be changed, Denorfia said, is the present, which isn't looking all that bad despite a change in cast, as the Padres' moribund offense continued to show signs of life Friday with a 5-2 victory over the Braves before a crowd of 31,647 at Turner Field.
There was no epic nine-run inning like there was Thursday against the Cubs, where the Padres sent 15 batters to the plate.
Instead, San Diego (46-56) nickel-and-dimed the Braves into an early hole on Friday with an offense that produced 13 hits, 12 of which were singles.
In their last three games -- all victories -- the Padres have scored a combined 26 runs. In their previous 10 games, they scored 23 combined runs.
So what gives?
"More than anything ... we're all just due," said Denorfia, who had three hits. "For all the guys who have been struggling this year, it's time."
Denorfia's big night, a career-high four hits by Tommy Medica and another strong start by rookie pitcher Jesse Hahn (6-2) were more than enough to get the Padres' four-game series against the Braves (55-48) started in a big way.
Hahn allowed one run on three hits with three walks and four strikeouts in six innings in his first Major League start since July 11. The Padres sent him down to the Minor Leagues right before the end of the first half in order to closely watch his innings workload.
When he returned Friday, he looked very much like the same pitcher who pitched so well during his first run in the big leagues, a seven-start stint in which he had a 2.21 ERA that has since dropped to 2.12.
"I thought his stuff was very comparable to where it was a few weeks ago," said Padres manager Bud Black.
What's not comparable to where it was a few weeks ago is the Padres' lineup. On Friday alone, the team had former Braves outfielder Jeff Francoeur in right field, Chris Nelson at third base and Yangervis Solarte at second base. None of them was on the 40-man roster a week ago.
Nelson and Francoeur were recalled from Triple-A El Paso, and Solarte was added from the Yankees on Wednesday in the deal that sent third baseman Chase Headley to New York.
Not that this influx of new faces has hurt the flow of the offense much. In fact, it's actually helped. The Padres scored eight runs against the Cubs on Tusday, then 13 on Thursday, also against the Cubs. On Friday, San Diego got five runs in the first five innings.
"We're getting some key hits, some situational hits. We're bunching them together," Black said. "Today, we kept going. We stayed on [Braves starting pitcher Alex] Wood. We didn't let up. We stayed on top of these [Braves pitchers]."
Wood (7-8) allowed five runs (four earned) on 12 hits with one walk and four strikeouts in five innings.
"I've never seen so many ground balls go through the infield. I think he kept getting ground balls and they just kept getting through the infield, really," said Braves manager Fredi Gonzalez.
Joaquin Benoit got the final four outs for his second save of the season and first since the team traded All-Star closer Huston Street to the Angels on July 18.
Corey Brock is a reporter for MLB.com. Keep track of @FollowThePadres on Twitter. This story was not subject to the approval of Major League Baseball or its clubs.