Hall of Fame quartet reflects on new class
Smith, Bench, Schmidt, Blyleven enjoy return to Cooperstown for inductions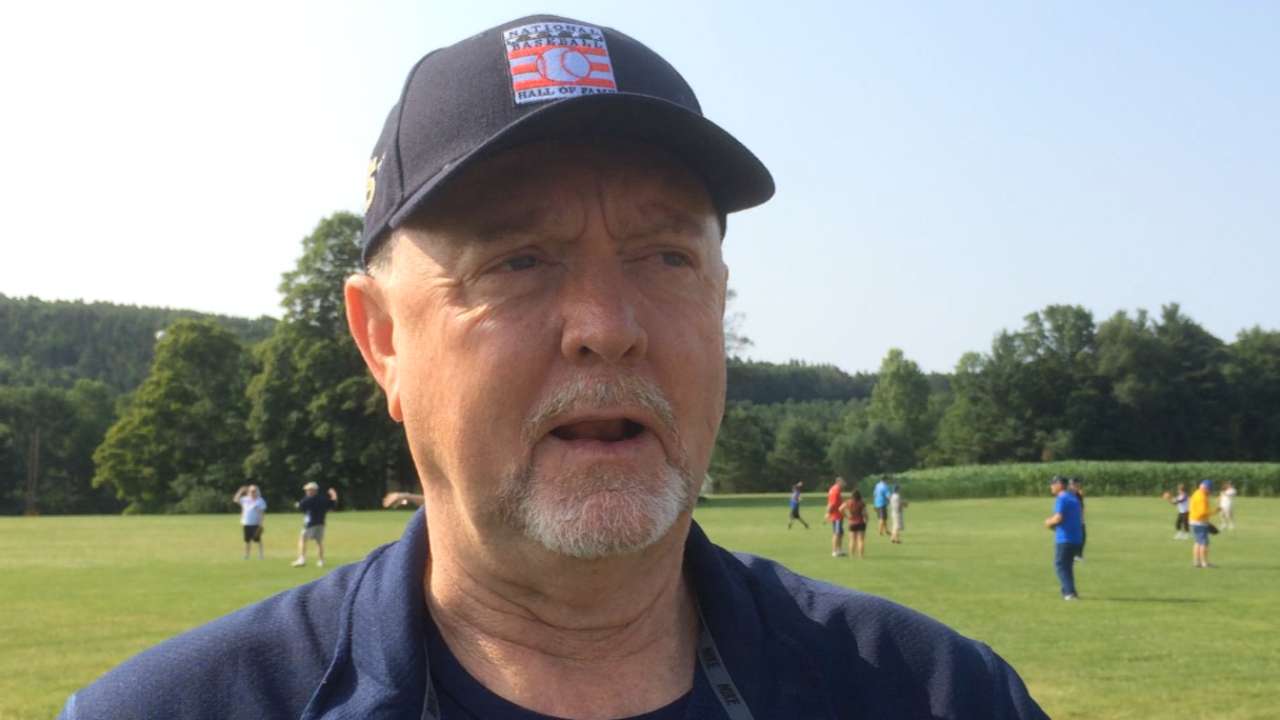 COOPERSTOWN, N.Y. -- For one morning, Cooperstown kids had the best baseball instructors on the planet. Ozzie Smith and three of his Hall of Fame peers spent Friday morning tutoring children as part of the 13th annual PLAY Ball event, a fundraiser that kicks off the induction weekend.
Smith, who serves as the Hall of Fame's education ambassador, teamed with all-time greats Johnny Bench, Mike Schmidt and Bert Blyleven to form an impressive coaching staff Friday. Smith, a 15-time All-Star, has hosted the event every year since his induction to the Hall of Fame in 2002.
And now, with a banner class set for Sunday's induction ceremony, Smith is extra excited to be back in town. Every year, the player known as "The Wizard" is asked to sum up what it means to be one of baseball's immortals, and he's gotten quite good at succinctly describing the experience.
"It means everything," said Smith. "I don't think this was the goal, to make it here, but it certainly becomes the icing on the cake. If you're a guy that works hard at being the best he can be every day and putting your everything out there every day, this is the end result. It's not too bad."
Smith's supporting cast Friday included two players -- Schmidt and Bench -- who are widely considered to be the best players that ever played their respective positions. Schmidt and Bench were both named to MLB's All-Century Team in 1999, and they both were thrilled to help out Friday.
Bench, a two-time National League Most Valuable Player Award winner and a 10-time NL Gold Glove Award-winning catcher for the Cincinnati Reds, comes back to Cooperstown virtually every year.
Bench said he's particularly happy for this crop of inductees, which features managers Joe Torre, Bobby Cox and Tony La Russa and players Frank Thomas, Greg Maddux and Tom Glavine. Hall of Fame coverage begins at noon ET with MLB Tonight live from Cooperstown on MLB Network and simulcast on MLB.com and the At Bat app, with the induction ceremony beginning at 1:30 p.m.
For Bench, the best part of the Hall of Fame is the setting and the people that strive to make it a special place.
"It's kind of like Norman Rockwell painted it. In the old days, it was just a sweet little town that's so pristine," said Bench of Cooperstown. "It brings together so many people, the love of baseball. These are the fans that sit in the second deck. I met a guy who said he went to 40 games in 1990, the last time the Braves were last in the league and lost 100 games. ... Those are the true fans. We were with a lot of people today that grew up with Frank Thomas or with Greg Maddux. And it's their day, too."
Schmidt, a three-time NL MVP Award winner and a member of the 500-homer club, won 10 NL Gold Glove Awards at third base over his 18-year career with the Phillies. Schmidt stays close to the game as a weekend analyst for Phils games, but he said that baseball really isn't in his life on a daily basis anymore.
That's just part of the normal process of aging, and Schmidt said he looks forward to seeing his Hall of Fame peers and trading war stories. The 64-year-old battled stage-3 melanoma cancer last year, but he said he's now healthy and thankful to be in the background for induction weekend.
"Its a great weekend," said Schmidt, back in Cooperstown after a two-year hiatus from the induction ceremony. "It's really nice to be treated like a king. You come here and they wait on you hand and foot. It's fun being at the hotel and being around guys you have so much in common with."
Schmidt at one point Friday marveled that he's been retired for 25 years. The 12-time All-Star and eight-time home run champion represents a different era in the game's history, but Schmidt competed against a few of the people that will officially become his Hall of Fame peers Sunday.
"It's a big year here in Cooperstown," said Schmidt. "I had a lot of at-bats personally against Greg Maddux and Tommy Glavine. Frank Thomas, I'm a good friend of his and I really respect what he accomplished as a hitter and as a player. But that was all in the American League pretty much and I was a National Leaguer. I don't know if our careers overlapped at all; I'm not sure that they did."
Thomas, in fact, debuted in 1990, a little more than a year after Schmidt's retirement.
Blyleven, one of the game's great characters in addition to one of its greatest pitchers, brought his own unique perspective to Friday's event. Blyleven ranks fifth on MLB's all-time strikeout list and 27th in victories, but it took him 14 turns on the ballot before he was finally inducted to the Hall in 2011.
Now, speaking as one of the 66 living Hall of Famers, Blyleven knows exactly what the journey means, and he's ecstatic to welcome the new class to one of the greatest fraternities in sports.
"It's an exciting class," said Blyleven of the Hall of Fame's newest legends. "I admire all the three managers that are going in. They meant so much to the game of baseball, and they still do. And the players themselves. Greg Maddux was a wizard. He was kind of like Ozzie Smith at short. ... Tom Glavine was a great pitcher. And then Frank Thomas; I'm glad all of them went in the first time."
Bench, inducted on his first ballot in 1989, said the Hall of Fame experience never gets old. Twenty-five years after his own induction, Bench still loves to live it through other people's eyes. He is still a fan of the game, and that's why he feels such a striking kinship with the people who line the streets.
"I told somebody in the winter, 'There's still nothing like a box score,'" said Bench. "I go through all the box scores every day. I look at certain guys. I'm still a fan. So are these people, and they love the fact that there are so many [players] that have made a difference in their lives. I mean, this is Elvis [Presley] going into the Hall of Fame. People say, 'Oh, I wouldn't want to get an autograph from a baseball player.' Would you get one from Elvis? Same difference. We're Elvis to some people."
Indeed, in the same way that Elvis is long gone but not forgotten, so, too, are Babe Ruth and Ty Cobb and hundreds of the men who have been enshrined in the National Baseball Hall of Fame and Museum. To be part of that group -- no matter your age or your era -- is still an extraordinary blessing.
"It's surreal," said Smith of sitting on the Hall of Fame dais. "I think everybody dreams Joe Carter's dream of 1993: being at the plate in the bottom of the ninth, getting the big hit to win the ballgame. That's the real dream. Making it here surpasses all of that, because it puts you in the game's elite."
Spencer Fordin is a reporter for MLB.com. This story was not subject to the approval of Major League Baseball or its clubs.