MLB.com Columnist
Roger Schlueter
MLB Notebook: Ross enjoying elite July
Right-hander following footsteps of former Friar Peavy in 2007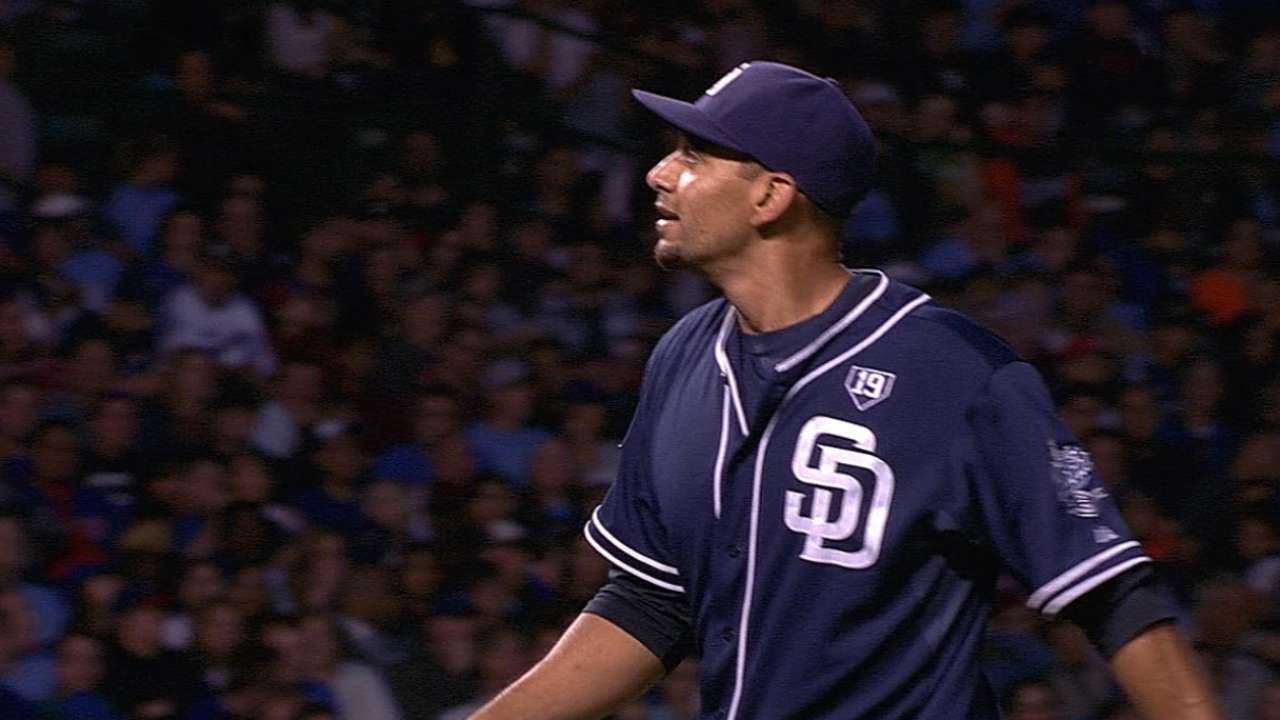 On his way to a pitching Triple Crown and the National League Cy Young Award in 2007, Padres right-hander Jake Peavy had a pretty sensational April, fashioning a 3-1 record and 2.06 ERA in six starts. In May, he was whatever you'd call a couple of steps above sensational. Making five starts, Peavy hurled 34 innings, allowed 19 hits and seven walks, held the opposition to a .425 OPS and assembled a 0.79 ERA.
For just one perspective, consider that NL starters as a whole that month produced a 4.20 ERA and posted a .747 OPS against. It's probably not too surprising to see that Peavy was named NL Pitcher of the Month. While an NL Triple Crown, NL ERA title or an NL Cy Young Award are probably not in future for the Padres' Tyson Ross this season -- more of a statement on the richness of starting pitching in the league, as opposed to Ross' credentials -- the 27-year-old and first-time All-Star has put together a superb July. On the month he's compiled a 0.829 WHIP, 10.54 K's per nine, 8.20 strikeouts for every walk and a .481 OPS against, numbers that could gather some attention for a monthly award.
On Thursday, Ross fanned a career-high 11 and allowed one run in six innings to pick up his ninth win of the season. Ross is tied for seventh in the NL in ERA, at 2.65. The last time a qualifying Padres pitcher finished the year with an ERA as low (or lower), he won the ERA title (Peavy, with a 2.54 ERA, in 2007).
• In five starts in July, Ross owns a 1.03 ERA. There have been four pitchers in Padres history to have a monthly split with at least five starts and an ERA as low as 1.03. In order of lowest to highest: Dave Dravecky in March/April 1986 (0.75 ERA); Peavy in May 2007 (0.79); Ed Whitson in August 1990 (0.86); Eric Rasmussen in September/October 1979 (1.03).
• Ross' 1.03 ERA this month is the third lowest in the Majors among pitchers with at least four starts. The Rays' David Price owns an 0.85 ERA and the A's Sonny Gray's ERA stands at 0.95.
• Ross has 10 starts this season in which he has finished with at least six innings and no more than one run allowed -- this latest effort marked the first of the 10 to see him throw as few as six innings. The 10 starts tie Ross with the Angels' Garrett Richards for the second most in the Majors, with that pair behind Adam Wainwright at 12.
Stroman, Jays make history vs. Red Sox
Blue Jays rookie right-hander Marcus Stroman took a bid for a no-hitter into the seventh inning Thursday and eventually settled for a win after seven innings of one-hit, no-run ball. In all, Stroman and two relievers combined for a one-hit shutout of the Red Sox in the 8-0 win. Toronto had never before blanked Boston on one hit or no hits, and this game marked only the 53rd time since 1914 any team had done it. The Blue Jays are the first team to silence the Red Sox like this since the Rays on April 30, 2009.
Lowest batting average against
Betances in rarified air
In the Yankees' 4-2 win over the Rangers, Dellin Betances worked a perfect eighth inning, and he has now allowed 26 hits in 60 1/3 innings, while holding the opposition to a .129 batting average. For all relievers in the expansion era, with a minimum of 60 innings, Betances is flirting with some historic hit-suppression figures.
Moss enjoying grand season
The Athletics rolled over the Astros, 13-1, on Thursday, and while doing so, they saw Brandon Moss connect on his third grand slam of the year.
• Moss is now one slam shy of tying Jason Giambi's franchise record for most in a season, set in 2000.
• Moss is one of 17 players to have hit at least 70 home runs since the start of the 2012 season. Among this collection, his home run percentage (6.20) ranks third, behind Edwin Encarnacion and Chris Davis.
Kluber enjoys tough-luck no-decision
Cleveland's Corey Kluber lost his bid for a perfect game with one out in the seventh inning and finished his start (a no-decision in a 14-inning, 2-1 loss to the Royals) with nine innings, two hits and one (unearned) run allowed, 10 strikeouts and no walks. The dominating line produced a game score of 91.
• Kluber is the 70th pitcher since 1914 finish a start with nine innings pitched, allow two or fewer hits, and record at least 10 strikeouts with no walks. Among these 70 (a list which includes his teammate Josh Tomlin, who produced such a line against the Mariners on June 28), Kluber is one of three to do this in a no-decision.
On June 4, 1969, the Dodgers' Bill Singer allowed two hits in nine scoreless innings and fanned 10 Mets. New York eventually topped Los Angeles in 15 innings, 1-0. More recently, on May 7, 2013, the Mets' Matt Harvey allowed one hit in nine scoreless innings and fanned 12 White Sox batters. New York eventually topped Chicago in 10 innings, 1-0.
• Kluber's game score of 91 is the highest in a no-decision for any Indians pitcher since Gaylord Perry produced a 95 on April 17, 1974. In that game, Perry worked 15 innings, allowed four runs and eight hits with 14 strikeouts and four walks, and the Tribe lost, 5-4, to the Brewers in 16 innings.
• Kluber is the fifth Indians pitcher since 1914 to have a line featuring two or fewer hits, at least 10 strikeouts and no walks. The others: Stan Williams (1968), Len Barker (in his perfect game on May 15, 1981), Greg Swindell (1991) and Tomlin earlier this season.
• Kluber's effort gives him six double-digit strikeout games this season to tie Yu Darvish for the second most in the Majors, behind Price's eight. Kluber's six through 102 team games represent the most for the Indians since Sam McDowell had nine in 1970.
Scherzer has right stuff
Max Scherzer fanned 11 while allowing three runs in seven innings and improved to 12-3 as the Tigers topped the Angels, 6-4. With his line, Scherzer has 161 strikeouts in 139 innings for a K/9 of 10.42. This rate follows seasons in which he fanned 11.08 per nine in 2012 and 10.08 batters for every nine innings in 2013. The only right-handed pitchers to assemble three straight seasons with K/9 rates of at least 10.00 (while qualifying for the ERA title) are Nolan Ryan (1989-91) and Curt Schilling (2001-03). Darvish is also in line to attain his third straight in 2014.
Roger Schlueter is senior researcher for MLB Productions. This story was not subject to the approval of Major League Baseball or its clubs.