Pipeline preview: Nola set for matchup vs. Jupiter
Philadelphia's first-round Draft pick looks to remain sharp in a Class A Advanced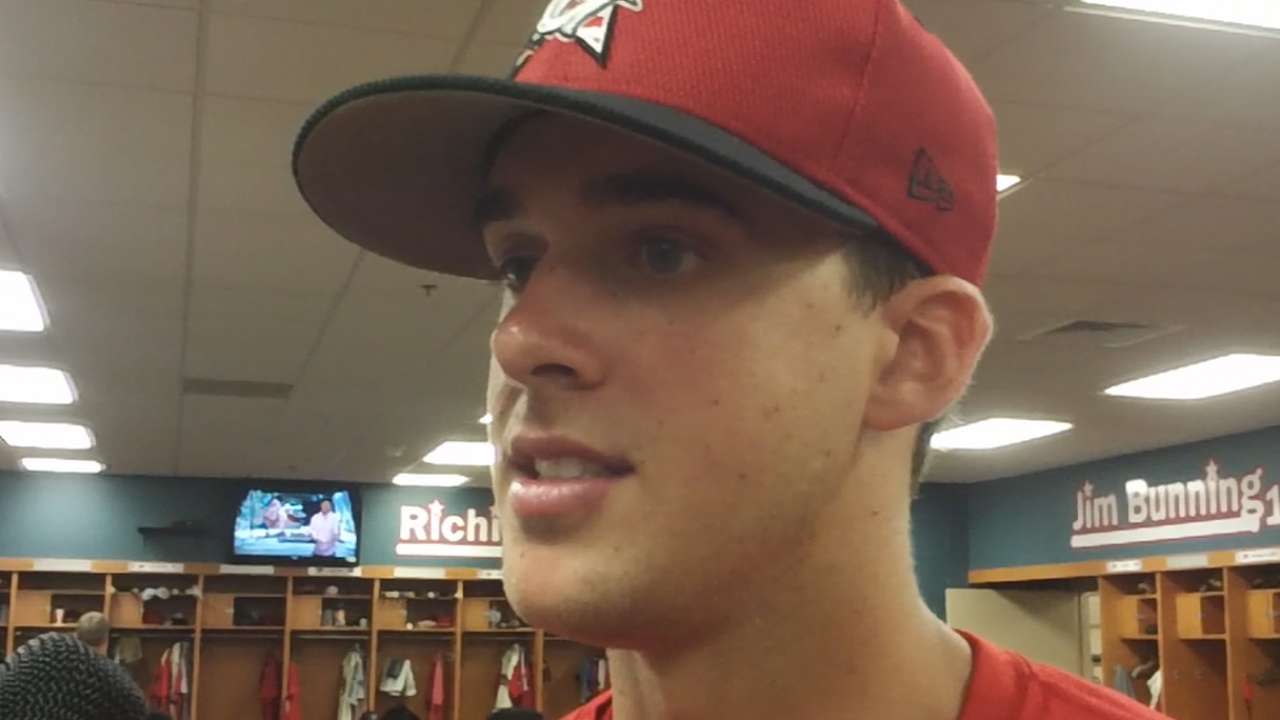 Leading up to the 2014 First-Year Player Draft, many evaluators said right-hander Aaron Nola was the most advanced player in the class and predicted he could be the first to reach the Major Leagues. The Phillies agreed with that assessment, selecting him seventh overall and challenging him with an assignment to Class A Advanced Clearwater.
In his first month as a professional, Nola's polish has been evident. In five outings with Clearwater, he has posted a 3.80 ERA and struck out 18 batters and walked three in 21 1/3 innings.
Friday, Nola will face another player who was lauded for his polish before becoming a Top 10 pick in the Draft when Clearwater faces Jupiter and third baseman Colin Moran at 6:35 p.m. ET.
Moran, ranked No. 41 on MLBPipeline.com's Top 100 Prospects list, was selected sixth overall in the 2013 Draft by the Marlins. He has spent his first full professional season with Jupiter, hitting .303/.351/.398 with four home runs.
A knee injury delayed Moran's start to the season and he hit .270/.317/.351 in 37 games in April and May. But as the season has gone on, he has gotten better. Though Moran saw his seven-game hitting streak snapped Thursday, he enters Friday hitting .328/.376/.434 in 45 games in June and July.
Friday's game will also feature another infielder drafted in the first round last year. The Phillies selected shortstop J.P. Crawford with the 16th overall pick in 2013 and he has advanced to Clearwater in his first full professional season. Since joining the Threshers last month, Crawford, ranked No. 81 on the Top 100, is hitting .276/.346/.397 with four home runs in 30 games. At 19, Crawford is the youngest player in the Florida State League.
Also highlighting the day's action are several pitchers ranked on the Top 100 who are scheduled to start, including Archie Bradley (No. 4), Kyle Crick (No. 26), Lucas Giolito (No. 35), Lance McCullers (No. 42), Rafael Montero (No. 65), Trey Ball (No. 76), Robbie Ray (No. 77), Hunter Harvey (No. 87) and Anthony Ranaudo (No. 89). Fans can watch Bradley, Crick, Montero, Ray, Harvey and Ranaudo on MiLB.TV, beginning with Harvey and Class A Delmarva visiting Rome at 7 p.m. ET.
McCullers, the Astros' No. 3 prospect, will take the ball for Class A Lancaster facing Stockton at 10:05 p.m. In 18 games this season, he is 3-3 with a 4.59 ERA and 83 strikeouts. The Ports are led by first baseman Matt Olson, the A's No. 3 prospect, who leads the California League with 28 home runs.
Top prospect probables
Miguel Almonte (Royals' No. 5), Wilmington vs. Winston-Salem
Trey Ball (Red Sox's No. 7), Greenville at Lakewood
Tim Berry (Orioles' No. 6), Bowie vs. Altoona
Paul Blackburn (Cubs' No. 15), Kane County vs. South Bend
Archie Bradley (D-backs' No. 1), Mobile at Pensacola
Austin Brice (Marlins' No. 17), Jupiter vs. Clearwater
Michael Clevinger (Angels' No. 6), Inland Empire at Modesto
Kyle Crick (Giants' No. 1), Richmond at Erie
Ryan Eades (Twins' No. 19), Cedar Rapids at Bowling Green
Buck Farmer (Tigers' No. 12), West Michigan at Clinton
Kendry Flores (Giants' No. 20), San Jose at Visalia
Brian Flynn (Marlins' No. 6), New Orleans vs. Omaha
Domingo German (Marlins' No. 20), Greensboro at Asheville
Lucas Giolito (Nationals' No. 1), Hagerstown vs. Kannapolis
Luiz Gohara (Mariners' No. 5), Everett vs. Boise
Hunter Harvey (Orioles' No. 3), Delmarva at Rome
Lars Huijer (Mariners' No. 20), High Desert at Rancho Cucamonga
Brian Johnson (Red Sox's No. 12), Portland at New Britain
Taylor Jungmann (Brewers' No. 8), Nashville vs. Oklahoma City
Branden Kline (Orioles' No. 14), Frederick vs. Lynchburg
Matt Koch (Mets' No. 19), St. Lucie at Daytona
Cody Kukuk (Red Sox's No. 16), Salem vs. Myrtle Beach
Jorge Lopez (Brewers' No. 19), Brevard County vs. Palm Beach
Michael Lorenzen (Reds' No. 4), Pensacola vs. Mobile
Lance McCullers (Astros' No. 3), Lancaster at Stockton
Rafael Montero (Mets' No. 2), Las Vegas vs. Salt Lake
Mike Montgomery (Rays' No. 17), Durham vs. Toledo
Tyler Pike (Mariners' No. 9), Jackson vs. Huntsville
Anthony Ranaudo (Red Sox's No. 8), Pawtucket at Scranton/Wilkes-Barre
Robbie Ray (Tigers' No. 1), Toledo at Durham
Nick Travieso (Reds' No. 7), Dayton vs. Quad Cities
Devin Williams (Brewers' No. 3), Helena vs. Missoula
Tom Windle (Dodgers' No. 7), Rancho Cucamonga vs. High Desert
Mike Wright (Orioles' No. 5), Norfolk at Columbus
Teddy Cahill is a reporter for MLB.com. Follow him on Twitter at @tedcahill. This story was not subject to the approval of Major League Baseball or its clubs.