Young's homer backs Chen's dominant night
Orioles lefty tosses eight strong innings for his fourth straight win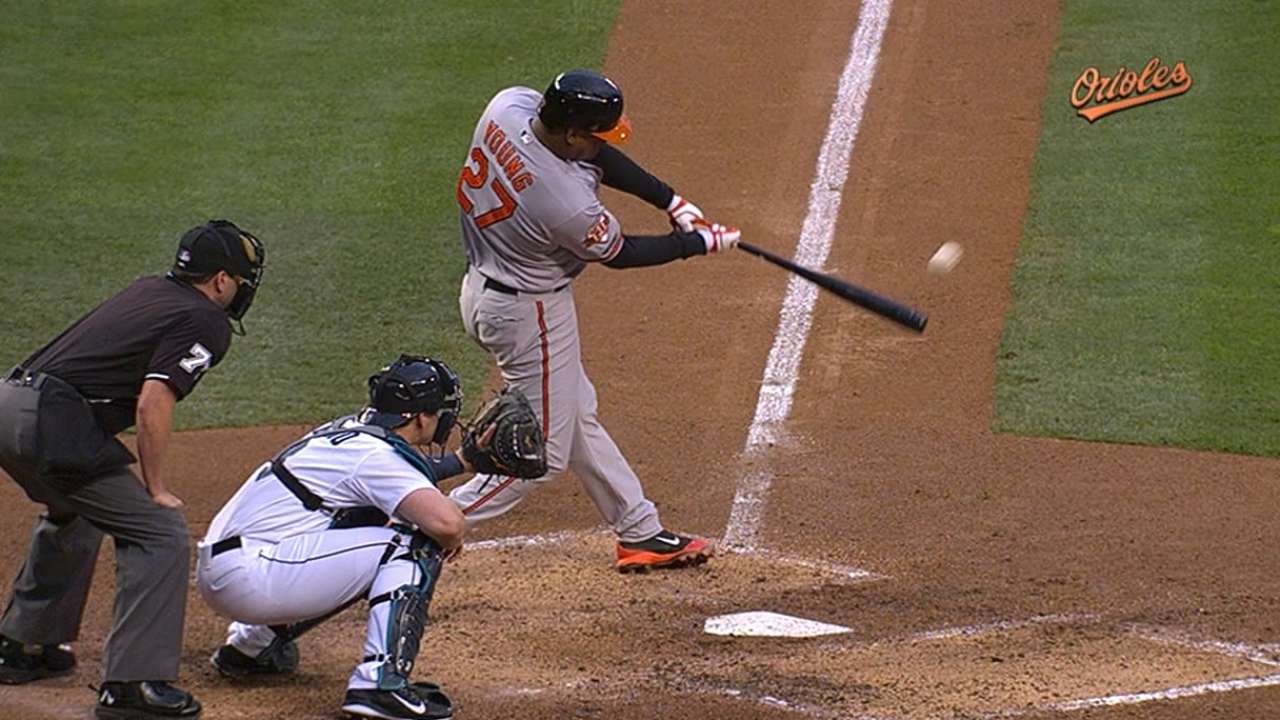 SEATTLE -- Orioles manager Buck Showalter wanted to get everyone at least one start on the club's current 10-game West Coast road trip, and designated hitter Delmon Young was the last guy for Showalter to pencil in Thursday night.
Young, who had last started on July 6, had some success against Mariners starter Hisashi Iwakuma going in and -- as Showalter quipped before the game -- made sure his skipper was aware of it. Several hours later, he went out and proved it.
Led by Young's three-run homer, which capped a four-run third inning, the Orioles got a career-high-tying eight scoreless innings from starter Wei-Yin Chen to keep first-place Baltimore three games up in the American League East. The series-opening 4-0 win, in front of 19,621 at Safeco Field, puts the O's at 4-3 on the three-city swing and 14-7 in their last 21 road games.
"Probably the best I've seen [Chen] in a really long time," catcher Caleb Joseph said of the lefty, who didn't allow a baserunner to reach second after the first inning. "Really did well with the fastball, mixed in a really good slider, threw the curveball and the changeup. And that's the type of performance we really need out of him for us to be a playoff contending team."
While Chen dazzled on the mound, with his pitches and defensive prowess, Young continued to give the Orioles impressive at-bats despite erratic playing time. With just one at-bat in the second half prior to suiting up Thursday, Young drove Iwakuma's first-pitch slider into the left-field seats to score Nick Markakis and Joseph and mark the O's fourth hit of the inning.
"I had good numbers," Young said when asked if he expected to get the nod Thursday. "They say I only play with numbers, so if I didn't play today, something was wrong."
"I thought I was going to see 10-for-11 or something but it was like 2-for-5," Showalter said of Young's track record against Iwakuma. "I was going to play him anyway, I spoke to him a day or two ago ... Delmon is a professional hitter. We are lucky to have him. He had a big blow for us. Obviously as big as a hit as there was in the game."
It was the bottom of the order that got things going with Ryan Flaherty and No. 9 batter Joseph singling before Markakis drove in a run with a hit to center field. After Young's homer, Chris Davis delivered a two-out single, which marked the fifth hit off Iwakuma, who allowed seven total over his seven innings.
"I was flying open and trying to make my adjustment on the mound for a second inning," Iwakuma said through his interpreter. "I was able to make the adjustment at the end, but it was too late. [Young] got to that pitch, it was a slider up in the zone, and that hurt me. ... That three-run home run cost us the whole game."
Chen handily outpitched his mound counterpart, running his winning streak to four in a dominant 109-pitch performance. The lefty was on cruise control for most of the night, showcasing some impressive defense, including a first-inning play at the plate that saved him a run.
With James Jones on third base -- after reaching on a leadoff walk -- Robinson Cano hit a dribbler back to Chen, who charged it and made a great glove flip to the plate to nab Jones. After a crew-chief review, the play stood as an out, and Chen scattered five singles from there.
"Since all the way back to Spring Training, Buck told us about being aware of all kinds of situations," Chen said through his interpreter. "During the play I took a peek and saw that the runner was going, so I did what I needed to do to get the ball to the plate. I think with a lot of practice in Spring Training, that's a result of that practice."
The play capped a defensive show for the Orioles, who also got a nice play from Davis to help turn the early momentum in their favor. Chen took it and ran, starting the eighth inning at 94 pitches and striking out Chris Taylor to mark the first time he's recorded an out past the seventh this season. One out later, Stefen Romero singled to bring Showalter on for a mound meeting, but Chen was able to retire Cano and finish the inning.
"I don't think he was real happy with the manager after the last outing," Showalter said, referencing Chen's five-inning outing in Oakland. "He takes a lot of pride in getting deep into games. I could tell he had a little extra edge going into tonight.
"I was going to let him start the ninth, if he could have got the guy out before Cano. But he just took it as far as he could. That's about as good as you can pitch."
It's also been a familiar sight lately for the Orioles as Chen became the fourth consecutive starter to turn in a quality outing, with the rotation pitching to a 1.26 ERA over that span and allowing four earned runs over a combined 28 2/3 innings.
"It's good because we've been getting ahead early and they've been pitching well so we don't have to go out there and score five or six runs," Young said. "If we go out there and score three or four, we can win because once the ball gets into the bullpen's hands with a lead, 90 percent of the time we're coming out with a win."
Darren O'Day, who leads the league in relief ERA, pitched a scoreless ninth to lower his mark to 1.02 and run his scoreless-outing streak to 13.
Brittany Ghiroli is a reporter for MLB.com. Read her blog, Britt's Bird Watch, and follow her on Facebook and Twitter @britt_ghiroli. This story was not subject to the approval of Major League Baseball or its clubs.