Iwakuma's impressive run ends with costly inning
Mariners' offense kept quiet; Taylor notches hit in MLB debut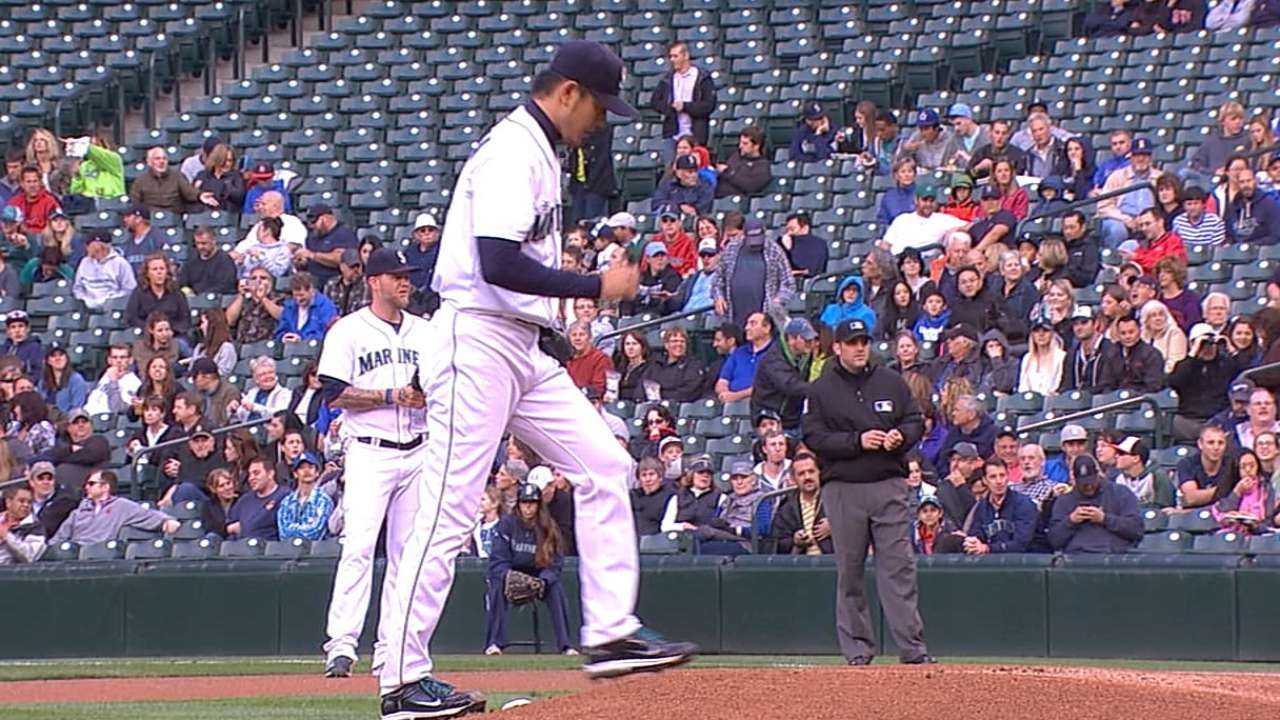 SEATTLE -- Hisashi Iwakuma suffered his first loss in nearly a month on Thursday night as the American League East-leading Orioles rolled to a 4-0 series-opening victory over the Mariners at Safeco Field.
Iwakuma's outstanding July was scuffed up by the hard-hitting Orioles, who put up four runs on seven hits -- including a three-run blast by Delmon Young -- in his seven innings to drop the 33-year-old right-hander's record to 8-5 with a 3.09 ERA.
The Orioles jumped on Iwakuma for all four runs on five hits in the third, with Young supplying the big blow. Baltimore is tied with Toronto for the most home runs in the Majors this season with 123.
But even in defeat, Iwakuma really only had one blip, a hanging slider that Young drove into the visitor's bullpen beyond the left-field fence for his fourth home run of the season.
"I didn't start off too well today," Iwakuma said through interpreter Antony Suzuki. "I was flying open and trying to make my adjustment on the mound for a second inning. I was able to make the adjustment at the end, but it was too late. He got to that pitch, it was a slider up in the zone, and that hurt me. ... That three-run home run cost us the whole game."
Iwakuma had gone 3-0 with a 1.57 ERA in four previous starts this month, with his last loss coming June 25 to the Red Sox. Catcher Mike Zunino acknowledged this wasn't vintage Iwakuma, but said the Japanese standout still battled well.
"To me, I honestly think it was just one pitch," Zunino said. "He left that slider up to Delmon Young, and he made one good swing and was able to change the game right there. But I thought he did a good job. He was a little up to start the game and was able to get away with it a little bit. But after that third inning and that pitch, he did a good job of adjusting."
Though Iwakuma wasn't his sharpest, he did extend his streak of innings without a walk to 35 2/3 frames, the second-longest stretch in club history behind Cliff Lee's 38 innings in 2010. Iwakuma had five strikeouts in his 96-pitch outing and now has 88 strikeouts with eight walks in his 16 starts this season.
But Seattle's offense offered little in the way of support against Orioles left-hander Wei-Yin Chen, who improved to 11-3 with eight shutout innings.
"We're not swinging well right now," said manager Lloyd McClendon, whose club was shut out for the 12th time this season, compared to 11 in all of 2013. "We just have keep grinding it out. Tonight was not a pretty night. When you don't hit, you don't look good. You look flat and all those things. But we'll come out tomorrow, we'll grind 'em out and we'll try to get a win."
The Mariners had a chance at a run in the first when James Jones walked, stole second, went to third on a groundout and then raced home when Robinson Cano nubbed a ball in front of the mound. But Chen fielded the ball and flipped it with his glove to Caleb Joseph, who tagged Jones out as he tried to reach around the catcher's foot.
Umpires looked at the play with a crew chief's review to see if Joseph's play was legal under the new plate-blocking rules, but the call stood and the Mariners were left empty-handed. That turned out to be the last time the Mariners advanced a runner past first base.
Both McClendon and Jones expressed confusion over the rule, which is supposed to require the catcher to provide a clear path to the plate before he receives the ball.
"They said they'd give us a lane," Jones said. "I felt like I had no lane, because when I slid, my hand hit his cleats first."
Rookie shortstop Chris Taylor got his first hit with a single in the fifth inning of his Major League debut, but Seattle totaled just five hits on the night. Taylor said he soaked in the whole experience, including a big ovation from the crowd of 19,621 both for his first at-bat and his initial hit.
"That was awesome," Taylor said. "To hear the crowd get behind me like that, it kind of sunk in right there at the plate. I was doing everything I could to relax and focus on the pitcher, but hearing the crowd behind me was an awesome feeling."
Seattle has lost three in a row and nine of its last 13 games to fall to 53-49. With the Yankees and Blue Jays both winning Thursday, the Mariners dropped out of the second Wild Card spot in the AL playoff race, now a half-game back of those two teams in the wide-open chase for the final postseason berth with just over two months remaining.
Greg Johns is a reporter for MLB.com. Follow him on Twitter @GregJohnsMLB as well as his Mariners Musings blog. This story was not subject to the approval of Major League Baseball or its clubs.