Mets' bats stymied by Brewers in Gee's rocky outing
Duda's homer provides only run support in series opener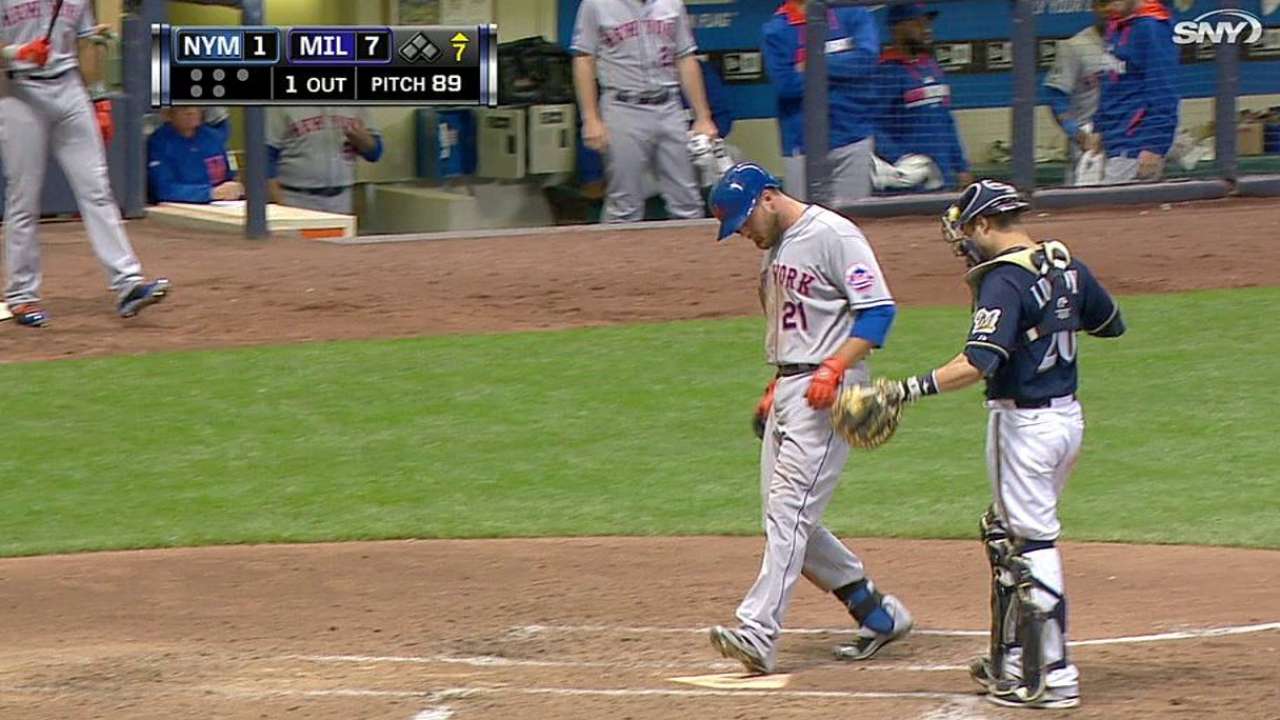 MILWAUKEE -- Dillon Gee says his shoulder feels fine, and he won't blame the long All-Star break layoff for his recent funk. But Gee just hasn't felt quite right over his last two starts, and that was evident in his poor outing on Thursday night as the Mets fell to Milwaukee in a 9-1 loss at Miller Park.
Gee had the worst start of his season in Thursday's series opener, surrendering six runs on six hits and two walks over five innings. The blowout loss dropped the team to 3-4 on this 10-game road trip and 23-31 on the road this season.
"There's no excuses. The layoff is not an excuse for me," Gee said. "The ball's just not coming out right the last couple starts. I've been in this situation before. I've had bad starts before and I'm probably going to have sometime else in my career. The key is just trying to bounce back as fast you can."
Since a strong outing July 8 in his return from the disabled list, Gee has struggled, lasting a season-worst five innings in each of his last two outings and yielding a total of 10 runs. Thursday was the first time all year he had yielded more than four earned runs. Gee is now 0-4 in four career starts against the Brewers.
"The reason we left him in there for a while is he needs to work. It's quite obvious. He needs to be out there pitching," Collins said. "We know Dillon's better than that. He knows he's better than that. We just need to get him another good side [session] and get in some extra work if we can."
Even Brewers manager Ron Roenicke expressed some surprise at his team's strong showing against Gee.
"He keeps the ball down and hits both sides of the plate and mixes his stuff up well," Roenicke said. "The command coming in, we figured he was going to be tough and we have to be patient. I thought we had some nice at-bats against him."
Gee conceded as much after the game, noting that the Brewers earned their runs with solid contact.
"I thought a couple of them were actually decent pitches, but it just seemed like everything they swung at, they hit hard tonight," Gee said. "You just have those nights sometimes where it definitely just isn't your day to be out there, I guess."
Gee allowed runs in each of his first three innings, with the bulk coming in a four-run second inning that consisted of back-to-back walks followed by three subsequent hits. He pitched two perfect frames to stretch his outing to five innings, but the damage had been done.
Daisuke Matsuzaka sealed the loss by allowing a solo home run to Khris Davis in the sixth and a towering two-run shot to Ryan Braun in the seventh.
Meanwhile, the Mets' bats didn't offer much in the way of run support as the team managed only two hits -- an infield single by Wilmer Flores in the third and a solo home run by Lucas Duda in the seventh -- off Milwaukee's Matt Garza. The offense has now scored 10 runs over its last six games.
"It's been tough. We're not swinging the bats very good right now, but this is a park you can come back in, believe me. A bloop and a blast gets you in the game here," Collins said. "We just didn't get the opportunities. I thought Garza was really, really good tonight. It's the best velocity I've seen him have continuing through a game in a while."
Curtis Granderson, Daniel Murphy and David Wright went a combined 0-for-11, leaving the Mets without any production from the top of their lineup.
"They're the keys to our club," Collins said of the trio. "Having Grandy out for a while, we got lucky and played good enough. Those are the guys who've been getting on base for us. Lucas [Duda] has continued to swing the bat very good, but the guys who are the key to your lineup, they've got to continue to do it. It's a lot of load on their shoulders, but when they get in a funk, someone else has got to step up and we're not doing that yet."
Caitlin Swieca is an associate reporter for MLB.com. Follow her on Twitter at @CaitlinSwieca. This story was not subject to the approval of Major League Baseball or its clubs.