Brewers pile on runs to back Garza's solid effort
Crew collects three homers to roll to fourth straight win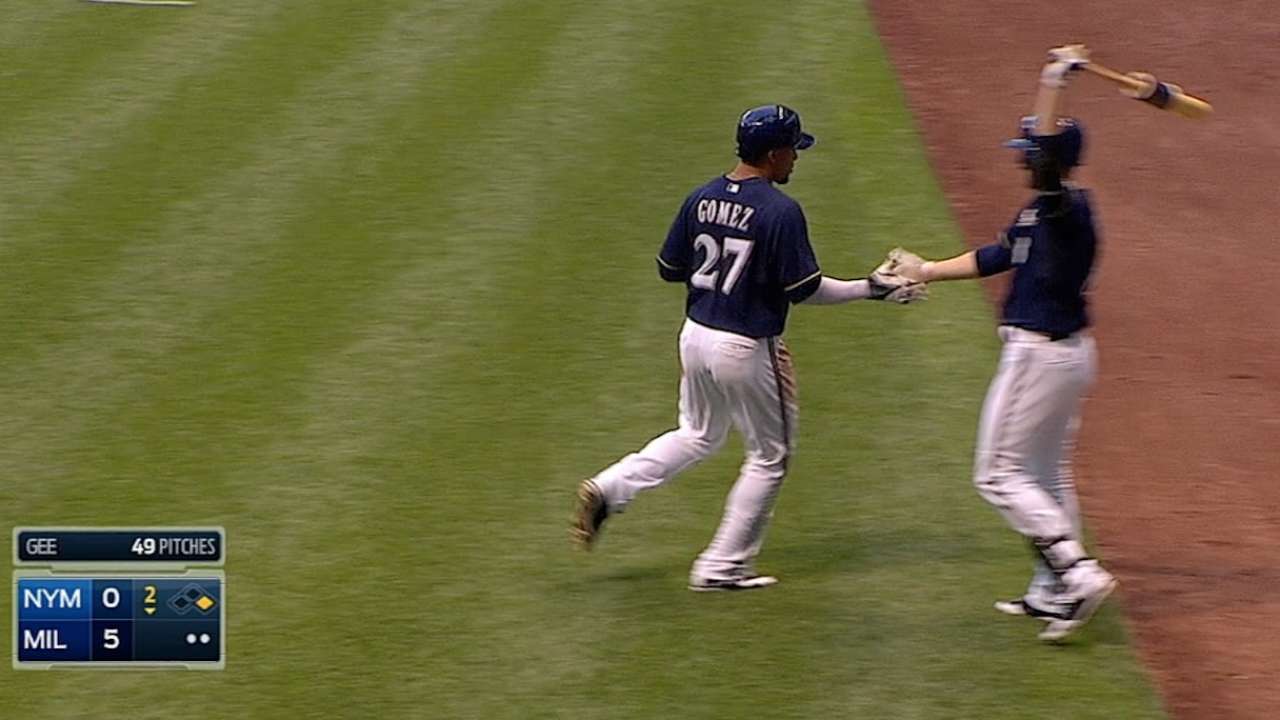 MILWAUKEE -- Short of Bernie Brewer flipping a hidden switch at Miller Park, how does one account for the sudden awakening of an offense from a summer slumber?
Brewers left fielder Khris Davis can't explain it, and did not seem particularly bothered.
"When it comes," Davis said, "you just have to collect."
The Brewers collected Thursday to the tune of 10 hits including three home runs, more than enough to send a sensational Matt Garza to a 9-1 win over the Mets. It was Milwaukee's sixth victory in eight games after losing 11 of the previous 12.
Davis, Ryan Braun and Jonathan Lucroy homered for the home team -- Davis taking the team lead with No. 17 this season, Braun sending one 445 feet to left field and Lucroy belting his third home run of the homestand. Braun, Davis, Lucroy and Jean Segura drove in two runs apiece. Every starting position player but Braun and Aramis Ramirez had scored a run by the end of the third inning, and Braun joined that list in the seventh.
This offensive turnaround has happened in a hurry.
During the stretch in which the Brewers lost 11 of 12 games, they were outscored, 71-33, averaged 2.75 runs per game and hit only six home runs -- or one for every two games. But in winning six of their last eight, Brewers batters have outscored opponents, 45-24, averaged 5.63 runs per game and hit 13 home runs -- or better than three for every two games.
"I don't know why," manager Ron Roenicke said. "With the pitching staff we have, I'd like to hope and think the offense doesn't all go cold like we did, because I think if we're more consistent with it, I would think, with our staff, we would be able to -- we may have some bad stretches, but not have a streak where you're losing a lot in a row."
"That time when we were struggling to score runs, we just kept chipping away and got through the break," Davis said. "There was definitely frustration, being a younger player. At the same time, I had these vets around me that reminded me we're going to go through situations like this. They kept reminding me and Scooter [Gennett] to grind it out. These guys have been through it."
Their words carried weight.
"It's comforting," Davis said. "The confidence never goes away, but sometimes you have to get through it."
A homer for Lucroy put the Brewers on the board in the first inning Thursday against Mets right-hander Dillon Gee, who entered the night with a 2.92 ERA in 10 starts and saw it balloon to 3.49 after he allowed six runs on six hits in five innings. Segura's two-run triple highlighted a four-run second inning, and Rickie Weeks and Davis delivered back-to-back doubles with one out in the third inning to make it a 6-0 game.
"I thought a couple of them were actually decent pitches, but it just seemed like everything they swung at, they hit hard tonight," Gee said. "You just have those nights sometimes where it definitely just isn't your day to be out there, I guess."
Garza endured one of those days last week. He recorded only one out five days earlier against the Nationals, but pitched a 1-2-3 first inning against the Mets with help from third baseman Ramirez and first baseman Mark Reynolds on an inning-ending defensive gem.
"You could see him right away, attacking the zone with his fastball," Roenicke said. "He was very confident coming into it."
The Mets' only hit through six innings belonged to Wilmer Flores, who hit a sharp grounder that was snagged in foul ground by a diving Ramirez, who could not get enough on a throw across the diamond to record an out. The Mets didn't move a runner past first base until Lucas Duda hit a solo home run with one out in the seventh.
That briefly made it 7-1, but Braun answered with his long, two-run home run in the bottom of the seventh inning to extend Milwaukee's lead.
Garza snapped a two-start losing streak and dropped his ERA back into the threes (3.87) by allowing only one run on two hits in eight innings, with one walk and four strikeouts.
"Personally, it was just getting back to where I've been," Garza said. "Keep pitching, keep attacking. The last outing was what it was. I threw good pitches but stuff kept falling. Tonight, it was ground balls to our guys and they kept most of the stuff in the yard.
"The bigger thing is just, I kept this thing rolling. … I didn't want to be the one to stop it."
Adam McCalvy is a reporter for MLB.com. Read his blog, Brew Beat, and follow him on Twitter at @AdamMcCalvy. This story was not subject to the approval of Major League Baseball or its clubs.