Scherzer fans 11 Angels for 12th victory
Kinsler, Castellanos drive in two as Tigers get to Richards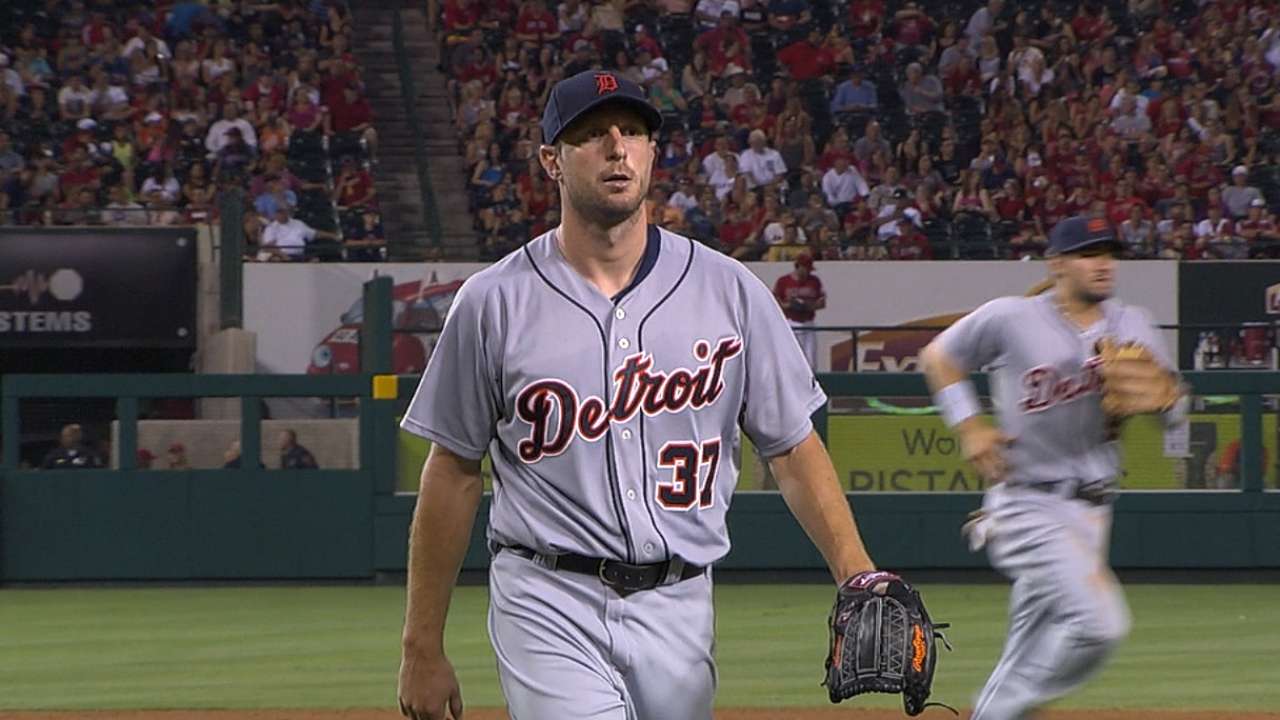 ANAHEIM -- Max Scherzer is back at the point where he can dismiss the importance of win totals as an indicator of how well a pitcher is performing. He did so plenty of times last season.
This, however, was a fairly big win, and not just for him.
"When I falter a bit, they come back and pick me up," Scherzer said after Thursday's 6-4 Tigers victory over the Angels moved him back into a tie for the Major League lead in victories. "That's what makes our team so good. We have each others' backs. Tonight, I got picked up big time by our offense."
Scherzer (12-3) led the league in run support last year, but he didn't need it because he pitched so dominantly on his way to the American League Cy Young Award. His roll over the past month or so hasn't left him needing much help at all.
As Scherzer walked off the mound at the end of the fifth, wiping the sweat from his face onto his sleeve after a 30-pitch inning, he needed whatever help his hitters could offer.
It wasn't physical. He loves pitching in hot weather because his arm is easy to get loose. He needed a rally to get back into the game against Garrett Richards, who has posted numbers very similar to Scherzer's but was left off the AL All-Star team earlier this month.
Both pitchers had a chance to join the group of 12-game winners Thursday, a group that includes Scherzer's teammate, Rick Porcello. For the first four-plus innings, they pair lived up to the billing. By game's end, the run totals made the pitchers' duel tough to recognize.
"When you know they got their best guy going on the other side, you're trying to match them pitch-for-pitch, inning-for-inning, run-for-run, whatever," Richards said. "Yeah, I was just trying to hang with him and give us a chance to win."
Then, just when the Angels seemed to solve Scherzer, the Tigers finally got to Richards. While Scherzer regrouped, Richards did not.
"That's why when I'm in that situation and I'm having to face Trout, Pujols and Hamilton, if I can just limit the damage, I have a shot," Scherzer said. "I know my guys can come back and win this game."
If teams rely on shutdown innings from their starters immediately after a big rally, this is the opposite. For Thursday, at least, it worked.
"Certainly it was a lot better scenario for us than a quick inning," manager Brad Ausmus said.
Not only did Scherzer retire the Angels in order the first time through the lineup, he didn't allow a ball out of the infield in the process, striking out four of his first nine batters. That included Mike Trout, who struck out again in the fifth to fall to 3-for-16 with 10 strikeouts off him.
Two singles broke his roll in the fourth, but it was a string of three consecutive singles in the fifth that put him in serious trouble. Before he could face that vaunted middle of the lineup, he had to worry about Kole Calhoun at the top of the order with runners at second and third and one out.
With a 1-2 count and a chance to take the sacrifice fly out of play, Scherzer tried to overpower Calhoun -- first with a 98 mph fastball, then at 97 mph.
"He fouled one off," Scherzer said, "and I thought he might be sitting soft in that situation after that, and I threw another softball about two inches off. And he fouled that one off."
He tried to come back with a curveball, but Calhoun got enough of that for a liner to right and a two-run single. With that, Scherzer gave up more runs that inning than he had allowed in any game since the 10-run rampage put up by the Royals on June 17.
Scherzer kept it from getting worse by striking out Josh Hamilton to strand two. It began him on a roll of seven consecutive outs to end his night, five by strikeout, one by Austin Jackson's leaping catch at the fence.
By the time Scherzer faced the second hitter in that string, he had the lead again. The Tigers put up four consecutive hits to lead off the top of the sixth. The last two were RBI doubles -- one from Torii Hunter to plate Miguel Cabrera, the other from Nick Castellanos to add two.
"We were aggressive off his fastball, and we swung at strikes that inning," Castellanos said.
The three-run sixth comprised more runs than Richards had allowed in his previous three starts combined. Two add-on runs against the Angels bullpen from there comprised the margin of victory.
Jason Beck is a reporter for MLB.com. Read Beck's Blog and follow him on Twitter @beckjason. This story was not subject to the approval of Major League Baseball or its clubs.