Richards stumbles in opener with Tigers
Three-run sixth and final inning sours Angels righty's night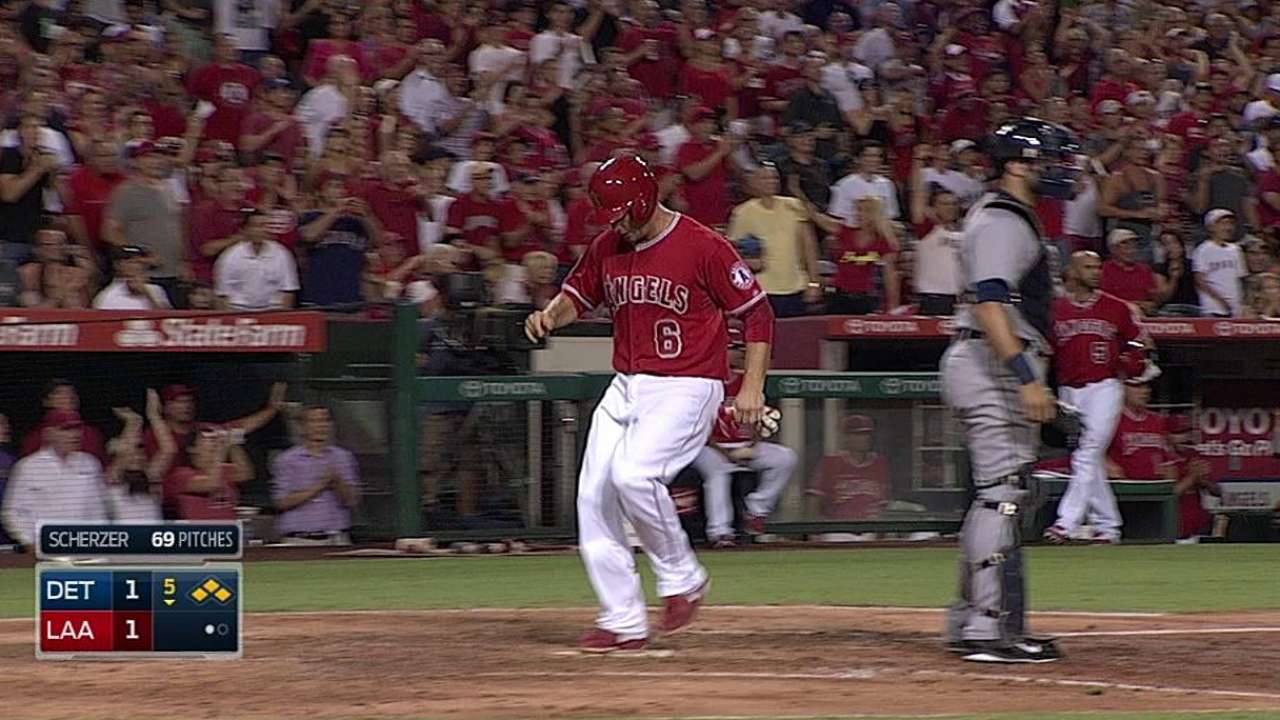 ANAHEIM -- Garrett Richards picked the wrong night to be average.
On the other side was Max Scherzer, the reigning American League Cy Young Award winner, and four runs allowed in six innings just wasn't going to cut it.
"When you know they have their best guy going on the other side, you're trying to match him pitch for pitch, inning for inning, run for run," Richards said after the Angels' 6-4 loss to the Tigers on Thursday. "I was just trying to hang with him and give us a chance to win."
Instead, the Angels lost for the fourth time in seven games to begin the second half, falling three games back of the A's in the AL West for the first time since July 10.
Their offense put together a three-run inning in the fifth, getting an RBI infield hit from C.J. Cron and a two-run single from Kole Calhoun to take a 3-1 lead. But Richards gave it right back in the next half-inning, which began with back-to-back singles from Miguel Cabrera and Victor Martinez, an RBI double from Torii Hunter and a two-run double from Nick Castellanos.
"We were aggressive off his fastball," Castellanos said, "and we swung at strikes that inning."
After that, Scherzer retired six in a row, the Tigers tacked on a couple of runs against the Halos' bullpen and the Angels lost to Detroit for the 11th time in the last 13 meetings.
"I feel like I let the guys in here down," Richards said. "They worked hard to put up three in the fifth and I went out in the sixth and gave it right back to them. That's a little frustrating, but it's been a good couple two months and we're still playing good baseball. It's not like we got blown out tonight. That's not a bad team over there, either."
Richards entered 7-0 with a 1.25 ERA over his last nine starts, but said he was "up in the zone" and "the ball wasn't really cutting or sinking like it usually does" during the series opener at Angel Stadium. The 26-year-old right-hander said it was the worst his stuff has felt since giving up five runs in two-thirds of an inning in Oakland on May 30, the outing that triggered the dominant run he was coming off of.
"This outing was a little bit better than Oakland's outing," Richards said with a sly grin, "so things could be worse."
Things have been worse for the Angels' offense, which has been the most effective in baseball for most of the season but has run into a bit of a dry spell since the All-Star break.
The Angels beat the Orioles despite going 0-for-12 with runners in scoring position on Wednesday and struck out 14 times on Thursday, tied for their second-highest total this season. In their seven second-half games, they've faced three Cy Young-caliber arms in Felix Hernandez, Hisashi Iwakuma and Scherzer, and a couple of guys with sparkling track records against them in Bud Norris and Miguel Gonzalez. And their numbers have suffered right along with it.
They're averaging 3.14 runs per game, after being the only team in the Majors to average more than five as recently as Wednesday. And they're batting .225 as a team, after batting .337 in the five-game winning streak that ended the first half.
Beware of small sample sizes, Howie Kendrick will tell you.
"It's [seven] games," the Angels' second baseman said. "There's nothing to go on.
"We're professionals, but man, you have to give the guy on the other side some credit, too. We've been facing some good teams, but when you play good teams you have to play good, too. Tonight, Scherzer, he pitched well. And he's one of the better guys in the league."
Alden Gonzalez is a reporter for MLB.com. Read his blog, Gonzo and "The Show", and follow him on Twitter @Alden_Gonzalez. This story was not subject to the approval of Major League Baseball or its clubs.