Noesi's arm, Eaton's bat lead Sox over Twins
Righty allows three hits in 7 2/3 innings; center fielder drives in two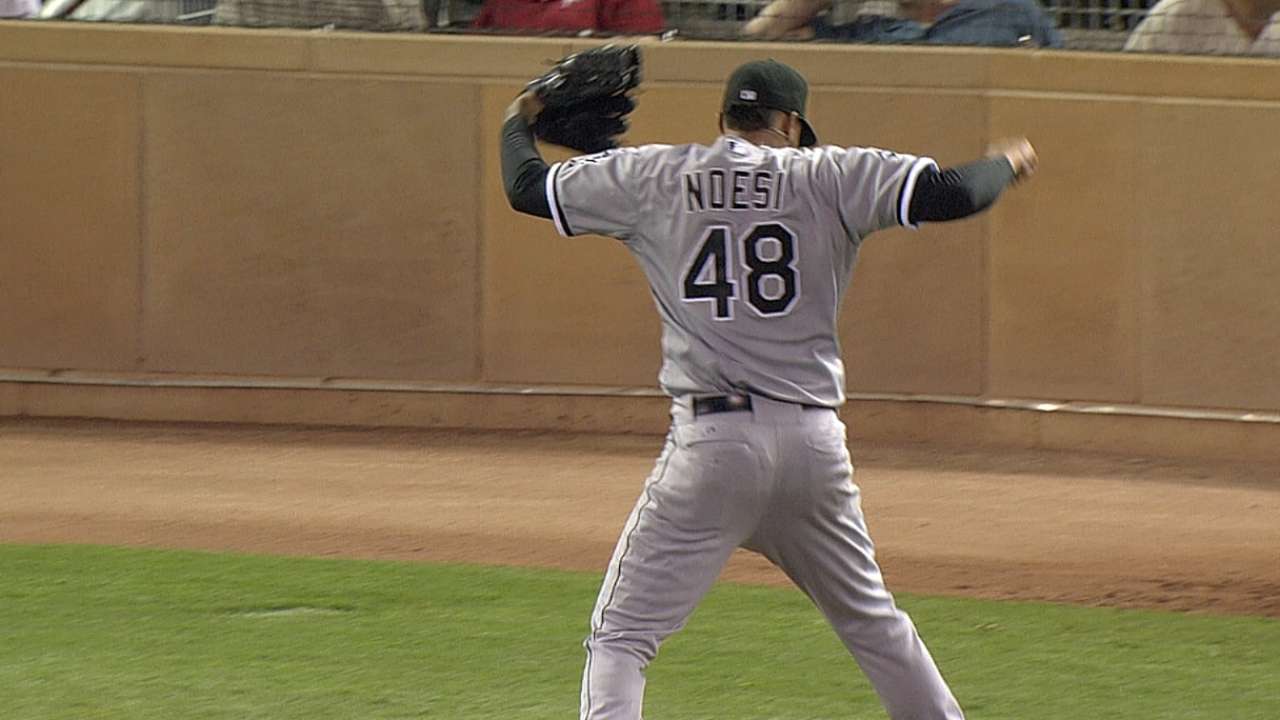 MINNEAPOLIS -- With a shorthanded bullpen and an offense that was scuffling a bit, the White Sox got exactly what they needed from Hector Noesi on Thursday night.
Noesi pitched shutout ball into the eighth inning and Adam Eaton had three hits and two RBIs as the White Sox defeated the Twins, 5-2, at Target Field.
In his longest outing with the White Sox, Noesi was one pitch away from eight scoreless innings, but Danny Santana hit a two-out, two-run homer that knocked Noesi out of the game. Still, Noesi was in command throughout the night and won consecutive starts for the first time since early June.
The White Sox put closer Zach Putnam on the 15-day disabled list on Thursday, so getting a big start from Noesi kept pressure off the bullpen.
"You feel a little shorthanded with Putnam going on the DL and things get a little mixed up in there," manager Robin Ventura said. "You're looking for some length, but [this] was even better than just the length -- [Noesi] was sharp all night."
Noesi came out strong and didn't let up. The first 11 Twins went down in order before Trevor Plouffe looped a two-out fly ball that glanced off a charging Alejandro De Aza's glove in short left-center for Minnesota's first baserunner. The Twins didn't get another hit until the eighth inning.
"He had late movement," Twins manager Ron Gardenhire said. "He had a good changeup and a slider and a cutter. He was able to throw that first-pitch curveball consistently and get ahead in the count. He pretty much kept us off balance all night long."
Noesi said when he's on, it usually stems from his ability to locate his fastball, and Thursday was no different.
"When you have command of your fastball, every pitch you can mix in and they're going to swing and miss," Noesi said. "But everything was working today."
Meanwhile, the Chicago offense took a little pressure off Noesi with some early runs. Twins starter Phil Hughes was knocked out of the game in the fourth when Adam Dunn's comebacker struck Hughes in the right shin.
The White Sox immediately took advantage, plating three runs off reliever Samuel Deduno to stretch their lead to 4-0. After scoring just five runs in a three-game series with Kansas City, that rally was a welcome sign.
"To be able to get a lead and let our pitcher get ahead of guys and not worry about only giving up one run, it was nice," Eaton said. "Hopefully we'll be able to continue that."
Eaton had the biggest at-bat of the night in that rally. With two outs and the bases loaded, he fell behind Deduno 0-2, including a feeble swing at a one-strike curveball that bounced at his feet. But Eaton hung with a curve on the next pitch and grounded it up the middle for a two-run single.
"I really just watched the pitch that I saw in the dirt and kind of just said, 'Let's just see it, use your hands, put it in play,'" Eaton said. "Bases are loaded and something's going to happen. We have to put it in play.
"When he threw it to me again, I saw it a little bit better and just tried to use my hands, tried not to do too much, and I happened to 15-hop it through the infield."
Jose Abreu did not homer for his seventh straight game -- one shy of his longest streak of the season -- but he did extend his current hitting streak to 14 games with a booming double high off the right-field wall in the fifth.
Gordon Beckham, who's been mired in a lengthy slump, hit a couple balls hard and finally got one to drop. In his first at-bat, he scalded a liner to dead center but hit it right at Santana, who hauled it in for an out. But in the sixth, Beckham drove a pitch over Sam Fuld's head to the wall in left for a double. That hit snapped an 0-for-13 skid for Beckham.
But the story of the night was Noesi, a reclamation project on his third team of the season. Since joining the White Sox rotation in late April, the White Sox are 8-8 in his starts, and Noesi is 5-6 with a 4.43 ERA.
"The strides he's made are impressive from when we got him to what he's doing now, where he's at," Ventura said. "To be able to go out and give you this, it's definitely steps in the right direction."
Patrick Donnelly is a contributor to MLB.com. This story was not subject to the approval of Major League Baseball or its clubs.