Aoki's single walks off Royals past Tribe in 14
Duffy goes seven innings in no-decision; Holland has rare blown save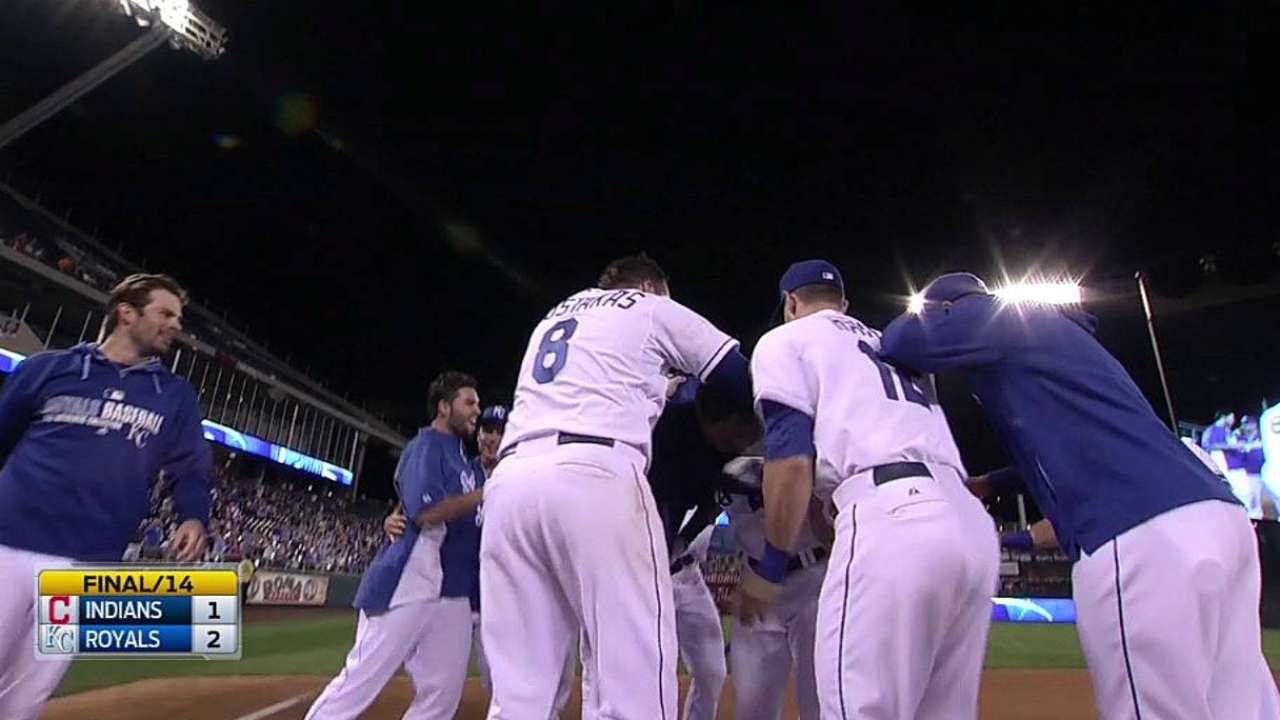 KANSAS CITY -- This game refuses to be scripted. A bizarre, run-scoring play in the eighth inning would have been a perfect ending for the Royals. They couldn't have written it better.
Or could they?
Nori Aoki's single to left field drove in Lorenzo Cain in the 14th inning to give the Royals a 2-1 victory over the Cleveland Indians in a taut, 4-hour and 23-minute marathon on Thursday night at Kauffman Stadium.
"That was huge," Royals manager Ned Yost said. "We were really struggling at that point to make anything happen."
Facing left-hander Marc Rzepczynski, Cain opened the Royals' 14th with an infield single to shortstop. When right-handed Danny Valencia came out to pinch-hit for lefty Raul Ibanez, the Indians countered with right-hander John Axford.
And Cain took off for second base.
"We got nothing going on, you've got to take a shot," Yost said.
Cain executed the steal on catcher Yan Gomes' throw, although the safe call was unsuccessfully challenged by the Indians.
"It was closer than I thought when I looked at it, but I got the hand in there," Cain said.
Valencia struck out but Aoki, starting for the first time as the designated hitter, drove a soft liner into left field and Cain rushed home to end the game.
The Royals converged on Aoki in the infield as what remained of 22,120 fans stood and cheered the team's second walk-off victory this season.
"It's one of the best feelings. Hopefully we have more of those moments the rest of the season," Aoki said.
The victory put the Royals back in second place, a half-game ahead of the Indians in the American League Central.
For a while, it appeared that the Indians would be making the big news.
Corey Kluber had a brush with a perfect game and a shutout -- but lost out on both.
His perfecto lasted until there was one out in the seventh. His shutout disappeared with a bizarre play in the eighth, when Mike Moustakas was able to go around the bases as Indians left fielder Ryan Raburn missed a diving catch, then spiked his throw. It was a double, an error and the first run of the game.
A victory seemed just destined to be.
"Oh, absolutely. I felt like that," Yost said.
Royals closer Greg Holland, however, couldn't hold the 1-0 lead. He began the ninth by walking Carlos Santana, who was bunted to second and took third on the second out. On Holland's next pitch, Gomes drilled a single up the middle and the score was tied.
"It was one of those rare occasions when I didn't have a good feel of the strike zone," Holland said. "I threw 12 balls and nine strikes. You never want to walk the leadoff man in the ninth, either, that kind of puts you in a bad spot."
Kluber worked a perfect ninth against the Royals, then left the game. His log included two hits, one unearned run, no walks and 10 strikeouts.
"That was pretty special what he was doing. You can pick all the adjectives you want. He really pitched," said Indians manager Terry Francona.
This game took shape as a double perfect game, at least for the first four innings. It was 12 up, 12 down for both the Royals' Danny Duffy and Kluber.
"I actually thought we had a chance to finish this game before it got dark," Yost said. "Kluber was unbelievable, Danny was unbelievable. Quick innings. Both pitchers with a no-hitter into the fifth inning."
Duffy was the first to crack. Santana led off the fifth inning with a sizzling line drive to left field.
Kluber finally caved with one out in the seventh, when Omar Infante drilled a single right up the middle.
Not that the Royals took advantage. As Alex Gordon struck out, Infante was thrown out stealing by catcher Gomes and the inning was suddenly over.
Duffy also had a shutout going through seven innings and had given up just two hits, both singles by Santana, but he was pulled after 108 pitches. He struck out seven and walked two.
"It was one of the best starts I've had in recent memory, where I was locating so well with everything," Duffy said.
Wade Davis, imperturbable and virtually untouchable, took over for the eighth and lived up to his steely reputation by pitching out of a bases-loaded jam.
Then came the strangely scored run and the game was in the hands of Davis' fellow bullpen terror, Holland. But there would be no tidy ending, no scripted conclusion.
"Anything can happen in this game, it's a funny game," Duffy said.
Dick Kaegel is a reporter for MLB.com. This story was not subject to the approval of Major League Baseball or its clubs.