Kluber loses perfecto, then Tribe falls to KC in 14
Righty retires first 19 Royals before settling for nine-inning no-decision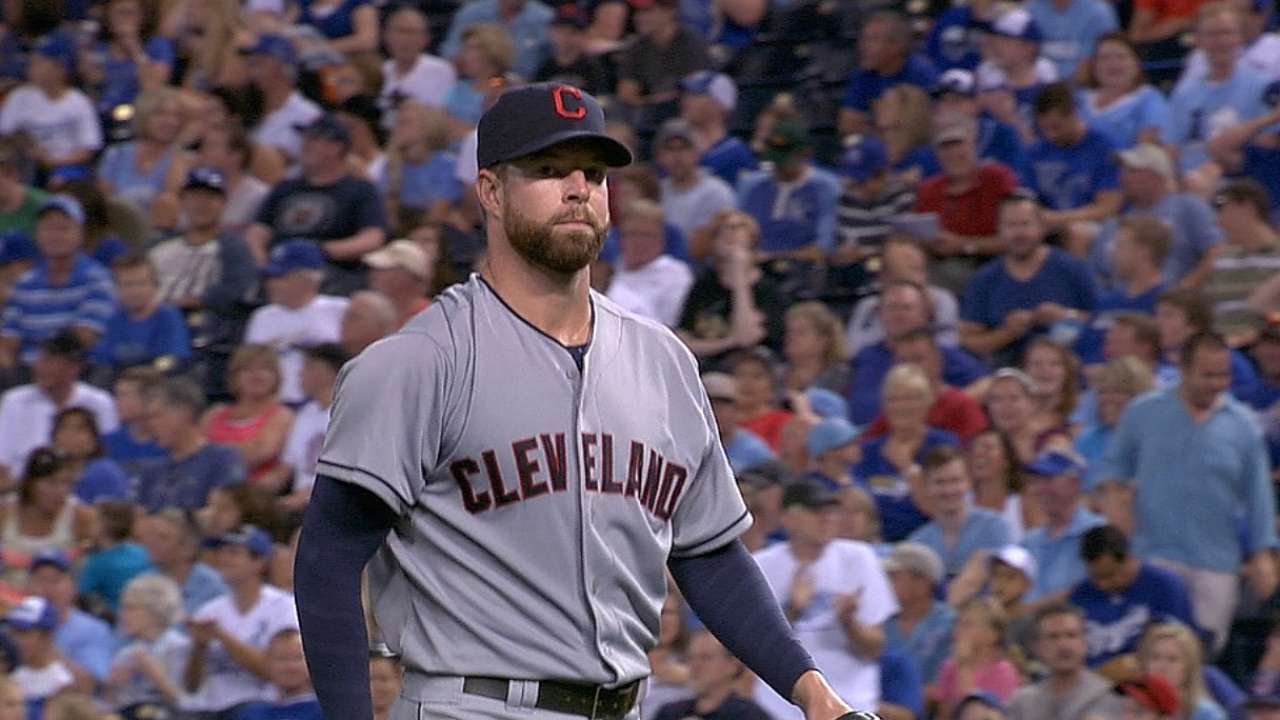 KANSAS CITY -- Throughout his breakout season, Corey Kluber has insisted that personal accomplishments are not his aim. The numbers next to his name are secondary to the primary objective, which is to lead the Indians to the win column.
On Thursday night, Kluber looked right at home in Kauffman Stadium, where he carried a perfect game into the seventh inning and turned in the kind of spectacular performance that should have netted both him and the Tribe a victory. Instead, Kluber was the victim of low run support and a bizarre defensive disaster in a draining 2-1, 14-inning defeat decided long after his departure.
"We've seen Klubes pitch really well this year, but that was [impressive]," Indians manager Terry Francona said. "I wish we had some runs, so you can sit back and really enjoy it, because that was pretty special, what he was doing. You can pick all the adjectives you want. He really pitched."
The night's final blow came 4 hours and 23 minutes after first pitch, at 12:34 a.m. ET, when Royals designated hitter Nori Aoki slashed a pitch from Cleveland reliever John Axford into left field for a walk-off single. Lorenzo Cain slid across the plate, where he was greeted by a mob of tired teammates.
Kluber was pinned with a hard-luck no-decision, giving up just two hits, one unearned run and no walks while striking out 10. Cleveland suffered its fourth loss in the past five games.
"That's part of the game," Kluber said with a shrug. "There are going to be times when you don't pitch well and the team picks you up, too."
For the most part, it was a steady stream of strikeouts for Kluber, who lowered his season ERA to 2.77 and was barely threatened. Lefty Danny Duffy was nearly as impressive, turning in seven shutout innings with only a pair of hits relinquished for the Royals.
Cleveland's lone run came in the ninth, when catcher Yan Gomes connected for an RBI single against K.C. closer Greg Holland. Jason Kipnis, Michael Brantley and Nick Swisher went a combined 0-for-17 at the plate for the Indians, who ended the evening with 10 runners stranded and a 2-for-9 showing with runners in scoring position.
Given the apparent ease with which Kluber handled the Royals, the pitcher appeared poised to possibly end Cleveland's 33-year no-hitter drought (longest in the Majors). The last for the Tribe came courtesy of the right hand of Len Barker, who spun a perfect game against the Blue Jays on May 15, 1981.
Kluber's bid for a no-hitter ended with one out in the seventh, when Omar Infante drove a 1-1 pitch up the middle for a no-doubt single to center. The Tribe's starter followed with a strikeout of Gordon, and Gomes cut down Infante at second base on a would-be steal to end the inning in emphatic fashion.
"I felt pretty comfortable out there. I got in a good groove," Kluber said. "For the most part, when they did get a runner on, I was able to make a good pitch, and then Yan made a good throw to throw him out trying to steal."
When it was all said and done, Kluber did accomplish a bit of history, though. By striking out 10 and walking none, Kluber turned in his fifth start of the season with a double-digit strikeout showing and no more than one free pass issued. That established a single-season club record, surpassing the four such outings turned in by Hall of Famer Dennis Eckersley in 1976.
Kluber's six double-digit-strikeout efforts this season are the most by a Cleveland pitcher since Bartolo Colon also had six in 2000.
"He's been our ace," Indians outfielder Ryan Raburn said of Kluber. " I think tonight you saw what kind of pitcher he's been. Hopefully, we've got quite a few more starts out of him just like that."
Kansas City's only run off Kluber came in the eighth, when Mike Moustakas flared a pitch from Kluber over left field, tailing toward the line. Raburn, who switched from right field to left before the inning, ran hard to track down the ball, but came up empty with sliding attempt.
The ball bounced off Raburn and headed toward the side wall, while Moustakas slowed into second with a double. Cleveland's left fielder retrieved the baseball in foul territory and hustled to get a throw off -- but spiked the ball into the ground. It shot off the dirt and back into left field, rolling far enough away into no-man's land for Moustakas to continue an unlikely sprint around the bases.
"Ray made a really good effort," Francona said. "Because we were shifting ... [third baseman Lonnie Chisenhall] was sprinting back to third. So when Ray came up to throw, he tried to hold up, and the ball came out of his hand. It's fluky and it cost us a run, but it was just a bunch of guys trying hard to get in the right place."
The Kauffman crowd's roar increased with each of Moustakas' steps, which ended with him crossing the plate to an eruption of cheers from the Royals' faithful. Behind the plate was a disgusted Kluber, who stood still with his hands on his hips.
"There are weird things that happen in this game," Kluber said. "It's just one of those plays."
Raburn felt awful.
"I couldn't hold up," he said. "For that to happen, it was a tough one to swallow."
It was a frustrating error that spoiled a shutout and made for a long night.
Jordan Bastian is a reporter for MLB.com. Read his blog, Major League Bastian, and follow him on Twitter @MLBastian. This story was not subject to the approval of Major League Baseball or its clubs.