Padres' bats erupt in series-clinching win at Wrigley
Rivera homers, ignites nine-run sixth with two-run single to back Ross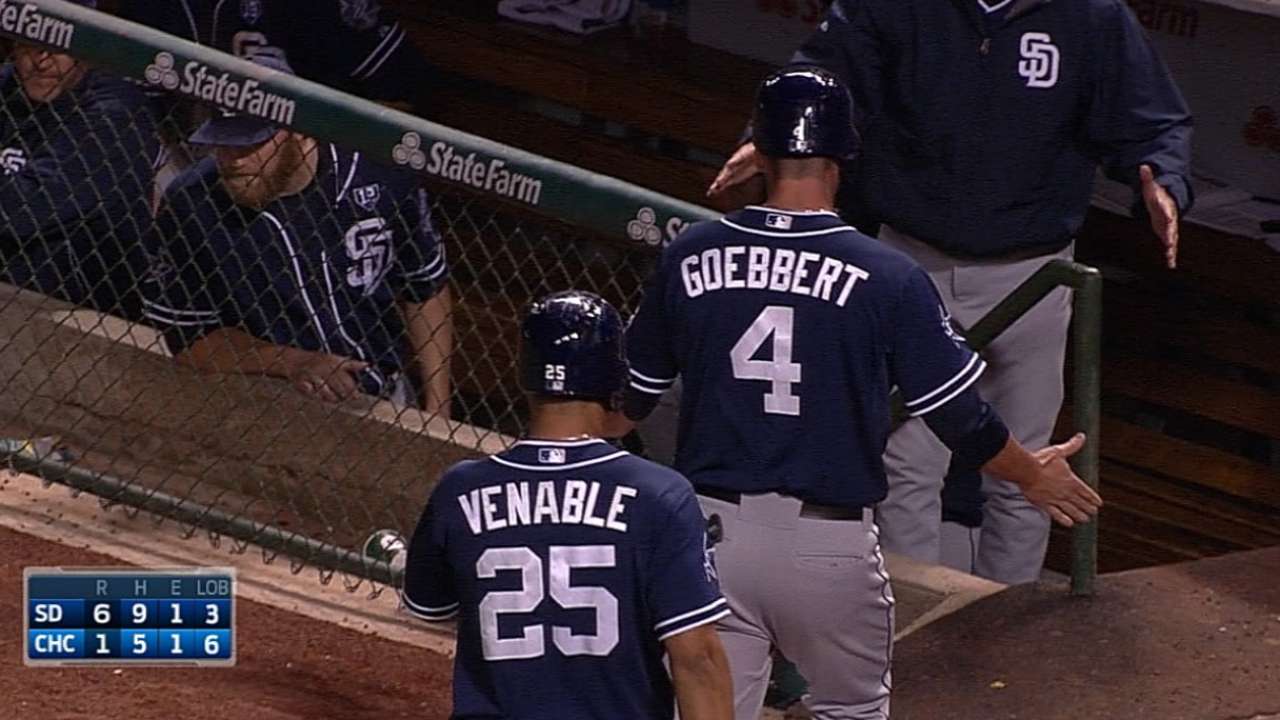 CHICAGO - The Padres' 13-3 win over the Cubs Thursday at Wrigley Field looked more like an elongated session of batting practice than a series rubber match between two National League teams.
San Diego erupted for nine runs on eight singles, two walks and a hit batter in the sixth inning while loading the bases seven times and sending more batters to the plate than they had since the first frame of a July 28, 2007 game against the Astros.
"You talk about offenses being contagious and hitting contagious, I think you saw that tonight," manager Bud Black said. "We've seen it percolate here the last few days. … You want to keep it going, and we did that."
The 13 runs marked a season-high for San Diego, eclipsing 11 registered on May 23 against the Cubs and starter Edwin Jackson, who took the loss on Thursday -- his 11th overall this season, tied for second worst in the Majors.
Jackson, who is 0-3 in five starts this month with a 7.27 ERA, left in the sixth with cramping in his pitching hand after giving up five runs (four earned) on seven hits with a walk and four strikeouts. Yet his departure seemed ages before the Padres' juggernaut sixth inning.
San Diego went through its entire lineup before registering its first out of the sixth, then turned in three more runs before taking the field again.
"It's one of those games where you have to give the guys on the other side a lot of credit to put together that type of inning and get single after single and keep the line moving is something you don't see that often," Cubs reliever Wesley Wright said. "It's one of those nights when you hope you can limit the damage, and we weren't able to do that tonight."
Making his second start after his first All-Star appearance last week, Padres starter Tyson Ross furthered his strong month with a career-high 11 strikeouts to the 25 batters he faced over six innings. Ross allowed five hits and a walk, bringing his average against to .194 (24-for-124) with a 1.03 ERA in July.
"I'm just trying to get better every time out," Ross said. "Every game it's something different I'm trying to work on and improve. Tonight it was nice that I got my sinker back a bit and had a positive result. Just learning, growing and keep going."
Seth Smith, Will Venable and Rene Rivera each had three-hit games, while Venable, Rivera, Alexi Amarista and Chris Nelson each had multiple RBIs. Rivera also hit the game's only home run, his seventh on a 3-1 fastball over the left-center field wall in the fifth inning.
The Padres parlayed a pair of runs in the first when Yasmani Grandal lined a two-out triple to bring home Smith, then scored on a Venable single, giving Ross a 2-0 lead to work with before he even took the mound.
"That's always huge," Ross said. "When you can go out there and have an early lead, it puts the pressure on the other team. At that point, it's just about throwing strikes and getting ahead, putting guys away. The early lead was great."
Ross' repertoire consisted of a front-door sinker to Chicago's five lefties with a fastball and sharp slider mix overall, which he called his "go-to combo." Seven of his 11 strikeouts were on sliders, and two were called looking.
"It's a devastating two-pitch combination," Black said. "I like the fact that some of the sliders were a little bit slower, had a little bit of a bigger break to them. That was good. Good fastball with some life -- he threw some fastballs up by some guys, he threw some fastballs on the inside corner to lefties that had comeback action for a called third strike."
The Padres (45-56) open a four-game slate in Atlanta beginning on Friday having won their past two series, taking two of three from both the Cubs and Mets.
Daniel Kramer is an associate reporter for MLB.com. This story was not subject to the approval of Major League Baseball or its clubs.