Cooperstown turnout may dwarf recent years
At least 40,000 expected for induction ceremony thanks to inductees' popularity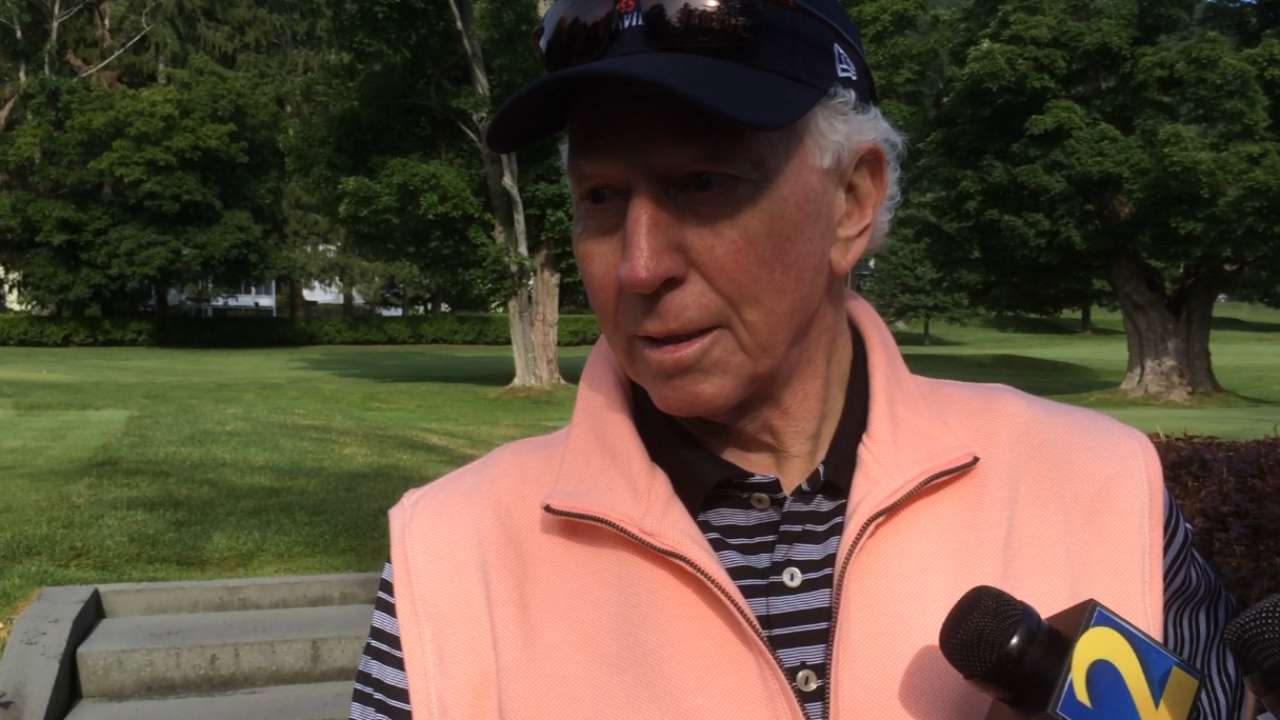 COOPERSTOWN, N.Y. -- By Friday, Main Street was already blocked off from the only traffic light in town, down past the National Baseball Hall of Fame and Museum to the corner of Fair Street. And Bob Gaugler, who is attending his 20th consecutive Induction Weekend, knew right away what that meant.
"They normally wouldn't block the street off this early, which means they're expecting big crowds," the Graterford, Pa., resident noted.
Gaugler was right, of course. With Greg Maddux, Tom Glavine, Frank Thomas, Bobby Cox, Joe Torre and Tony La Russa all being enshrined today, huge crowds have descended on a village with a population of 1,800 year-round residents.
Hall of Fame coverage begins at noon ET with MLB Tonight live from Cooperstown on MLB Network and simulcast on MLB.com and the At Bat app, with the induction ceremony slated to begin outside the Clark Sports Center at 1:30 p.m.
Brad Horn, the Hall's vice president of communications and education, said the best guess is that some 40,000 baseball fans will find their way to the museum and various festivities.
"Now, certainly, projections are just that," Horn said. "Because [the induction] is a free event, weather dependent on Sunday morning, we could have many fans who decide to drive in to see the ceremony."
The largest crowd in the history of Induction Weekend was in 2007, when an estimated 82,000 showed up to help honor Cal Ripken Jr. and Tony Gwynn. Some 50,000 were on hand for Nolan Ryan, George Brett, Robin Yount and Orlando Cepeda in 1999, and 40,000 celebrated the careers of Mike Schmidt and Richie Ashburn in 1995.
On Saturday morning, the line to get into the Hall of Fame went down the steps and up to the corner. John Hower of Berwyck, Pa., staked out a prime spot at 7 a.m. ET to be ready for the 6 p.m. Parade of Legends.
"I've been coming since 1992," Hower said. "I guess I'm a little crazy. This is a big crowd, but so far, not as big as Ripken and Gwynn. That was packed."
By mid-afternoon, the crowds had overflowed from the sidewalks and packed Main Street. Most wore some sort of team gear. Up and down the street were tables and shops where fans could buy autographs. Among those signing were Ferguson Jenkins, Andre Dawson, Frank Robinson, Gaylord Perry, Goose Gossage, Rollie Fingers, Art Shamsky, Willie Randolph, Tommy Lasorda, Dale Murphy, Wade Boggs, Darryl Strawberry, Orlando Cepeda, Juan Marichal, Dave Stewart, Rickey Henderson, Robin Yount, Steve Carlton, Jose Cardenal, Carney Lansford, Bob Watson, John Smoltz and Ozzie Smith.
Hawkers stood in the streets like carnival barkers, letting fans know who was inside.
"John Rocker and Denny McLain are here now! Bert Campaneris at 3! All nine positions in one game! Get a ball signed for a $20 contribution!"
The scene was interspersed with shops and tables selling every kind of imaginable baseball souvenir.
A typical Induction Weekend crowd runs between 15,000 and 20,000, and it's obvious when the final numbers are in that this year will far surpass that. And first-time attendees usually find the rustic setting unique.
"We're not a ballpark experience," Horn said. "Fans may pull into Cooperstown thinking they're pulling into a lot at Citi Field, where they'll be directed to park for the day and walk to a gate where they'll be serviced for a ballgame and have every modern convenience at their fingertips.
"Cooperstown is quite a bit different. It's a step back in time. It's a village full of Victorian homes, private businesses. Parking lots become residents' yards. The hospitality of the locals is truly extraordinary in helping people from all across the country feel welcome.
"And people experience the magic of this Central New York village as it bursts to life in celebration of these inductees with the old-fashioned ceremony under a tent in a big farm field one mile south of the museum."
Paul Hagen is a reporter for MLB.com. This story was not subject to the approval of Major League Baseball or its clubs.