Samardzija's gem, Moss' grand slam fuel A's romp
Starter saves 'pen with 8 IP; slugger's bases-loaded blast third of '14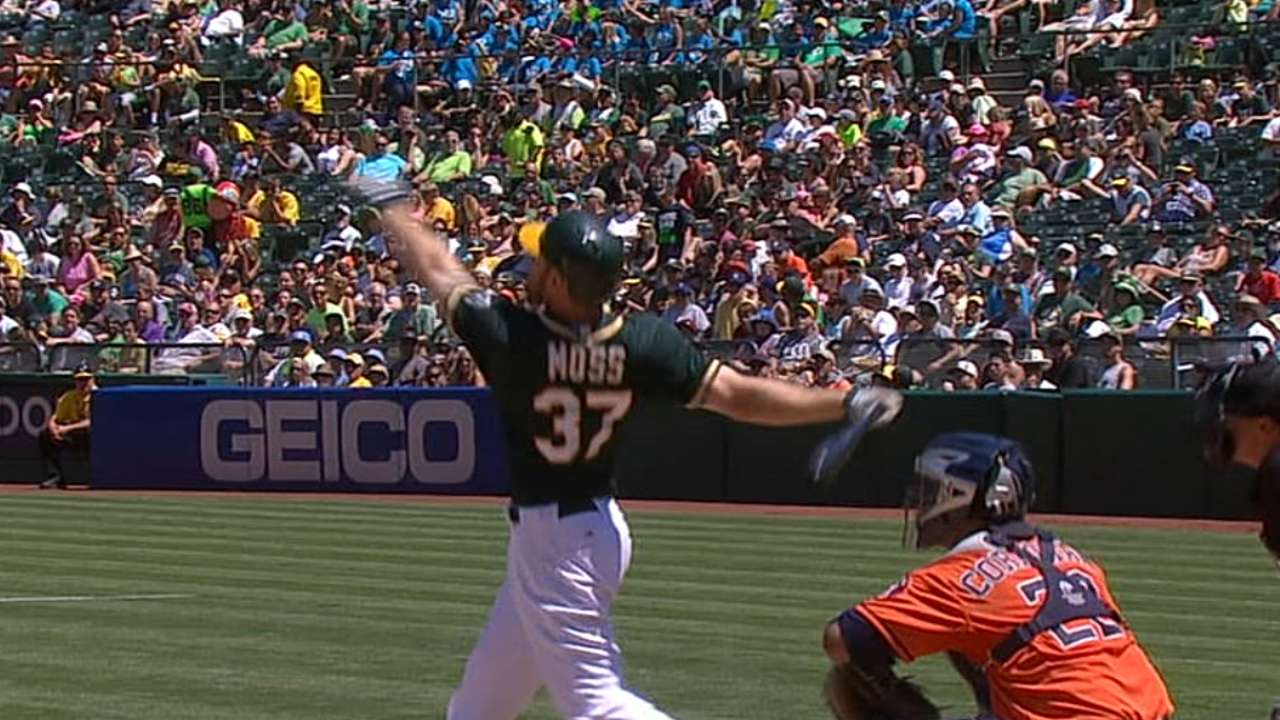 OAKLAND -- Watching TV at his hotel on Wednesday night, Jeff Samardzija saw a clip from A's manager Bob Melvin's postgame news conference. Melvin was asked about the state of the bullpen heading into Thursday's rubber match against the Astros.
The skipper's answer: "Samardzija."
"I was like, I better get to bed and get ready," Samardzija said. "It was pretty cool to hear that."
Once the 6-foot-5, 225-pound right-hander got rolling on Thursday, he was impossible to slow down. He threw eight innings of one-run ball, allowing five hits while striking out six and walking none as the A's cruised, 13-1, at O.co Coliseum.
The A's offense joined Samardzija in bowling over the Astros, pounding 14 hits, including Brandon Moss' third career grand slam -- and third this year. They capped a 4-2 homestand and moved to a season-high 25 games above .500.
Oakland's bullpen was in desperate need of a breather after back-to-back laborious nights, and thanks to Samardzija, the four relievers who pitched both Tuesday and Wednesday could sit back and enjoy the show.
"He knew it going out there today, and I think he takes pride in that type of thing," said Melvin. "He knew what was expected of him, and gave us exactly that."
Chris Carter's solo home run created the only stain on Samardzija's stellar pitching line, and he improved to 2-1 with a 2.70 ERA in four starts since being traded from the Cubs early this month.
Meanwhile, Moss and the bats gave their new teammate more run support than he's received all season. They methodically broke down Scott Feldman, drawing five walks and spraying hits to the opposite field to establish a 4-1 lead through four innings.
"Made him throw a lot of pitches," Melvin said. "We had baserunners out there all the time, which was a little bit more pressure on the starting pitcher. It took us a little while to actually cash in on a lot of them, but you know if you continue to put guys on base that you're going to come through.
"When we're going about our game, when we're doing well, that's kind of the approach we have."
Moss broke open the floodgates against Anthony Bass in the sixth, belting his grand slam over the out-of-town scoreboard in right.
"You get into certain situations and a guy's got to make a pitch and you're being aggressive," Moss said. "It could just as easily be a foul ball or something. I stay with the same approach and try to drive the ball, and sometimes it goes over the fence, sometimes I pop up, sometimes I swing over a slider. It's one of those things where I got a good pitch to hit, and I didn't miss that one."
The lefty slugger is the first A's player since Miguel Tejada in 2001 to hit three grand slams in a season. He's one shy of the club record set by Jason Giambi in 2000.
"Twelve RBIs in three at-bats," Melvin said. "That's not fair."
Oakland received three hits from both Jed Lowrie and Derek Norris and two apiece from Josh Reddick, Josh Donaldson and Stephen Vogt, who added a three-run double in the eighth.
Reddick is now 4-for-10 with three doubles since coming off the disabled list, and he ran rampant on the basepaths on Thursday, knee brace and all.
"I think at this point, he's not even thinking about it," said Melvin. "Moving around in the outfield, running bases, swinging the bat well."
With the A's up big, Samardzija could go into full attack mode. He threw 101 pitches, 70 for strikes.
"That's what run support will do for you," he said. "Just calm down, and I like to throw a lot of fastballs. Get a few-runs lead, you can really pound the zone, get ahead in the count and work from there."
Evan Scribner, recalled from Triple-A on Thursday morning after Jim Johnson was designated for assignment, tossed a scoreless ninth.
Aaron Leibowitz is an associate reporter for MLB.com. This story was not subject to the approval of Major League Baseball or its clubs.