Hamels in fine form with 10 K's to beat Giants
Byrd, Utley deliver RBI singles to support Phillies' ace in finale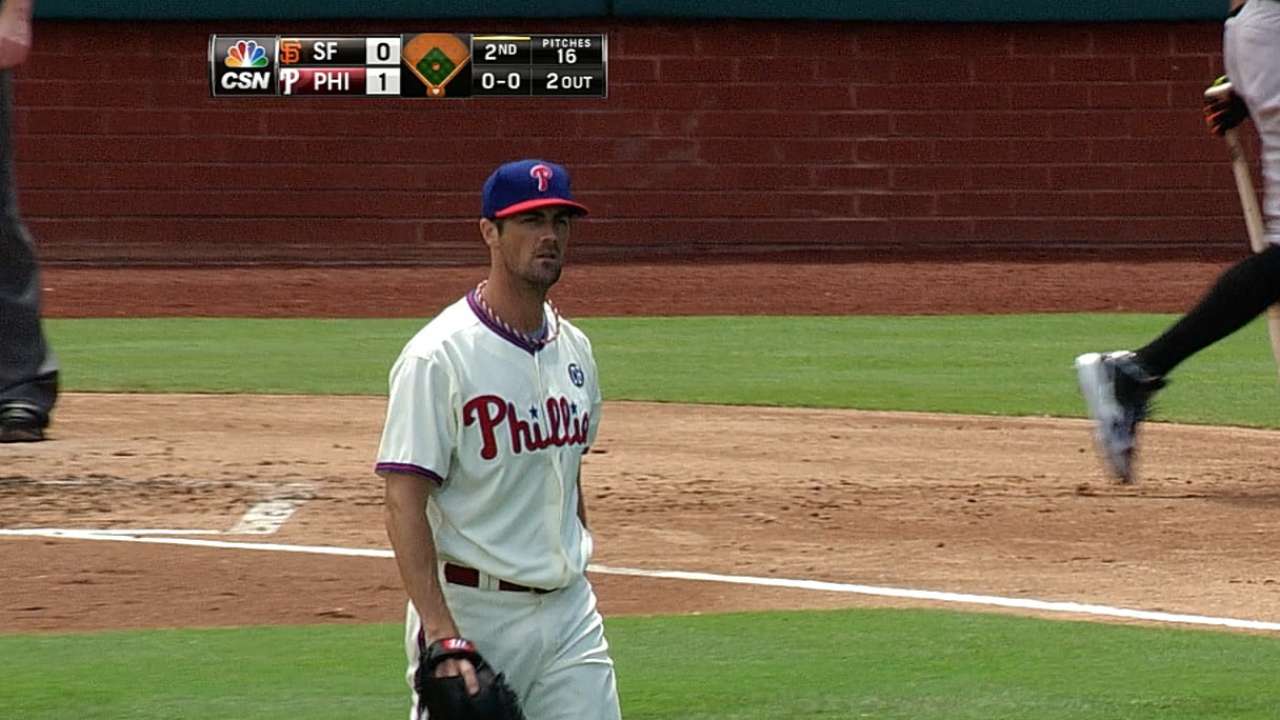 PHILADELPHIA -- Cole Hamels on Thursday afternoon proved why he's one player on the Phillies' roster that may not be expendable.
With the non-waiver Trade Deadline just a week away, Hamels outdueled Tim Hudson with 10 strikeouts in eight strong innings in a 2-1 victory over the Giants at Citizens Bank Park.
Hamels steered the Phillies clear of what could have been their second four-game sweep of the season. He has gone at least seven innings in 13 of his last 15 starts. while posting a 2.04 ERA (24 earned runs, 105 2/3 innings) over that stretch.
"He really has been consistent," manager Ryne Sandberg said. "He has pitched like an ace."
Hamels was hitting 94-95 mph with his fastball on Thursday, proving he is a long ways removed from the biceps and left shoulder injuries that plagued him during Spring Training and early April.
"I don't ever recall his fastball being as good as it was today," Giants starter Tim Hudson said. "His fastball had some juice on it."
"I think it is just workouts that I've been able to do in Spring Training throughout the season are starting to kick in, and my strength is hanging around," Hamels said. "Just change your routine just enough where everything stays loose but strong."
Philadelphia had feelers out earlier in the year to gauge the interest level in Hamels and what it could expect to receive in return. The interest level has been high, but suitors have not expressed offering nearly as much as the Phillies think he's worth.
All they have to do is point to his numbers.
The 30-year-old lefty recorded double-digit strikeouts for the fourth time this season and the 27th time in his career. The effort was Hamels' 39th quality start since 2013, fifth most over that span, behind only Adam Wainwright, Felix Hernandez, Clayton Kershaw and James Shields.
"When we get him some runs, obviously that has lacked in some of his outings, but a little run support and where he is at right now, he's at the top of his game," Sandberg said.
Friday marks the two-year anniversary of Hamels signing his six-year, $144 million deal with the Phillies. So far, things haven't panned out the way he had hoped.
"I think the decision I made at the time was the promise that we would go out and win the whole time when I was here," Hamels said. "We still had Doc and he was having an off-year, but I knew what he was about in 2010 and '11. I knew he would still be here and I knew Cliff was going to be here. To have all three of us all pitch, I felt confident on what we had and could do as a pitching staff. A lot of the decision was based on that and I knew that we had a lot of great young talent that was going to come into the bullpen. That was something that caught my eye.
"But I enjoy pitching here and that is something that has come up in 2008, '09, '10 and '11. All of the sellouts and everything that the fans and the organization were able to do for all of us made it an easy decision because it is so much fun to come to this ballpark and win. That's what I was expecting and what I'm trying to still do."
It was just Hamels' fifth win of the year, but that's thanks in large part to the woeful offensive numbers the Phillies have posted in games started by their ace southpaw.
On Thursday, two runs of support was plenty.
Jimmy Rollins set the table in the first inning with a one-out double, and after Chase Utley drew a walk, Marlon Byrd singled to score Rollins for a 1-0 lead.
In the fifth, the Giants finally broke through against Hamels by manufacturing a run to even the score. Gregor Blanco led off the inning with a single, Hudson moved him over with a sacrifice bunt, and Ehire Adrianza got the RBI two batters later with a single up the middle.
The Phillies answered in their half of the inning by taking advantage of an error. Ben Revere reached second after left fielder Michael Morse dropped a popup, and Utley drove him home a batter later on a single to center.
After a blown save and a loss the previous two nights, Jonathan Papelbon secured the victory for Hamels with a 1-2-3 ninth. He threw 26 pitches on Tuesday and 29 on Wednesday, but Papelbon felt good during pregame warmups on Thursday and he was eager to get back on the mound.
"I definitely wanted to get back out there and show the team I'm working hard to do everything I can to be a part of this equation and help win ballgames," he said.
Erik Bacharach is an associate reporter for MLB.com. This story was not subject to the approval of Major League Baseball or its clubs.