Giants stumble behind Hudson in Philly finale
Error, passed ball lead to unearned runs in right-hander's solid start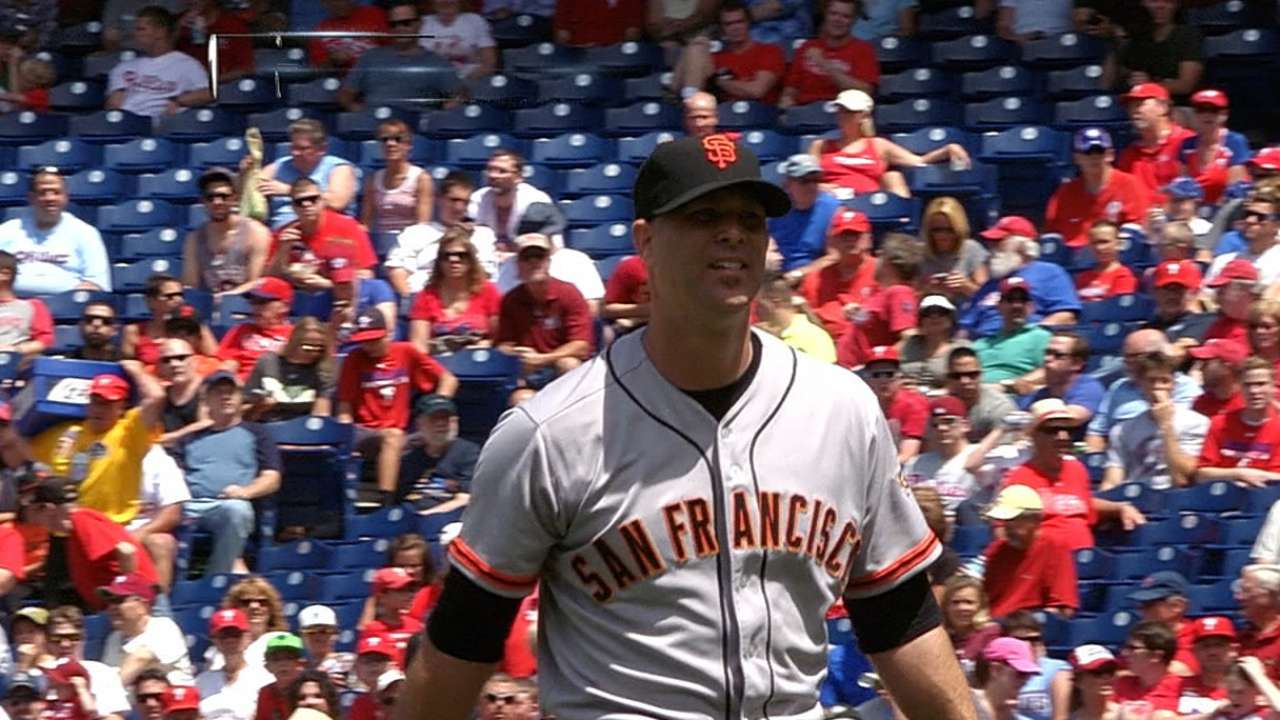 PHILADELPHIA -- The significance of the Giants' 2-1 loss on Thursday to the Philadelphia Phillies remains to be seen.
It'll go down as a game to be forgotten, a footnote to an otherwise encouraging 5-2, two-city trip, if the Giants sustain their recent improvement.
Or it'll be remembered as the first spot of corrosion if Cole Hamels' remarkable pitching puts the hitters in a slump or if the mistakes that generated Philadelphia's pair of unearned runs proliferate among the Giants.
Left fielder Michael Morse likely spoke for his teammates by saying, "This is a great road trip for us. Nobody's hanging their heads about losing this one."
Chances are good that the Giants indeed will shrug off this defeat, since they'll have no time to dwell on it. The National League West leaders begin a three-game series on Friday against Los Angeles, their traditional rival and, currently, their closest pursuer in the division race.
"We need to head home feeling good about where we are," manager Bruce Bochy said. "It's going to be a good, exciting series. This is what you play for. ... It's good for baseball. Even though it's July, it's a series that will get a lot of attention."
Hamels (5-5) commanded most of the attention, as well as his deliveries, during this Citizens Bank Park matinee. He threw an astonishingly high percentage of strikes -- 90 in 116 pitches -- while striking out 10 and allowing six hits in eight innings.
Giants right-hander Tim Hudson, formerly of the Atlanta Braves, watched Hamels' skills unfold while they competed in the NL East. This time, Hudson saw a left-hander who was unusually effective.
"I don't ever recall his fastball being as good as it was today," Hudson said. "His fastball had some juice on it."
As a result, Philadelphia's one-run margin almost seemed like a rout. All of the Giants' hits were singles as they moved just four runners into scoring position.
Yet this still was a winnable game for the Giants. But their typically reliable defense lapsed. Catcher Buster Posey committed a first-inning passed ball that helped the Phillies open the scoring, and Morse dropped Ben Revere's fifth-inning fly ball that went for a two-base error and led to the go-ahead run.
Posey mishandled a pitch to Chase Utley, advancing Jimmy Rollins to third base and setting up Marlon Byrd's RBI single.
Hudson shouldered the blame for the lapse, revealing that he didn't throw Posey the assigned pitch. The right-hander explained that the Phillies happen to be proficient at stealing signs, prompting him and Posey to alter their signals. Yet when Posey called for a cutter, Hudson threw a split-fingered fastball.
"I pulled a 'stooge' move," said Hudson, who dropped to 8-7. " ... That wasn't one of my prouder moments. I crossed him up and it cost us a run."
Morse, who has committed just two outfield errors this season, had Revere's popup in his glove, but he lost control of the ball after a long pursuit. "I tried to run as fast as I could," Morse said.
Morse and the rest of the Giants must continue to accelerate for the next two months.
Chris Haft is a reporter for MLB.com. Read his blog, Haft-Baked Ideas, and follow him on Twitter at @sfgiantsbeat. This story was not subject to the approval of Major League Baseball or its clubs.