Red Sox drop series; no match for Jays' Stroman
Victorino breaks up no-no in seventh; De La Rosa allows seven runs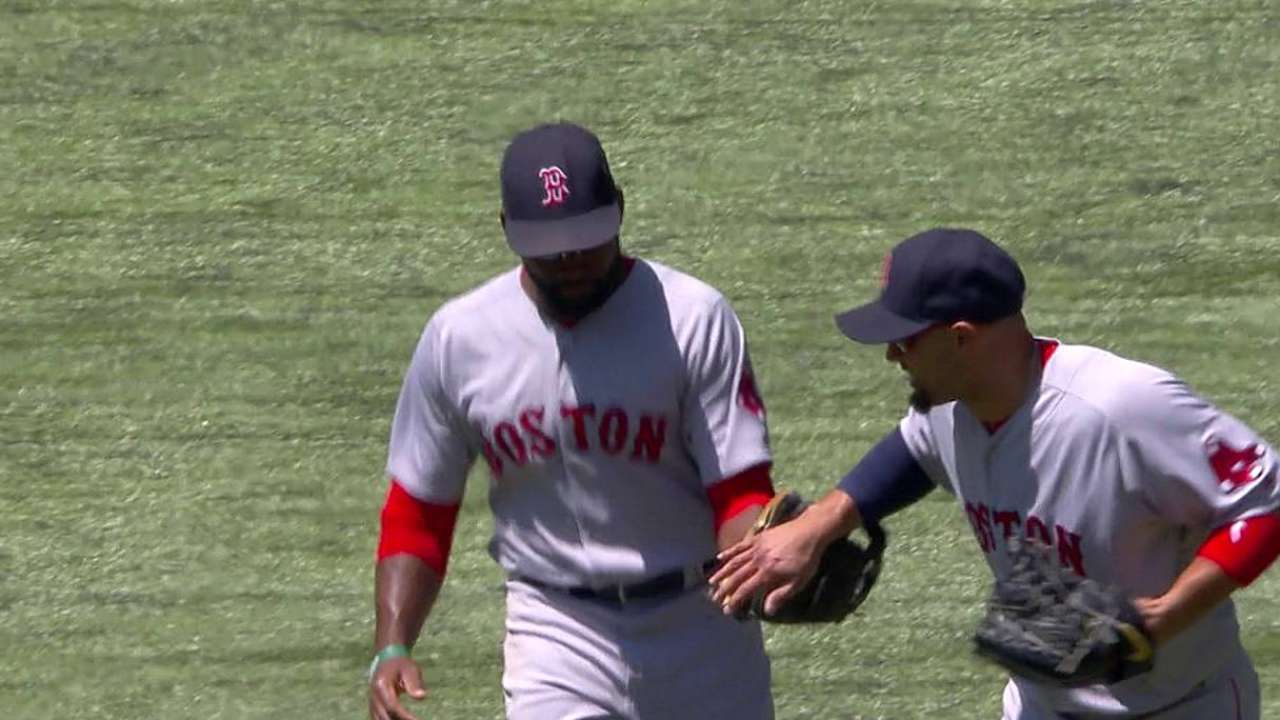 TORONTO -- A week that started so well for the Red Sox has taken quite a dip following three straight losses to the Blue Jays.
Boston opened the four-game American League East series with a big win on Monday to extend its win streak to five games. But the Red Sox couldn't sustain enough offense and went on to be outscored, 21-7, over the final three contests, culminating in an 8-0 loss on Thursday at Rogers Centre.
"We were behind the eight ball right from the first or second inning, and were never really in this one," said Red Sox manager John Farrell. "It's a little disappointing given the 10-game stretch we just completed going into and coming out of the All-Star break."
Toronto starter Marcus Stroman held the Boston bats to a single hit over seven innings in the series finale, while Boston's Rubby De La Rosa struggled mightily in what was his worst -- and shortest -- start of the season.
The 25-year-old, who entered the game having allowed five runs over his past four starts, gave up a run in the first and a pair in each of the second, third and fifth innings as his record fell to 3-3. De La Rosa has struggled away from Fenway Park this season. He's 0-3 through four road starts, while unbeaten at home.
"It's a stark contrast. Clearly, he feels comfortable on the mound at Fenway and is able to channel the emotion and adrenaline inside Fenway Park," said Farrell. "We've got to do something to try and even out the splits as they stand."
De La Rosa surrendered nine hits and seven runs (six earned), and he was chased from the game after loading the bases with no outs in the fifth.
He experienced considerable trouble from the back end of the Blue Jays' batting order in the early innings. He served up a first-pitch fastball to No. 7 hitter Juan Francisco in the second inning, which was taken deep to center for a triple that bounced off the glove of Jackie Bradley Jr. No. 8 hitter Ryan Goins and Melky Cabrera followed with RBI doubles to give the Blue Jays a 3-0 lead.
Francisco was at it again in the third, this time going over the wall in right with a two-run shot for a 5-0 Blue Jays advantage in what proved to be more than enough of a cushion.
"Every pitcher tries to make his best pitches," De La Rosa said. "It's a little complicated. What happened today, I'll try not to think about it and look forward to the next one."
The Red Sox bullpen finished out the game, with Burke Badenhop, Felix Doubront and Edward Mujica combining for four relief innings.
Stroman, meanwhile, was electric on the mound, and he carried a no-hitter through the sixth inning. Shane Victorino spoiled the no-hit bid in the seventh with a bloop single to center field, but other than that, Boston had nothing on offense..
"He was almost perfect," said Blue Jays manager John Gibbons. "He's pitching like a veteran who's been around a long time, and he's been very successful. He shuts down good-hitting teams. He's a great competitor."
David Ortiz, who hit four homers in the series, sustained a back injury with two outs in the ninth. Ortiz made a check swing on an offering from Toronto lefty Rob Rasmussen and was clutching his back as Jonny Gomes was called in to pinch-hit.
Farrell said the medical staff was still tending to Ortiz fter the game, but the manager suggested the powerful designated hitter will be day to day with back spasms.
Jamie Ross is an associate reporter for MLB.com. This story was not subject to the approval of Major League Baseball or its clubs.