Stroman holds down Red Sox in Blue Jays' rout
Phenom loses no-no in seventh; Francisco falls double shy of cycle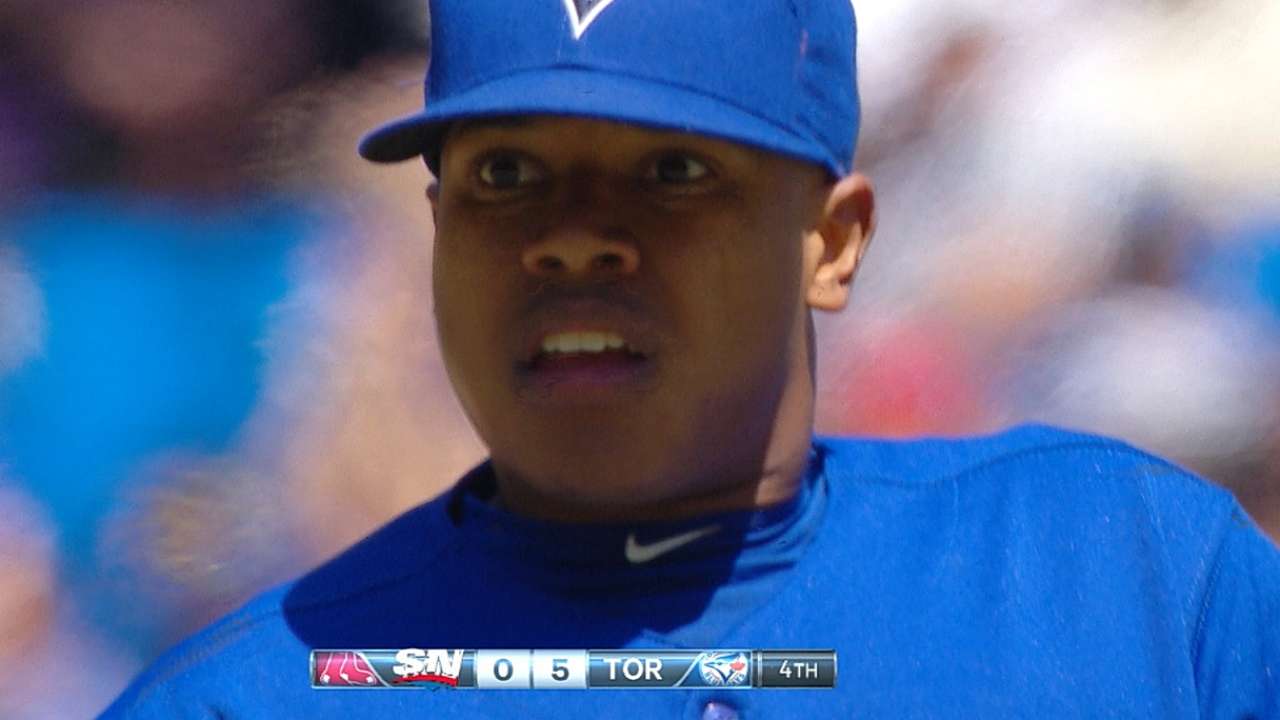 TORONTO -- At 23 years old, Marcus Stroman is the youngest member of the Blue Jays' rotation.
Since joining it on May 31, he has been the best.
Stroman carried a no-hitter into the seventh and extended his scoreless innings streak to 14 with a one-hit gem, while Juan Francisco fell a double shy of the cycle in the Blue Jays' 8-0 series-clinching win over the Red Sox in front of a sellout crowd of 46,683 at Rogers Centre on Thursday.
"[Stroman's] pitching like a veteran who has been around a long time," Blue Jays manager John Gibbons said. "He has the great arm, he has the pitches and all that, but the big thing about him is that he is a great competitor."
In 10 starts, Stroman is 6-2 with a 2.21 ERA and he leads Toronto starters in almost every meaningful statistic, including strikeout and walk rate. The rookie has lived up to the massive hype that has surrounded him since the Blue Jays made him a first-round Draft pick in 2012, and he had the best game of his career against the division-rival Red Sox.
Stroman had little trouble navigating through Boston's lineup, and save for a pair of walks, no Boston hitters reached base until Shane Victorino hit a bloop single to center to lead off the seventh inning. Victorino's single was the first ball the Red Sox hit out of the infield, and it spoiled Stroman's chances of joining right-hander Dave Stieb (Sept. 2, 1990) as the only pitchers in franchise history to throw a no-hitter.
Stroman, who said Victorino hit a hanging curveball, kept his composure, and followed it up by getting David Ortiz to fly out before inducing an inning-ending double play.
The New York native walked two, punched out a career-high-tying seven batters and recorded his eighth quality start. Stroman, who entered the start with the top ground ball rate among Toronto starters, recorded nine outs on the ground -- compared to one in the air -- and guided the Blue Jays to their fifth with in six contests.
"It has definitely been a ride so far," Stroman said about the success he has had in the big leagues. "I'm not surprised, it's kind of all the hard work that goes into it and going out and having a game plan."
During warmups, Stroman didn't feel like it was going to be a day on which he would flirt with history. And early in the contest, he had trouble locating his four-seam fastball, which nearly forced him to abandon the pitch and turn to a recently discovered two-seamer.
Stroman messed around during recent bullpen sessions and landed on a two-seam grip he was happy with, and said it was a big reason for the success he had vs. Boston, which lost its third straight game and was shut out for the 10th time this season.
"A couple of different types of breaking balls, with a pretty good power slurve along with a cutter," Red Sox manager John Farrell said, when asked what he saw from Stroman.
It wasn't until Stroman struck out Brock Holt for the third time in the sixth inning -- the 11th consecutive Red Sox hitter he retired -- that the possibility of a no-hitter entered his mind.
"I honestly didn't think about until I sat down after the sixth," Stroman said. "I kind of looked up and saw a zero and was like, 'Wow, that's pretty crazy.' I went back out there and ended up letting up the hit to Victorino, and that's just how it kind of played out. It was definitely a fun game."
Catcher Dioner Navarro showered the young pitcher with praise.
"This guy, he's really special," said Navarro, who went 2-for-3 with two walks and a run scored. "He's young, still in the process of learning, and he works hard every day and wants to get better. That's the beauty of it."
Stroman was handed an early lead to work with and didn't look back, as the Blue Jays plated one run in the first, two in the second and another pair in the third off Red Sox starter Rubby De La Rosa to go ahead, 5-0.
Francisco led off the third with a triple, coming around to score on an RBI double from Ryan Goins, and then launched a two-run homer -- his 15th -- in the third to give the Blue Jays a five-run lead. The 27-year-old followed with a bases-loaded two-run single in his third at-bat, giving Toronto a commanding 7-0 advantage. Francisco, looking to become the third player in Blue Jays history to hit for the cycle and first since Jeff Frye in 2001, lined out to left field in his final at-bat. He went 3-for-4 and drove in a season-high four runs.
Melky Cabrera had a big day at the plate, too, going 3-for-4 with a walk, a career-high three doubles and two RBIs. It was Cabrera's fourth three-hit game in his last six contests.
After taking two of three games from Texas, the Blue Jays won three of four against the Red Sox to conclude their seven-game homestand with a 5-2 mark. It marked the first time Toronto has won back-to-back series since May 13-28, when the club reeled off five straight series wins.
"It was a good homestand," Gibbons said. "We have been playing good baseball, getting good, solid pitching and scoring a bunch of runs. Run with it, hang close."
Toronto, which one-hit a team for the first time since Aug. 21, 2011, against Oakland, will begin a three-city, 10-game road trip starting in the Bronx on Friday night.
Chris Toman is a contributor to MLB.com. This story was not subject to the approval of Major League Baseball or its clubs.