Actor Tate joins 'Express Written Consent'
Veteran performer discusses roles new, old while taking in game at Dodger Stadium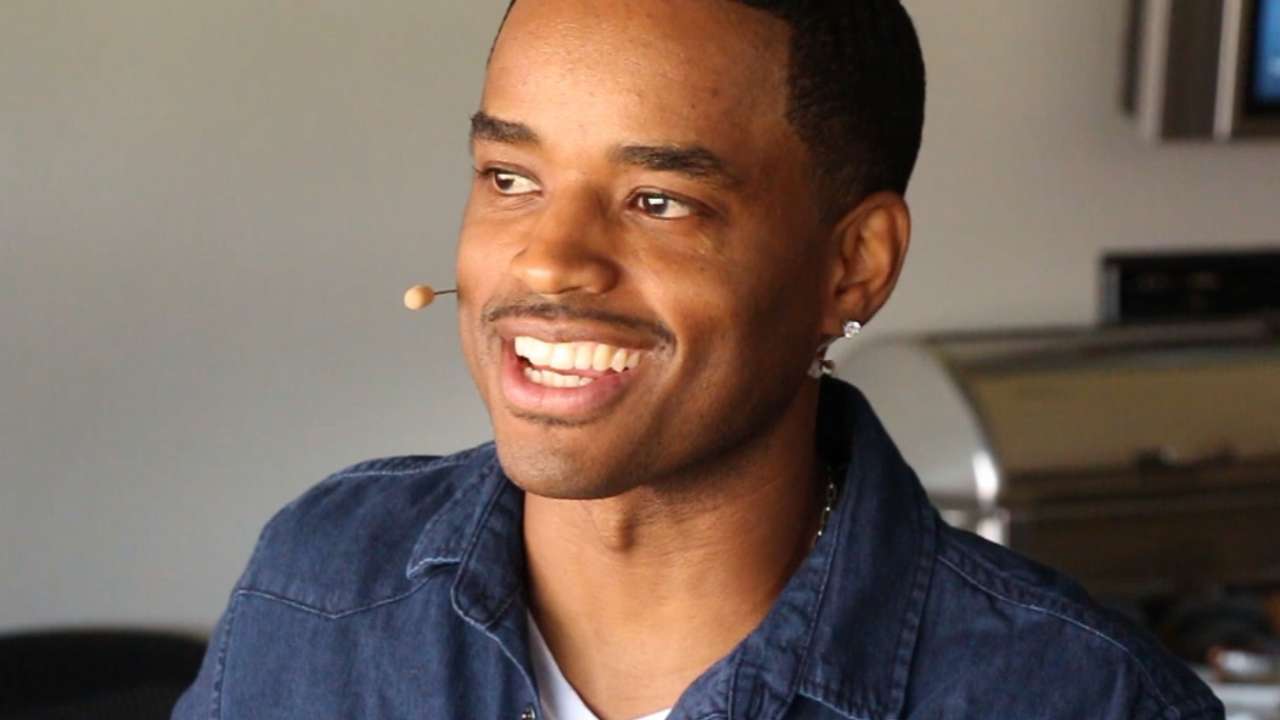 It takes only about five seconds to be completely charmed by actor Larenz Tate, a happy-go-lucky sort with that prototypical million-watt smile that makes you just want to lean in and listen to what he has to say.
That made him a perfect guest for the latest installment of "Express Written Consent," mainly because Tate is game for just about anything, which is pretty much the premise for the show.
Tate chatted with MLB.com host Jeremy Brisiel from a swanky booth at Dodger Stadium, professing his allegiance to both the Dodgers and the White Sox, representing both of his hometowns -- his original one, Chicago, and the city where he moved when he was a budding actor, L.A.
Tate's admiration for soon-to-be Hall of Famer Frank Thomas prompted him to lean toward rooting for the White Sox, although he comes from a long line of Cubs fans. No matter, though -- either one is fine, as long as he and his two brothers never lost sight of the fact that they are, indeed, Chicago kids.
"Here's the deal," Tate said. "Chicago is always home in the heart. Mom and Dad said, 'Listen, you guys are from Chicago. Just stay connected to your hometown.' And that's what we've always represented.
"But there's been so many amazing things that have happened in my life to me here in Los Angeles, and I'm thankful for it. So L.A. is definitely my home. I'm a Chicago/L.A. guy."
Tate has been acting for 20 years, ever since he made a name for himself as O-Dog, a trigger-happy teenager in the blockbuster film "Menace II Society." He has that familiar look about him -- as in, you find yourself saying, "Wait, haven't I seen him before?" And with good reason -- Tate has built a pretty consistent resume over the last two decades, largely as a character actor who mastered the role as either a likeable sidekick or unforgettable antagonist.
You can't argue with the man's versatility. Tate played Steve Urkel's nemesis, Willie Fuffner, in the comedy series "Family Matters," and more than a decade later, he appeared in the blockbuster hit movie "Ray," playing music producing legend Quincy Jones.
Tate also starred as Bart "Black Shawn" Johnston for four seasons on FX Network's "Rescue Me," with Denis Leary. That role helped him prepare for his latest venture, a new show on the USA Network titled "Rush," where he plays the best friend of a medical fixer who is a private doctor to a segment of the elite Los Angeles society.
Movers, shakers, producers, directors, athletes -- they all go to Dr. Rush when they don't want their medical business leaking to the public. But Rush is a bit of a character himself, known to embrace the late-night lifestyle and the temptations that go with it. The only constant in his life? His best bud, Alex.
"Guess who's his best friend?" Tate said, referring to himself.
Tate ingested the acting bug pretty early in life, although it took a bit of prodding for him to take this profession seriously when he was a kid. His family moved to California when he was 9, and soon, he and his two older brothers, Larron and Lahmard -- also actors -- were convinced by their parents to enter a drama program at the Inner City Cultural Center.
The brothers didn't take it to heart at first, until a classmate hit the big-time on what turned out to be one of the most successful sitcoms in television history. The classmate? Malcolm-Jamal Warner, perhaps better known as Theo Huxtable on "The Cosby Show."
That woke up the Tate brothers, all of whom began to receive modest roles. In 1985, Larenz made his TV debut in an episode of "The New Twilight Zone" series, and from there, he was off and running.
No wonder Tate has such an allegiance to Los Angeles, even if it's not where he technically started.
In that vein, Tate still feels the tug of Chicago. And the White Sox. Or the Cubs. That last part doesn't matter much, just as long as he represents one of them.
"Just to get me in the house," Tate chuckled, flashing that signature ear-to-ear grin.
Alyson Footer is a national correspondent for MLB.com. Follow her on Twitter @alysonfooter. This story was not subject to the approval of Major League Baseball or its clubs.