Spirited rally not enough to overcome rocky start
Peacock struggles in 3 2/3 innings before Astros' late surge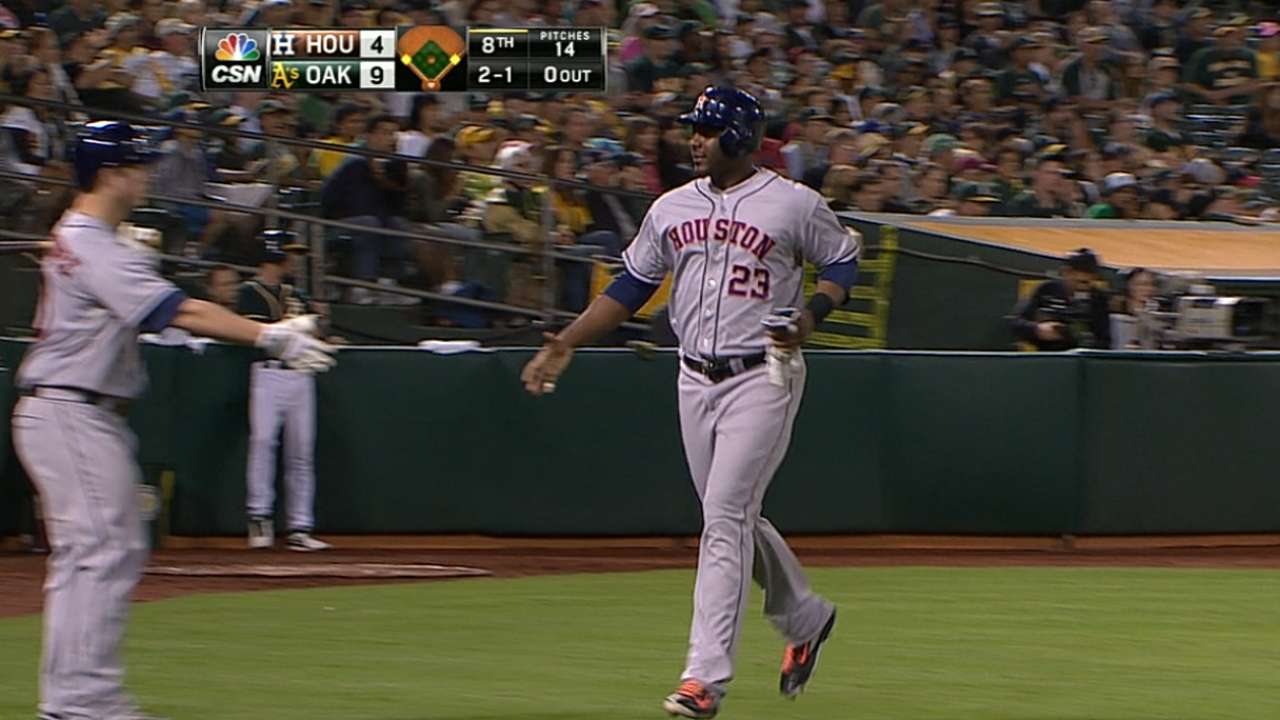 OAKLAND -- Astros pitcher Brad Peacock voiced his displeasure when he was pulled from his previous start July 13 with only one out in the first inning and the bases loaded and having allowed just one run. Peacock felt he deserved a chance to work out of the mess and was befuddled about why he got a quick hook.
Peacock struggled early again Wednesday night and pitched out of a bases-loaded jam in the first inning, hoping he had weathered the worst of the Oakland storm despite throwing 36 pitches. His troubles, though, were only getting started.
The A's jumped on Peacock for five runs in the second inning, capped by a three-run homer by Yoenis Cespedes -- the first of his two homers -- and built a seven-run lead before the Astros rallied for five of their own in the eighth inning of a 9-7 loss at O.co Coliseum.
"I thought that was going to be the case," said Peacock when asked if he thought he had survived the worst of what the A's had to offer in the first. "I just fell behind too many guys tonight and you definitely can't do that against a team like this. They'll take advantage of it, and they definitely did it today."
Peacock (3-7) gave up seven runs, seven hits and five walks in 3 2/3 innings, including the two homers to Cespedes and one to Jed Lowrie to start the second.
In his last two starts, he's allowed eight earned runs and nine hits in four innings, putting his spot in the rotation in jeopardy. Right-hander Collin McHugh is set to come off the disabled list this weekend, and left-hander Brett Oberholtzer has pitched well in McHugh's place, so Peacock could be the odd man out.
"Every time you compete at this level, you're playing for your job," Astros manager Bo Porter said. "We'll sit down as a staff and talk to the front office and come up with a decision on what we're going to do as we go through the rotation the next time."
Peacock understands he was pitching to stay in the mix.
"Yeah, of course," he said. "I've just to keep trying to stay up here. I don't know what's going to happen, but we'll see."
Astros catcher Jason Castro was more encouraged, saying Peacock made an in-game mechanical adjustment that should benefit him in the future. Castro said Peacock was off-balance early in his delivery, pulling him off track. Castro noticed it in the fateful July 13 start against the Red Sox and saw it occur again Wednesday.
"We kind of identified what was going on a little bit, and his next start we should see the old Peacock back in form," he said.
Peacock's woes helped the Astros into a 9-2 hole they nearly climbed out of in the eighth inning.
Houston rallied for five runs on six hits in the eighth to get within 9-7, doing most of the damage against A's struggling reliever Jim Johnson, who gave up four of the runs. The Astros had runners at first and third with one out before Luke Gregerson stopped the rally by striking out L.J. Hoes and getting Jose Altuve to ground out.
"The fight we showed tonight was good," Castro said. "We could have laid down and kind of chalked it up as a loss, but we fought back and we made it close there. Unfortunately, we didn't pull it out obviously, but it's nice to see everyone getting in there and getting that rally going and trying to make a comeback."
Sean Doolittle needed only 10 pitches to send the Astros down in order in the ninth for his 15th save.
"Whenever you give up a five-spot early in the game, it makes it pretty difficult," Porter said. "Offensively, our guys battled and did a tremendous job of mounting a comeback and we fell short there."
A's starter Jesse Chavez (8-6) didn't allow a hit until Matt Dominguez stroked a line-drive single to left field with one out in the fifth inning. He worked 5 2/3 innings and allowed four hits and two runs and struck out seven to improve to 5-2 with a 2.24 ERA in eight home starts.
"He was rejuvenated, it looked like to me," A's manager Bob Melvin said. "The cutter really had some teeth on it tonight, threw some good changeups, mixed his speeds pretty well tonight, too. Not a guy that you expect to get a bunch of strikeouts, but he had that kind of stuff tonight."
Brian McTaggart is a reporter for MLB.com and writes an MLBlog, Tag's Lines. Follow @brianmctaggart on Twitter. This story was not subject to the approval of Major League Baseball or its clubs.