Marlins can't climb back for Eovaldi in Atlanta
Righty allows five runs in first two frames; Yelich has lone Miami RBI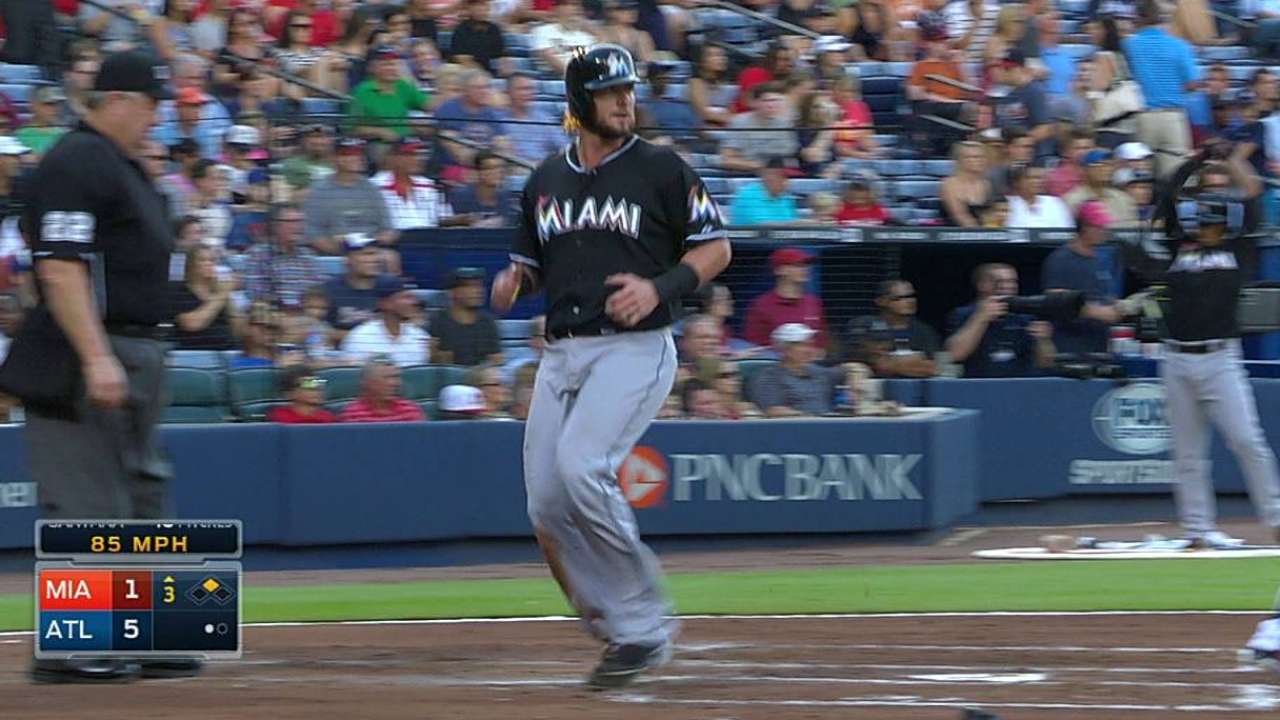 ATLANTA -- It took a few innings on Wednesday night before Nathan Eovaldi finally found his groove. By that point, the damage was already done.
Freddie Freeman belted a three-run homer and Ervin Santana yielded one run in 7 1/3 innings as the Braves beat the Marlins, 6-1, at Turner Field.
Eovaldi was tagged for five runs in the first two innings, which raised alarm considering the right-hander allowed eight runs in four-plus innings in his previous start, a 9-1 loss to the Giants on July 18.
But after being hit hard early, the encouraging sign of the night for Miami was that Eovaldi settled. He worked seven innings and retired 15 of 17 in his final five frames.
"It's great that he kept us from having to use a bunch of bullpen guys, for sure," Miami manager Mike Redmond said. "Where we are right now with him, for him to win games at the big league level, he's going to have to eliminate those big numbers in an inning.
"If it's a one-run [inning], we're all right, and it is 2-0 instead of five. That's definitely something he needs to work on -- being sharp and eliminating the big inning. He's had a tough time with that."
In the past, Eovaldi had enjoyed great success against Atlanta, posting a 1.86 ERA in 58 innings. But Atlanta used an early attack to prevent the righty from winning for the first time since June 23.
"Those first two innings, he made some mistakes up in the zone," Redmond said. "They were on his fastball early. He gave up the home run on the breaking ball. They did all their damage in the first two innings. After that, he settled in. I thought he pitched well, the location of his fastball. He moved it around a little bit better. Unfortunately tonight, we weren't able to overcome the five runs."
Freeman, who was just 2-for-44 with two RBIs against Miami on the season before Wednesday, drove in three runs with one two-out swing in the second inning.
"He's always a threat up there, regardless of how he's been swinging against us," Eovaldi said. "He's got power. He just went down there and hit a good pitch [breaking ball]. After that, I was able to establish my fastball down and away. I was able to start working to my advantage."
The Marlins' ability to handle Freeman all season is one of those baffling statistics that even the Atlanta first baseman can't figure out.
"They seem to catch me at the right time, but it is still 1-for-3, so it's pretty terrible numbers against them this year," Freeman said. "But if I can carry it over tomorrow and keep hitting balls hard and carry it into the Padres, I can go 3-for-100 against the Marlins as long as I do all right against everybody else."
Santana fanned 10 batters and maintained his early advantage. The Marlins struck out 14 times on the night, and they have now fanned 76 times in six games at Turner Field this season. After winning the first two games of the series, Miami had its three-game winning streak snapped.
"We just couldn't get anything going offensively," said Garrett Jones, who had two of Miami's seven hits. "Santana was mixing his pitches well, keeping them on the corners of the plate. We just couldn't put a big inning together."
Wednesday marked the one-year anniversary of Christian Yelich's MLB debut. And he celebrated the occasion with two hits and an RBI single in the third inning, accounting for Miami's lone run.
The Braves wasted little time jumping on Eovaldi's 97-mph fastball. B.J. Upton doubled to lead off the first, and he scored on Justin Upton's sacrifice fly.
In the second inning, Atlanta used three straight two-out hits to score four runs. Tommy La Stella slapped an RBI single before Freeman blasted his three-run homer.
Miami's frustrations surfaced in the eighth inning, when Atlanta tacked on an unearned run on Gerald Laird's RBI single. Chris Johnson reached on a fielder's-choice grounder to short on a play Miami botched a rundown trying to get Jason Heyward at third. Thinking Heyward was out of the baseline to avoid Casey McGehee's tag, Redmond argued with third-base umpire Alan Porter.
Redmond was ejected for the third time this season.
"I just thought he was out of the baseline," Redmond said. "I don't know. Maybe I was more frustrated that we didn't get an out in that situation, more than anything."
Joe Frisaro is a reporter for MLB.com. He writes a blog, called The Fish Pond. Follow him on Twitter @JoeFrisaro. This story was not subject to the approval of Major League Baseball or its clubs.