Late rally carries Halos over Orioles in finale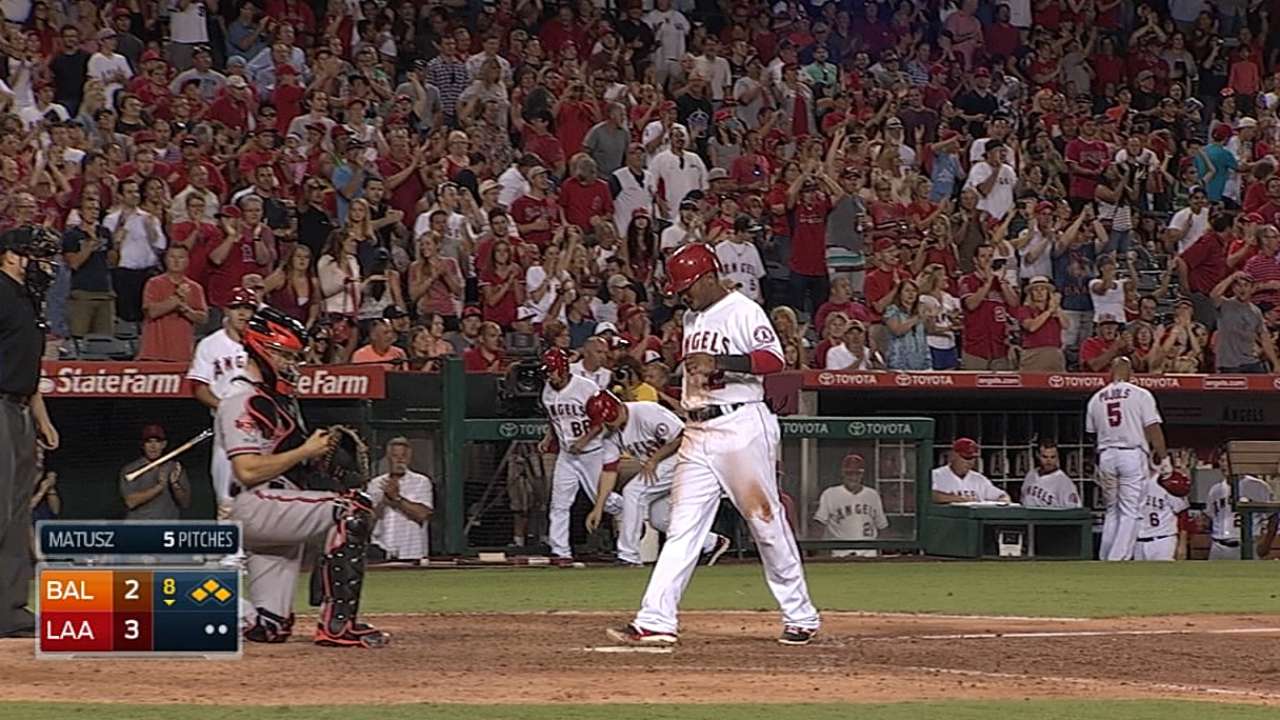 ANAHEIM -- Last season, when the Angels stayed below .500 and were out of it by the end of June, was hard on a lot of the players. But it was hardest on Jered Weaver and Erick Aybar, two of only four players remaining from the days when the Angels thrived and playoff baseball was almost a given.
That's why nights like Wednesday -- pressure-packed, when one win means so much and the out-of-town scoreboard is so relevant -- are so gratifying to them.
It's a packed Angel Stadium, in late July, amid the heat of a pennant race -- just like they remember it.
"Over the last couple of years, we've got some new faces and some great acquisitions in the offseason, and it was a matter of time before everyone started clicking together," Weaver said after he and Aybar keyed a 3-2 victory over the Orioles. "I think we're seeing that this year, making some trades and getting some key guys we need throughout the season. We're playing great baseball. We're not going to let two games get away from us and fold. We know what we're capable of doing, and we keep battling and pulling out games."
Orioles starter Chris Tillman mowed through the Angels' backpedaling batting order, pitching six innings of one-run ball after rotation-mates Bud Norris and Miguel Gonzalez were equally dominant in the first two games of the series. But Weaver gave up only two runs in eight innings, keeping it close and ultimately picking up his 11th win.
The Angels went 0-for-12 with runners in scoring position -- a combination of hard-hit balls that turned into outs and strikeouts that kept the runners in place. But Aybar took it upon himself in the eighth, lining an RBI double, stealing third and scoring the winning run after a two-out bases-loaded walk to Kole Calhoun.
Thanks to that rally, plus Huston Street's first save for his new team, the Angels notched their Major League-leading 31st comeback win and avoided their first sweep at home since the first series of the season, against the Mariners. The A's won, too, so their deficit in the American League West remained two games for the third straight day.
But the Angels have won 60 games through their first 100 for only the sixth time in franchise history, and are 12 wins better than they were at this point last season.
"It's nice to have a team like this again, where everyone's together, picking each other up, cheering each other on, and that's what we're doing," Aybar said. "We're playing together, like we used to."
Weaver scattered six hits, gave up a couple of two-out runs -- on a grounder that sneaked through the infield and a blooper that fell in the outfield -- and walked none during a six-strikeout performance. The veteran right-hander has now given up six runs in 21 innings over his last three starts, dropping his ERA to 3.43.
On a night when his signature changeup abandoned him, his fastball command continued to get better. His average fastball has jumped from the 87- to 88-mph range in his last three starts. On Wednesday he hit 90 mph three times and 89 mph six times.
It's a small increase, but it means the world to him.
"I felt like I was going to get stronger as the year went on," Weaver said. "Seeing that increase in velocity and seeing that fastball command come back a little bit, I feel like I'm getting stronger every time out."
The Angels entered the finale averaging a Major League-best five runs per game, but they have averaged fewer than three since the All-Star break and were sluggish throughout this contest. But Aybar broke that up with none out in the bottom of the eighth, smoking a first-pitch, 96-mph fastball from reliever Tommy Hunter into the gap in left-center to tie the score at 2 and give him 51 RBIs, more than any other AL shortstop and eight shy of his career high.
"I've seen it ever since the Minor Leagues with him," Weaver said. "He's a great at-bat every time. He's patient at times, but aggressive at times as well. He's swinging the bat hard for us now."
Aybar watched from second as Howie Kendrick struck out, then looked on from third -- after picking up a stolen base -- as David Freese did the same. But after intentionally walking the left-handed-hitting Efren Navarro to set up a righty-righty matchup, Hunter walked Chris Iannetta to load the bases.
Hunter believed that the strike zone from home-plate umpire Hal Gibson was "a little tight, but I don't know. That's something you can't control. [You] try to control the things you can and move on. He thought they were balls. I would see it a little differently."
Left-hander Brian Matusz came on next to face the left-handed-hitting Calhoun, and he walked him on five pitches to give the Angels their first lead. Calhoun, who had never faced Matusz but has always fared well against southpaws, watched three pitches miss just below the zone, then took a 3-1 fastball way outside to key the victory.
It was the Angels' third go-ahead, bases-loaded walk in the seventh inning or later.
The rest of baseball has five total.
"Go figure," Calhoun said of winning on a night when hits didn't fall in clutch situations. "Lately we haven't been getting that big hit like we had been getting, but the important thing is, we have the runners on base. It's right there. Having those big innings, those big games, isn't that far away."
Alden Gonzalez is a reporter for MLB.com. Read his blog, Gonzo and "The Show", and follow him on Twitter @Alden_Gonzalez. This story was not subject to the approval of Major League Baseball or its clubs.