Tillman solid, but Hunter allows rare runs in loss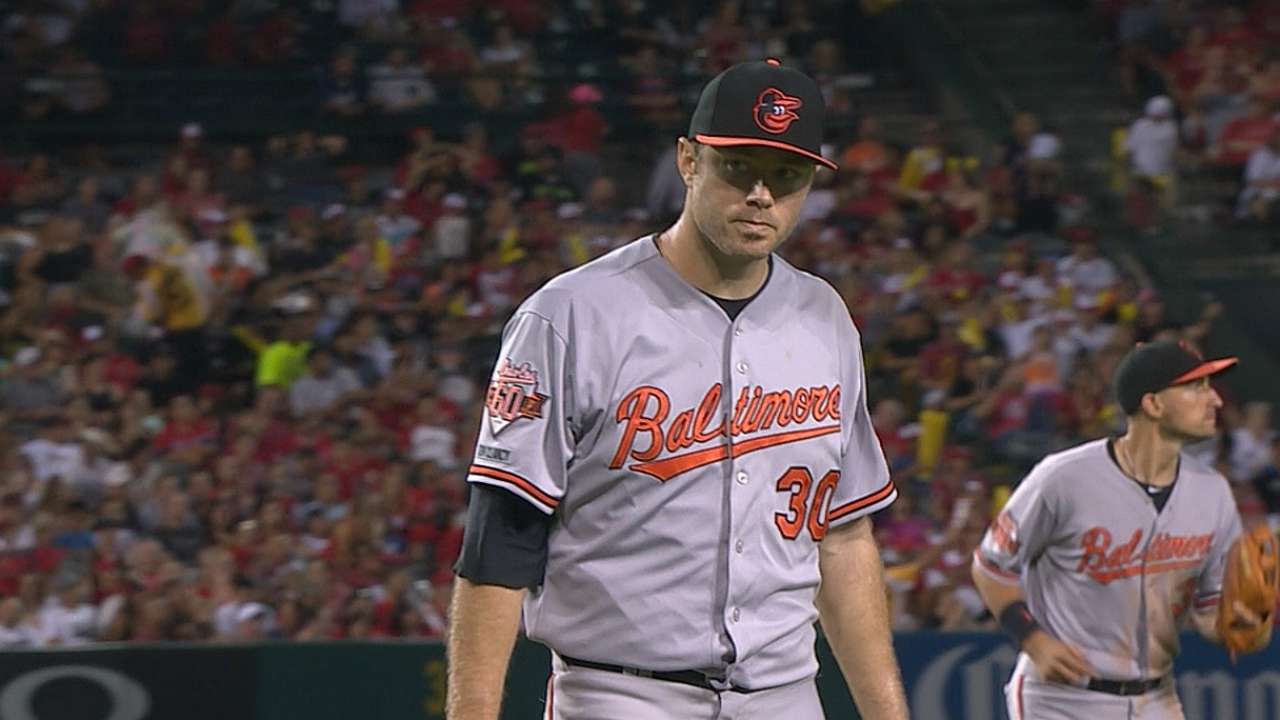 ANAHEIM -- A trio of walks in the eighth inning sank the Orioles' sweep hopes on Wednesday night.
Baltimore, clinging to a one-run lead, watched things go awry when right-hander Tommy Hunter issued a pair of two-out walks and lefty Brian Matusz gave up a bases-loaded free pass to give the Angels a 3-2 win, squandering a chance to maintain their four-game lead in the American League East.
The late-inning loss negated a solid start from Chris Tillman, as well as some promising at-bats from David Lough and Ryan Flaherty, putting the Orioles back at .500 for this road trip as they head to Seattle for the final leg of the 10-game, three-city excursion.
And despite handing a red-hot Angels club their first series loss in Anaheim in 11 series at home, the Orioles boarded the plane on Wednesday night far from satisfied.
"We don't look at it like, 'If we do this, we're successful.' You come out here and try to win 10," manager Buck Showalter said of his club, which has a three-game lead in the division at the 100-game mark. "We don't do math. We don't do percentages or anything. You post up and you play and you try to win a nine-inning game. Every day is another opportunity."
Hunter, who used a one-out walk in the seventh to get Albert Pujols to ground into a double play, wasn't as fortunate the following frame. After Josh Hamilton singled, Erick Aybar doubled into left-center to tie the score at 2 and snap a career-high 12 consecutive scoreless appearances for Hunter.
After a pair of strikeouts of Howie Kendrick and David Freese -- with Aybar stealing third during Kendrick's at-bat -- Hunter issued an intentional walk to Efren Navarro, followed by an intentional free pass to No. 9 batter Chris Iannetta.
"It was a little tight, but I don't know. That's something you can't control," Hunter said when asked about home-plate umpire Hal Gibson's late-game strike zone. "[You] try to control the things you can and move on. He thought they were balls. I would see it a little differently. I'm a pitcher, and he's an umpire, so I can see the disagreement we would have probably had with each other if we talked about it. Other than that, it is what it is."
Hunter was replaced by Matusz, who fell behind, 3-1, before issuing the free pass to Kole Calhoun, which allowed the decisive run to score.
"I was just trying to get a good pitch to hit," Calhoun said of his game-winning at-bat. "The strike he threw was definitely his pitch -- tough inside corner, a little sink on his fastball. I was looking for a pitch and never really got it. I don't know if he saw me laying off good pitches there, but I didn't get what I was looking for."
New Angels closer Huston Street, who came on in relief of ace Jered Weaver, pitched around a one-out walk to Chris Davis in the ninth to end the game three outs later, giving the Angels their Major League-leading 31st comeback win.
"I feel like a lot of the games are going to be that way now," Tillman said of Wednesday's low-scoring, hard-fought contest. "We are coming to the part of the year where everyone kind of sees the light at the end of the tunnel to get to where they want to be in the postseason. So I think it's good if that's the way it's going to be. That's the way it should be. Hopefully, we can come out on top."
The O's late-inning woes saddled Tillman with a no-decision despite his quality start. Tillman put the Orioles in a hole three batters in, as Pujols' single scored Mike Trout, but he regrouped to keep the Angels off the board for the remainder of his six innings.
Tillman, who has allowed three earned runs or fewer in 18 of 22 starts, picked off Iannetta to end the second inning and stranded a pair of runners in the fifth and sixth to turn in a quality outing.
"I thought he was crisp from the get-go," Showalter said of Tillman, who has quality starts in eight of his last nine. "Command was there -- curveball command, changeup, slider. He had a nice mix. The walks kind of bit us a bit. We had, like, five or six and a hit by pitch [as a staff].
"We didn't have [closer] Zach [Britton] tonight. He's pitched four out of the last five, so we had to push everybody up a spot or two. It was a challenge."
The Orioles broke the 1-1 tie when Lough scored on Adam Jones' bloop single into right field off Weaver. Getting the rare start with the right-handed Weaver on the mound, Lough -- who had two hits -- delivered a two-out single and stole second before crossing home plate for the first time since July 6.
Flaherty's one-out double in the third inning had helped put the Orioles on the board against Weaver, as he eventually score on Nick Markakis' single into right field. Those were the only two runs Weaver allowed over his eight innings, as he scattered six hits and struck out eight before Street took over.
"They've got a good lineup," Tillman said of an Angels team that entered the series leading the Majors in runs scored and will visit Baltimore early next week. "They are going to battle all night long. All series long. It never felt like you had the game in hand. They grinded me out tonight, put some real good at-bats together. Sometimes you've got to tip your cap."
Brittany Ghiroli is a reporter for MLB.com. Read her blog, Britt's Bird Watch, and follow her on Facebook and Twitter @britt_ghiroli. This story was not subject to the approval of Major League Baseball or its clubs.