Padres deny Wada first victory in Majors
Lefty allows five runs over four-plus innings; Valbuena hits 3-run homer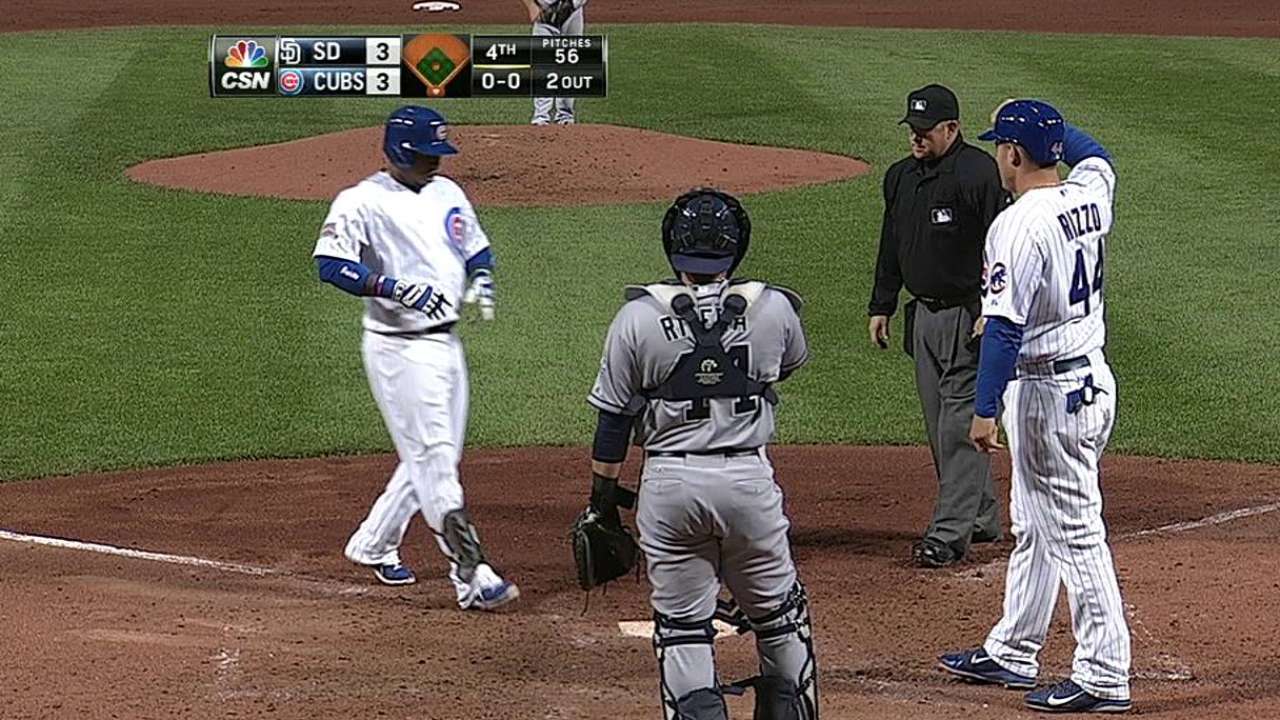 CHICAGO -- Tsuyoshi Wada didn't have the same success in his second big league start as Kyle Hendricks did.
Wada served up five runs over four-plus innings as the Padres posted a 8-3 victory Wednesday night at Wrigley Field over the Cubs, who lost for the 12th time in their last 15 games.
On Tuesday, Hendricks picked up his first Major League win in his second start, throwing seven scoreless innings. Hendricks and Wada have been given the first opportunities at filling the openings in the Cubs' rotation created by the July 4 trade of Jeff Samardzija and Jason Hammel to the Athletics.
"It's important that the guys who have been sent to us for the starting rotation, that they are effective," manager Rick Renteria said before the game. "It builds confidence for everybody. There's also a trust being shown to those guys to come up here and pitch."
On July 8, Wada gave up one unearned run over five innings against the Reds. On Wednesday, the lefty walked four, only the second time in 20 starts this season between Triple-A Iowa and the Cubs that he's issued that many free passes.
"It seemed like he just didn't get into a rhythm," Renteria said of Wada. "When you were watching him on the mound today, he was constantly fidgeting and it seemed like he was trying to get loose. He was grinding through it."
Wada agreed.
"Compared to that game [in Cincinnati], I didn't have control overall, so it wasn't as good as the one in Cincinnati," Wada said through interpreter Naoto Masamoto, the team's video coordinator.
Wada walked Chris Denorfia on four pitches to start the game, then served up a RBI triple to Yangervis Solarte. Carlos Quentin followed with a sacrifice fly to put the Padres ahead, 2-0.
Wada pitched nine years with the Fukuoka Softbank Hawks in the Japan Pacific League, and had joined the Orioles in December 2011. However, his career was slowed because of elbow problems and he needed Tommy John surgery in May 2012. He spent last season at Triple-A Norfolk. He has experience, winning Most Valuable Player honors in 2010 in Japan.
How does he view this opportunity with the Cubs?
"There are very few opportunities that I've had here," Wada said. "I didn't do well today and I feel bad. I'm glad I'm getting an opportunity to pitch here in the States."
Some of the Padres were taking advantage of their opportunities as well. In the San Diego fourth, Jeff Francoeur, promoted from Triple-A El Paso earlier on Wednesday, singled and scored on Chris Nelson's double for a 3-0 lead.
Luis Valbuena, who will be given the majority of starts at third following Mike Olt's demotion to Triple-A Iowa, tied the game in the Chicago fourth. San Diego starter Ian Kennedy walked Anthony Rizzo and Chris Coghlan with two outs to set up Valbuena's sixth home run. It was his first three-RBI game since July 8, 2013, vs. the White Sox.
But Wada walked the first two batters in the fifth, and Tommy Medica hit a ground-rule double as the ball bounced into the ivy in left-center. Wada was lifted for Brian Schlitter, who walked Francoeur but got Nelson to hit a chopper that the pitcher grabbed and was able to throw home while in mid-air for the force.
"That was a real nice play," Renteria said of Schlitter's toss. "That was a very acrobatic play by Schlitter -- he's a big man."
The bases were loaded, and Schlitter then walked Rene Rivera to force in a run, opening a 5-3 lead. Chicago pitchers combined to issue a season-high 11 walks in the game, the first time they've done that since walking 14 on May 11, 2012, in Milwaukee.
"That was good to see -- I like that," Padres manager Bud Black said of the walks. "Again, we talked about it over the last few weeks, I know there's been some shutouts against us, but the overall quality of the at-bats are improving with a lot of guys. Any time you walk 11 times, you're doing a pretty good job of taking balls and swinging at strikes."
This was Wada's first start at Wrigley Field. He's been in big games in Japan. Did he seem nervous?
"I don't think so," Renteria said. "On the hill, he looks as composed as anybody. It didn't seem like he found his rhythm and command today like he had in the last outing in Cincinnati."
Was Wada nervous?
"Yes -- a little bit," Wada said.
The Cubs do have other options, such as right-hander Dallas Beeler, who threw seven shutout innings for Triple-A Iowa on Tuesday. Will Wada stay in the rotation?
"As far as I know right now, I would say 'yes' is the answer to give you right now at this moment," Renteria said. "He tried to give us his best and it just didn't work out. We'll see where we're at."
Carrie Muskat is a reporter for MLB.com. She writes a blog, Muskat Ramblings, and you can follow her on Twitter @CarrieMuskat. This story was not subject to the approval of Major League Baseball or its clubs.