Griffey visits Atlanta, watches Stanton BP in awe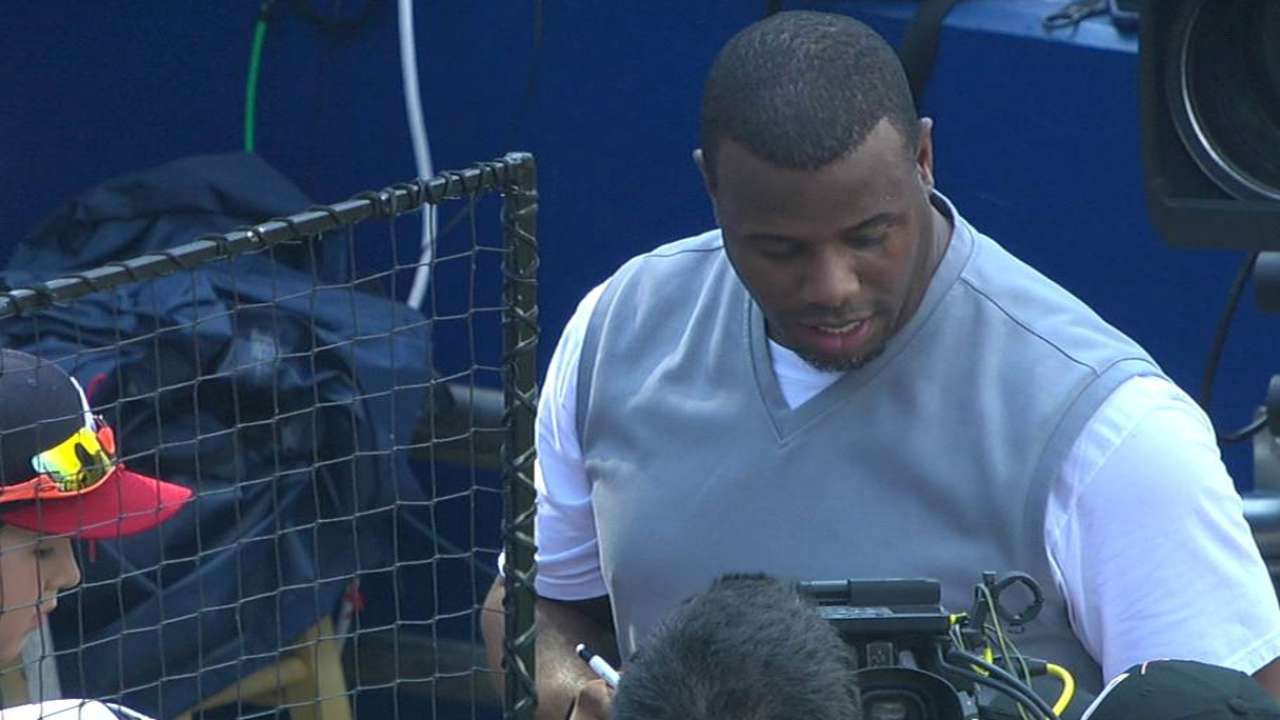 ATLANTA -- Ken Griffey Jr. certainly has seen his share of imposing sluggers. But the big league legend has never witnessed anything quite like Marlins All-Star Giancarlo Stanton.
One of the greats of his era, Griffey spent quality time with Stanton at Turner Field on Wednesday.
Watching Stanton take one round of batting practice was all Griffey needed to see the Miami right fielder stands alone in the power department.
"He hits it a long way," Griffey said during BP on Wednesday. "Where he places balls, it's very unfair to us normal people."
Marlins catcher Jarrod Saltalamacchia told Griffey that Stanton almost has super powers.
"Salty said, 'You're watching a movie of Superman,'" Griffey said. "He's from another planet."
Griffey was in Atlanta to profile Stanton for an upcoming segment on "Big Sticks," which airs on Fox Sports 1.
The series features Griffey interviewing the greats in the game about hitting. Segments have already aired on Boston's David Ortiz and Pittsburgh's Andrew McCutchen.
Stanton will be up next. But the date it will run has yet to be announced.
"It was fun. He's such a nice kid," Griffey said of the Miami right fielder. "He really respects the game of baseball. He just wants to learn and have fun."
Reminded that he is in elite company when it comes to homers, Griffey made it clear that he didn't hit the ball anywhere near like Stanton.
"He's so tall, but he does things so compact," Griffey said. "He's [6-foot-5] and he's got the swing of a 5-9 guy -- really compact, straight to the ball. Good extension. He does a lot of things very well. It was fun to watch."
Griffey joked that he would want no part of matching distance in batting practice with Stanton.
"I want to be in the singles group," Griffey laughed. "I don't want to be in the big group with him. I want to be with the middle infielders, the guys who slap it around. I don't want to be with that guy."
Griffey retired in 2010 with 630 homers.
If Stanton stays healthy, he has the talent to be in the 600-homer club.
"I didn't hit them that far," Griffey noted. "There was no passing the torch. He took it."
Joe Frisaro is a reporter for MLB.com. He writes a blog, called The Fish Pond. Follow him on Twitter Share This