Cobb dominates as Rays finish perfect road swing
Hurler pitches seven shutout innings, collects first hit to cap 5-0 trip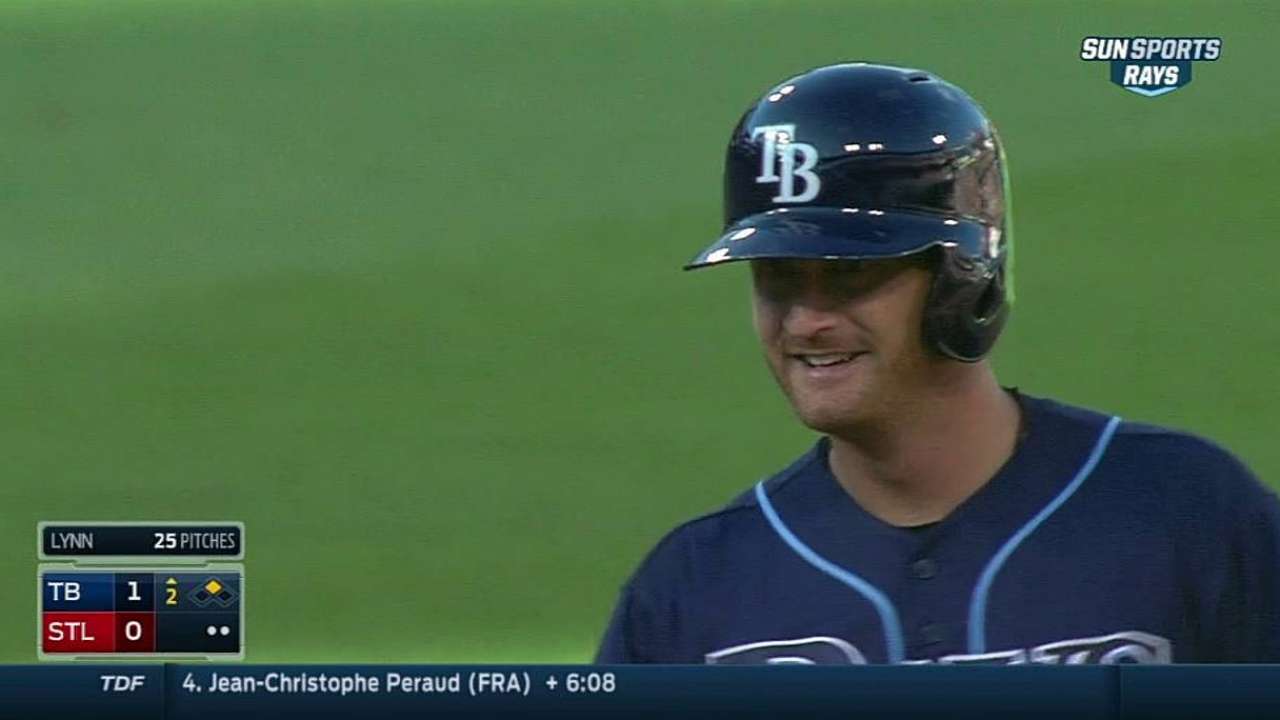 ST. LOUIS -- With each pitch Alex Cobb tossed in the muggy St. Louis air during his pre-start bullpen session Tuesday, there was frustration and dread about the start that awaited him some 24 hours later.
Somewhere between that 10-pitch session which Cobb would later describe as horrible, and his trot to the mound, something clicked.
The right-hander had the firepower on the mound to keep the Cardinals off balance and his bat proved to provide all the offense the Rays would need Wednesday night to cap a perfect five-game road trip with a 3-0 win in front of 43,564 at Busch Stadium.
"He dominated us," Cardinals center fielder Jon Jay said.
Cobb kept the Cardinals guessing from the get-go, recording seven of the game's first nine outs via strikeout. He provided himself an early lead when he drove in Yunel Escobar with a double down the first-base line in the second inning for both his first Major League hit and RBI in his eighth at-bat in the Majors.
Cobb's was the first MLB knock by a Cobb since Sept. 3, 1928 -- Ty's last hit.
"The fortunate thing about being a pitcher is you know that you're going to get a fastball in the zone," Cobb said. "Especially facing a pitcher that had seven career at-bats at that time, [he's] probably not going to hurt you up there, so you just throw a fastball in there. I was just swinging."
With three scoreless frames in the books and the strikeouts racking up, Cobb was nearly knocked out of the game early, not by the Cardinals offense, but by a Lance Lynn fastball during his second plate appearance.
The 92-mph fastball sailed inside and connected with Cobb's right elbow, sending a shooting pain from his elbow up through his shoulder.
"Initial thought was that I broke it," Cobb said. "I really did think that."
"There were so many different thoughts," Rays manager Joe Maddon added.
Cobb would go to first base and the shooting pain slowly subsided. Warmup throws in the bottom half of the inning went according to plan and he pressed on.
Cobb, who missed time earlier this season with a left oblique strain, faced only one threat when a runner reached third base in the sixth inning with the Rays clinging to the one-run lead. A grounder to Evan Longoria at third was quickly thrown home to gun down Matt Carpenter at the plate.
"I thought it was a big sequence. They get a runner on third base, we're up 1-0 and Cobber gets [Matt] Holliday to ground out to third and we get the guy out at the plate," Maddon said. "A lot of really nifty, great stuff tonight."
After a 1-2-3 seventh, which was capped with his 10th strikeout of the night, Cobb's start came to an end scattering five hits in the scoreless appearance.
"Tonight's the most comfortable I've felt on the mound, hands-down, since I've come back [from the injury]," Cobb said. "Even before that, tonight was the most in-synch I've felt."
The Rays added insurance in the seventh after a single, error and hit batter loaded the bases with one out. A sacrifice fly from Longoria extended the lead to two before the Cardinals worked out of the jam. A run-scoring single from Brandon Guyer in the ninth capped the Rays scoring at three.
Brad Boxberger and Jake McGee combined to strike out five of the game's final six hitters to secure the victory, upping the game total to 15 punchouts and bringing the Rays within 4 1/2 games in the American League Wild Card.
A start in which Cobb said he wasn't looking forward to turned into one of his best. Although the right-hander chose not to disclose his altered mechanics, his manager had one idea.
"I saw a snappier delivery," Maddon said. "There wasn't all this hesitation. He's very Asian in his delivery with that slow high-leg, stays over the rubber very long. It was a little bit quicker than that today and I kind of like that. He was on time with everything and the ball was moving great."
Alex Halsted is an associate reporter for MLB.com. This story was not subject to the approval of Major League Baseball or its clubs.