Darvish dealt loss on rain-shortened night in NY
Play halted in bottom of fifth inning; called after nearly two-hour delay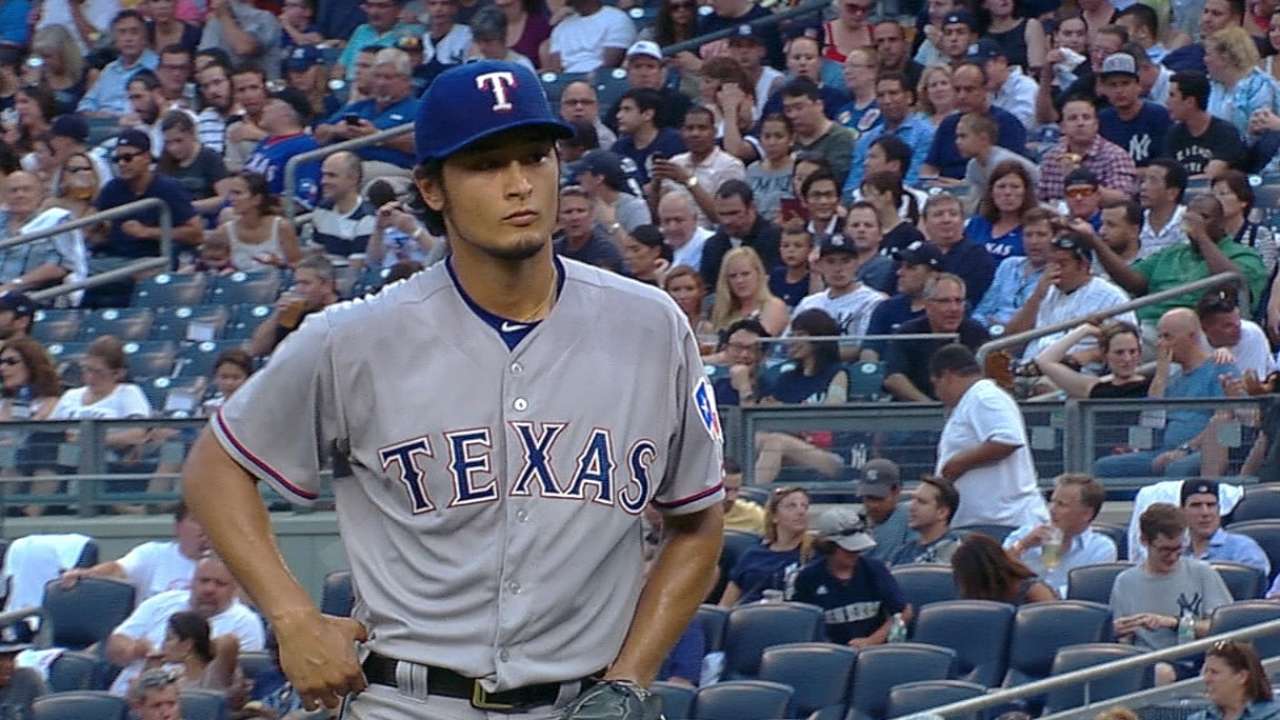 NEW YORK -- There have been many frustrating games for the Rangers this season, but Wednesday night at Yankee Stadium might have been the strangest, and certainly the wettest.
Just a day after a heartbreaking 2-1 loss that needed five extra innings of baseball to finish, the Rangers fell to the Yankees by the same score in a weather-shortened game. This one didn't even amount to five innings thanks to torrential rain and struggles by the grounds crew.
With one out in the bottom of the fifth, the game was delayed at 8:46 p.m. ET as the rain came pouring down in sheets. It took the grounds crew almost 15 minutes to get the tarp pulled over the infield. By the time they succeeded, the infield and pitcher's mound were completely soaked.
The game was called nearly two hours later, once it was determined the field was unplayable for the rest of the night.
"There were some tarp issues. That combined with the massive amounts of rain in a very short amount of time; the field was inundated with water," said crew chief Dale Scott. "After we set a time and went out there, both managers were very concerned about the softness of the basepaths, and quite frankly, once we walked a little bit -- it looked good, but once we walked a little bit, it was very soft."
"I am watching from a time zone away, but I wasn't real pleased," Rangers general manager Jon Daniels said. "I don't think there was any intent on anybody's part. But for the way it played out, I don't think that should happen. We lost a four-inning game because of the ground situation, that shouldn't happen."
Weather called for some sprinkles before the heavy rain descended, but Mother Nature, armed with thunder and lightning, reversed course, and like the thousands of scattering fans, the grounds crew was caught by surprise.
"Those guys on the grounds crew, they're professionals at what they do," said manager Ron Washington. "They usually know how to do that well, and it just didn't happen and it ended up messing up the field. I don't think it was intentional, but usually when they start pulling that tarp, it makes it. That one didn't make it."
"Sometimes storms are what they thought, but we were told it would be rain we might even play through," said Yankees manager Joe Girardi. "And then all of a sudden, it just downpoured. The grounds crew just physically couldn't get the tarp on. It became too heavy. It's heavy by itself, but once you pile the rain on, it's nearly impossible."
After the heavy rain passed and the tarp was removed, the grounds crew quickly cleaned up the soggy infield and a 10:05 p.m. start time was announced. Starter Yu Darvish, and most of the Rangers, stood by the dugout ready to play. But after both managers inspected the field, the conditions appeared too sloppy to safely restart the game.
Then more rain came, and the tarp was reapplied for good.
"[Darvish] told us he can hang two hours," said Washington. "So he was ready to go for that hour and half we sat around. But then this happened again, so if we would have had to stay around and play, Darvish was out."
Before the rain came, and before the confusion and mishaps occurred, the Rangers gave Darvish a 1-0 lead in the third inning. Leonys Martin led off with a single against starter David Phelps, went to third on Chris Gimenez's single and scored as Rougned Odor hit into a double play.
But Darvish couldn't hold it. Yankees catcher Francisco Cervelli led off the bottom of the inning with a double, went to third on Brendan Ryan's grounder and scored on a balk by Darvish. Brett Gardner then put the Yankees ahead with his 10th home run of the season.
"We certainly didn't feel like one run was gonna hold us," said Washington. "It felt like we [were] going to be able to get something going. Especially to lose Yu Darvish is extremely tough."
Time was called in the bottom of the fifth, after another leadoff double by Cervelli and a grounder by Ryan, this one to third base that did not advance the runner. The weather ended Darvish's night with two runs and four hits allowed over 4 1/3 innings pitched, striking out five without allowing a walk.
"At 10:05, I was ready to go," said Darvish. "I was looking forward to getting back on the mound, but it is what it is. I'm kind of disappointed. I think we could have continued a little bit longer. I think we could have done a lot more, and they stopped the game, so it was a loss we half-heartedly accepted."
Adding to odd mix of emotions was the departure of Rangers reliever Joakim Soria, who found out that he had been traded to the Tigers right after the game was called.
That ended up being the bizarre coda to the Rangers' 15th loss in their last 18 road games, moving them to 3-16 in the month of July. Washington said after the game that he was not allowed to protest the loss, and wasn't shy to say he'd consider a rule change in the future.
"I've been a part of a lot of changes this year," said Washington. "So we'll see."
Jake Kring-Schreifels is an associate reporter for MLB. This story was not subject to the approval of Major League Baseball or its clubs.