Liriano cruises past LA after Bucs break out early
Harrison drives in a pair while Snider launches monster solo homer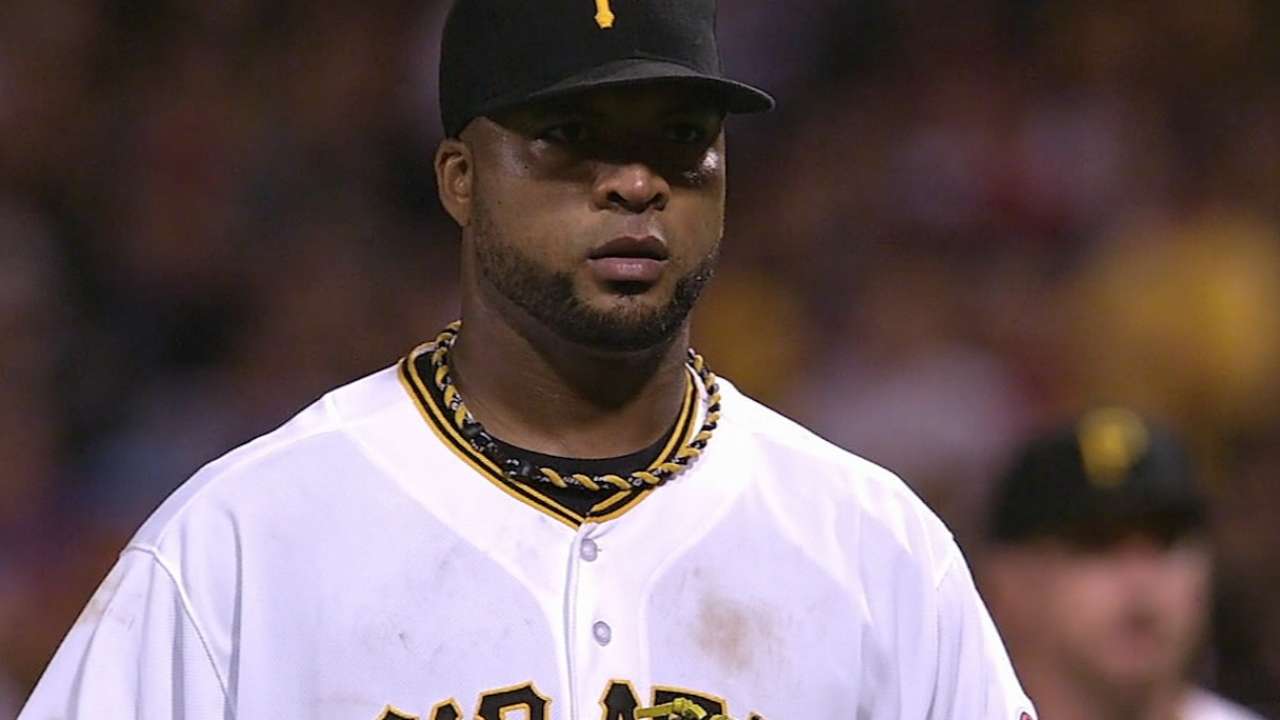 PITTSBURGH -- The air around PNC Park cooled dramatically Wednesday night. But matters heated up between the foul lines. While an odd weather front dropped afternoon mid-80s temperatures into the upper 60s, the Pirates were dropping the Dodgers, 6-1.
Concluding a six-game homestand with their fifth win, the Bucs reached a new high in the standings, moving seven games above .500 for the first time this season, while joining the Cardinals in a flat-footed second-place tie in the National League Central, 2 1/2 games behind Milwaukee.
They may have also reached a new high in optimism, thanks to Francisco Liriano's pitching gem. The very-good Liriano made an appearance, ruling the PNC Park mound as he had last season. The lefty allowed four hits and one run in seven innings for his first victory in PNC Park since last Aug. 30.
To be sure, Liriano had a lot of help in keeping the Pirates upwardly mobile. With all the attention being paid to the Dodgers having to play this series without injured Yasiel Puig and Hanley Ramirez, the Bucs claimed the rubber match without two key cogs: Starling Marte (concussion) and Pedro Alvarez (sore left knee). But their replacements, Travis Snider and Josh Harrison, went 4-for-7, scoring three runs and driving in three.
"That's the Pirates," Harrison said. "We're tough. We're not going to give you easy outs."
"Any time -- no matter who's in the lineup -- we're looking to win series after series," Snider added.
Yet, the above-title billing belonged to Liriano, because of the consequence of his part. He made everyone in that Pirates clubhouse feel better about the road ahead.
"Very happy to see that," said good buddy Edinson Volquez. "It was super to see him come back and pitch like that."
It continued the gradual progression for Liriano to get back to where he was last season, when he was the team's effective ace, if not the titular ace (that distinction was given to A.J. Burnett).
In his last 14 innings, across three starts, Liriano has allowed one earned run and seven hits, while fanning 15.
"I'm not at the point I want to be yet, but everything is getting better," Liriano said. "Everything is coming together. I just got to keep working. It seems much better than the last start; I was throwing more strikes."
To the Dodgers, he also was missing just enough to abet his effectiveness.
"He's just all over the place and you know he doesn't really throw strikes and that makes him a tough guy to get ready for, a tough guy to hit off of," Los Angeles manager Don Mattingly said.
"Liriano had good stuff tonight," said Dodgers catcher Drew Butera, a former batterymate of Liriano with the Twins. "When he's on, he's got really good strikeout stuff. He can be effectively wild at times. His ball is all over the place. No two pitches are ever the same."
After overcoming a pair of first-inning walks, Liriano sailed after the Pirates roughed up right-hander Dan Haren for a four-run first featuring Harrison's two-run double. Snider made it 5-0 the next inning with a home run into the right-field seats that came within a row of entirely leaving the yard.
"It was a good swing," Snider said, "and it was nice to finally get one over the Clemente Wall. For 2 1/2 years that thing has been staring at me. Felt good."
The Bucs won for a 15th straight time (since May 21) after scoring in the first inning. It matches (1974) the team's longest such streak since 1928, when it won 17 straight such games.
There was great news on the pitching front even long before the game. Gerrit Cole gave the thumbs-up after a 70-pitch sim game, and while his road back from a sore lat still has to wind through a Minor League rehab, it's another big step toward a healed rotation.
The Cole-Liriano doubleheader made for a very influential day with Pirates general manager Neal Huntington and his crew tasked with determining how much, and how badly, the team needs to add pitching prior to the non-waiver Trade Deadline.
Liriano held the Dodgers hitless until one out in the fifth, when Miguel Rojas pulled a liner to left that skipped under Snider's desperate dive for a double. Liriano quickly got even with the help of shortstop Jordy Mercer, who snared Drew Butera's hard-and-high liner with a leap and easily doubled Rojas off second.
Los Angeles finally broke through in the sixth when Matt Kemp's infield grounder scored a run set up by Justin Turner's pinch-hit single and Dee Gordon's double.
The victory was Liriano's first at home in 12 starts, including his last two of '13. Across the 11 winless turns, he had an ERA of 4.68 in 59 2/3 innings. Interestingly, before that stretch he had logged the exact same 59 2/3 home innings and gone 8-1 with a 1.21 ERA.
Tom Singer is a reporter for MLB.com and writes an MLBlog Change for a Nickel. He can also be found on Twitter @Tom_Singer. This story was not subject to the approval of Major League Baseball or its clubs.