Dodgers unable to pick up shaky Haren
Right-hander gives up five runs over five innings in series finale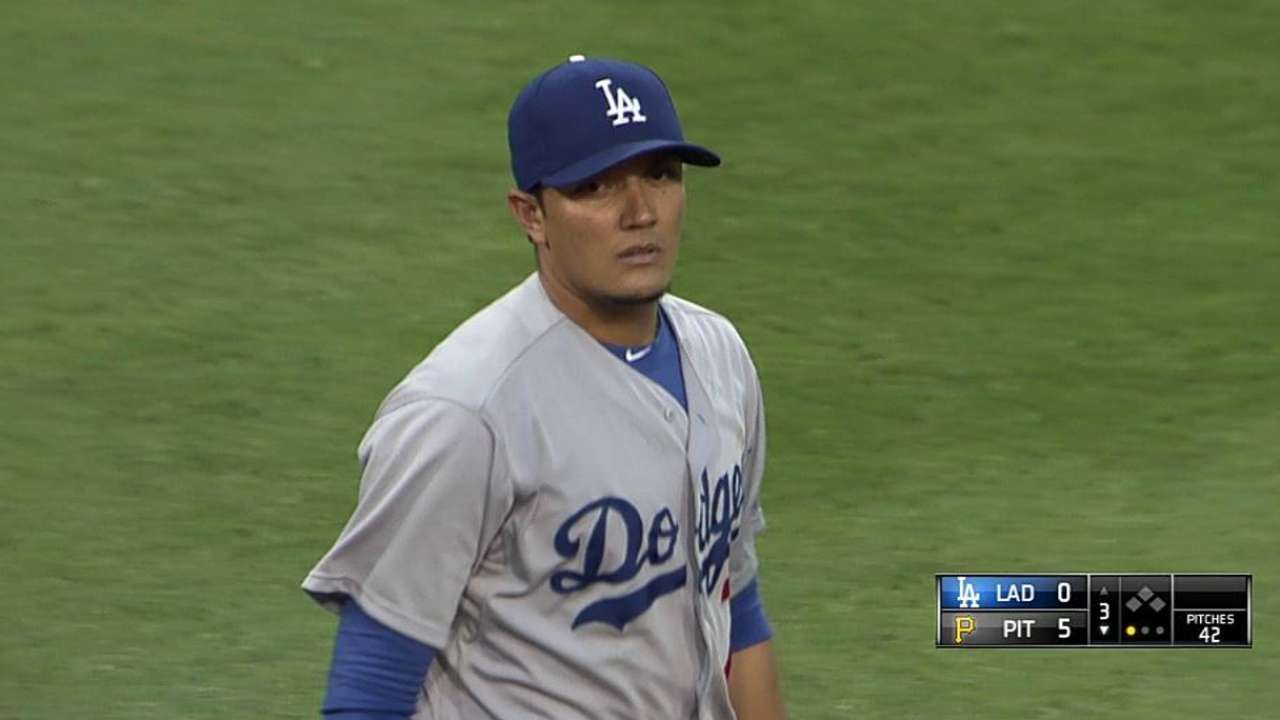 PITTSBURGH -- Manager Don Mattingly wouldn't say when Dan Haren would start next for the Dodgers, but with a four-start losing streak and off-days Friday and Monday, Haren sounds prepared for extra rest.
"I know we talked a while back about off-days," said Haren. "I'll do anything for the team and if it means I get skipped, I totally understand. I'm not going to march into the office. I've got to earn their respect to go back out there."
One night after Josh Beckett came off the disabled list with his shortest start of the season, Haren lost his fourth consecutive start and the Dodgers lost the rubber game of the three-game series with the Pirates, 6-1.
Los Angeles resumes play with a showdown in San Francisco Friday night, trailing the Giants by two games. Mattingly is hopeful that by then All-Star outfielder Yasiel Puig will be back in the starting lineup. Puig and shortstop Hanley Ramirez missed all three starts against the Bucs while nursing left hand/wrist injuries. Puig walked as a pinch-hitter Wednesday night, then finished the game in center field. Mattingly hinted on Tuesday that Puig might soon show up in center field, with Matt Kemp back where he started his career in right field.
Before the game, Mattingly said Beckett would make his next start, presumably Tuesday in Los Angeles. The Dodgers need to determine if Beckett was just rusty in his disappointing comeback start or will be unable to pitch through hip issues. But Mattingly wouldn't say Haren would follow Beckett on Wednesday.
"We'll look at all of that," he said. "It's not the time to talk about it. He's kept us in a lot of games. The last couple haven't been great. Now is not the time to decide Danny's next start or his future or anything else."
Before batting practice, Mattingly held a long meeting with club executives Rick Ragazzo and Pat Corrales, as well as bench coach Tim Wallach and pitching coach Rick Honeycutt. General manager Ned Colletti is likely to join the club in San Francisco.
With uncertainty surrounding Beckett and Haren, the Dodgers approach the July 31 trade deadline with pitching needs, but little to offer in return as they resist parting with top prospects Joc Pederson, Corey Seager and Julio Urias. With a second Wild Card spot keeping marginal clubs from becoming sellers, the supply of pitchers is low and the demand is high, at least until the Aug. 31 deadline.
Haren was somewhat ambushed by Pittsburgh plate aggressiveness, making only four pitches to the first three hitters. Then he started to nibble, walked two batters, and gave up a two-run double to Josh Harrison. Four of the first five batters Haren faced scored. He said he really had "no explanation" why he's allowed runs in the first two innings in 15 of his last 16 starts. His ERA during the four-game losing streak is 9.43.
"It's really gotten away from me the last four times out," he said. "I was having a great year, I felt great throwing the ball, then a few starts ago it kind of snowballed and everything that could go wrong has gone wrong."
Haren prevented the start from becoming a total disaster by retiring the last 11 batters he faced and finishing five innings to save a bullpen that pitched 5 1/3 innings Tuesday night. He struck out six, including four of the last five hitters he faced.
The Dodgers only scored in the sixth inning on a pinch-hit single by Justin Turner, a double by Dee Gordon and an RBI groundout by Matt Kemp. Pirates starter Francisco Liriano (seven innings, one run, four hits) is 2-7, both wins coming against the Dodgers.
"He can be effectively wild at times," said Dodgers catcher Drew Butera, who caught Liriano's no-hitter when they were with Minnesota in 2011. "He had good stuff tonight. When he's on, he has really good strikeout stuff."
The Dodgers wasted a pair of Liriano walks in the first inning. They ran out of opportunities in the second inning, when Carl Crawford was picked off first base, and in the fifth, when Miguel Rojas doubled to ruin Liriano's no-hit bid, only to get doubled off second base on Butera's line out.
Ken Gurnick is a reporter for MLB.com. This story was not subject to the approval of Major League Baseball or its clubs.