After pitching duel, mishap at plate stings Sox
Quintana gives up one run; KC scores game-winner on Flowers' error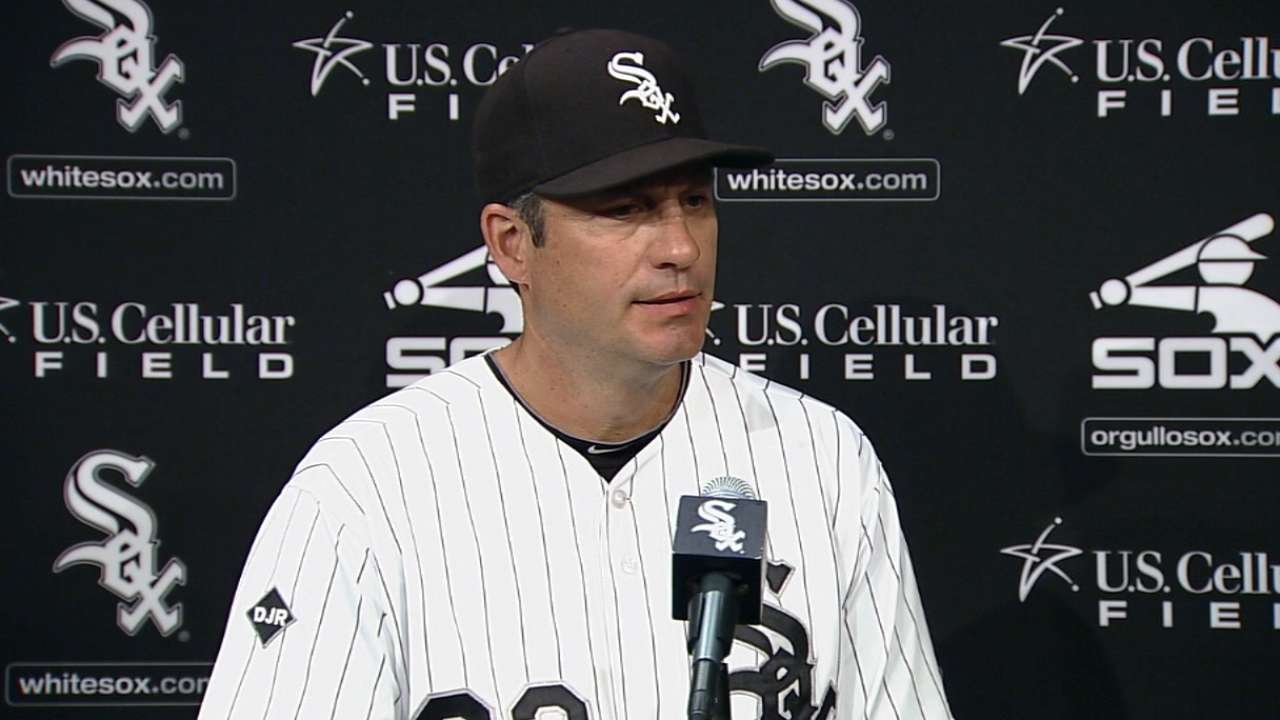 CHICAGO -- There was nothing Tyler Flowers would have done differently on the ninth inning, game-deciding play at the plate during the Royals' 2-1 victory over the White Sox at a chilly U.S. Cellular Field Wednesday afternoon.
Actually, the White Sox catcher would like to change one part of the situation that ultimately put the Royals ahead. He would have hung on to center fielder Adam Eaton's perfect throw home, which then would have nailed Mike Moustakas for the inning's second out.
"In all honesty, I thought I had it the whole time," said Flowers, after the White Sox lost the series to Kansas City and finished 3-3 on this second-half-opening homestand. "I wish I would have hung on to it, but there was nothing I could do different. I don't regret anything I did, and I'm not going to do anything different next time."
Moustakas opened the ninth with a single off of reliever Zach Putnam (3-2), past second baseman Gordon Beckham and the White Sox shift. He moved to second on Alcides Escobar's sacrifice bunt, which also set up Flowers and the play at the plate.
Nori Aoki dropped an 0-1 splitter into center, which Moustakas read all the way as falling in front of Eaton. Even with that good jump, Eaton's perfect throw to Flowers had Moustakas nailed by three or four steps.
Flowers caught the throw, secured the baseball and turned to put the tag on Moustakas. But Moustakas' knee jarred the ball loose and all but dropped the White Sox to 2-12 over their last 14 home games against the Royals.
"I was just sliding into home plate," Moustakas said. "He gave me a lane early, and when he got the ball, he took it away, and he made a good play. I just slid straight into him and luckily the ball popped out and we're sitting here with a win right now."
"That's a tough play," said White Sox manager Robin Ventura. "Eaton made a good throw to home and a lot of stuff is happening right there. He thought he had it and it got dislodged. But you look at how it happened and the play was made, and it's a tough spot right there to be able to hold onto it. A lot of stuff is coming at him. It's unfortunate."
An assist was credited to Eaton and an error charged to Flowers, although this was more of a mishap than a miscue. The play came during a game where the White Sox defense was outstanding behind starter Jose Quintana.
Eaton made a diving catch on Eric Hosmer's sacrifice fly in the first, immediately followed by another diving catch toward the line from third baseman Conor Gillaspie to take away extra bases on Salvador Perez's line drive. Gillaspie swiped a hit from Omar Infante in the third with a similar diving play toward the line and a perfect throw to first baseman Jose Abreu. The trio of Gillaspie, Alexei Ramirez and Beckham helped turn four double plays, three behind Quintana.
"Yeah, really good, especially the first couple of innings," said Quintana of his defensive support. "Really good plays."
Quintana finished with his 36th no-decision since 2012 and fourth straight. He allowed just one first-inning run on seven hits over seven innings, striking out three and walking two on 112 pitches.
Over his last seven starts (six quality), Quintana has a 2-0 record with a 1.70 ERA and 49 strikeouts in 47 2/3 innings. He has given up three earned runs or fewer in 18 of his 21 starts.
Kansas City starter James Shields was every bit as good as Quintana, giving up one run in the first on Abreu's double and Adam Dunn's single with two outs, but nothing more. Abreu extended his hitting streak to 13 games and has hit in 31 of his last 32 games, although he did strike out twice against Shields and once against Wade Davis (6-2)
Shields struck out seven and walked one, and he pitched out of a bases-loaded, two-out jam in the second when Beckham, who is 16-for-128 over his last 34 games, grounded into a fielder's choice at third base. Quintana worked out of a first-and-third, two-out situation in the sixth when Danny Valencia struck out. And reliever Eric Surkamp retired pinch-hitter Raul Ibanez on a popup to second to strand the bases loaded in the eighth.
Just a typical low-scoring contest with two top-of-the-rotation starters battling, turning on one crucial play, and finished off by Greg Holland for his 26th save.
"That's a good bullpen," Flowers said. "It seems like once they get to the seventh, it's a challenge, you know, to get a runner, much less try to get a run in. That makes it more important to take advantage of the situations early."
Scott Merkin is a reporter for MLB.com. Read his blog, Merk's Works, and follow him on Twitter @scottmerkin. This story was not subject to the approval of Major League Baseball or its clubs.