Lohse, Reynolds spearhead Crew's sweep of Reds
Righty goes 6 2/3 strong innings; first baseman hits pair of home runs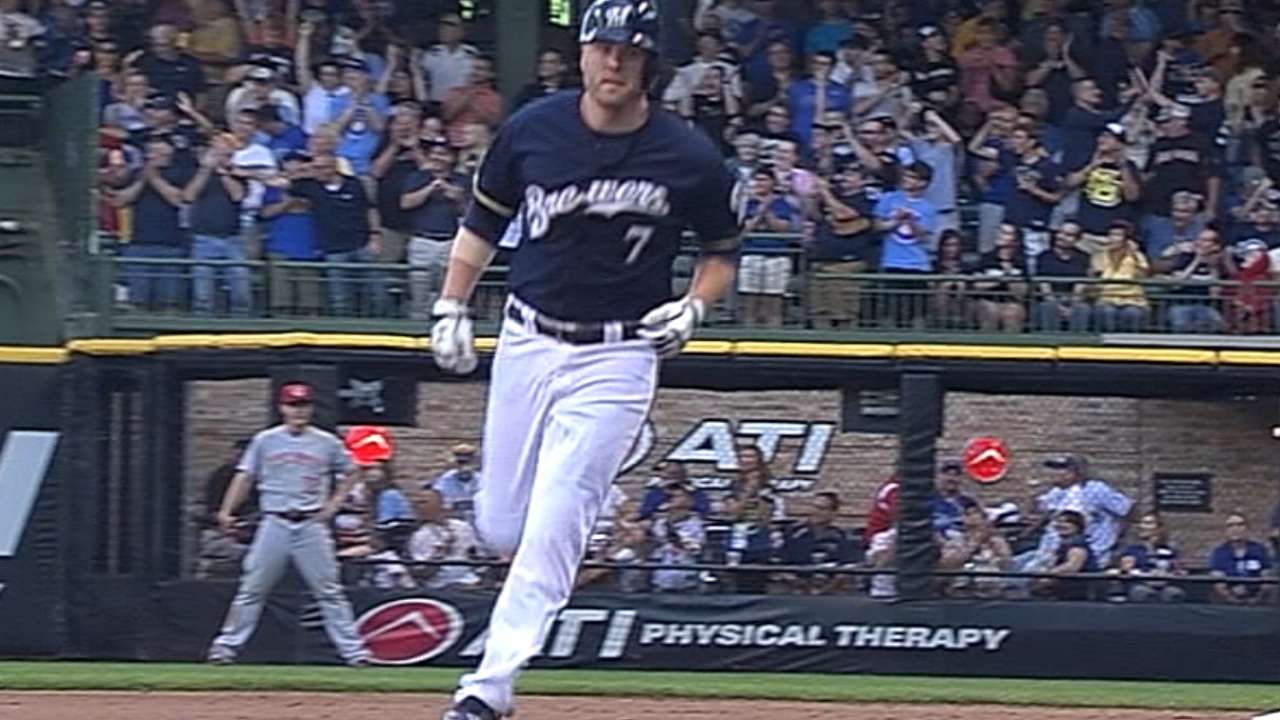 MILWAUKEE -- Finishing the sweep was the most important thing on Wednesday for the Brewers, who beat the reeling Reds once again, this time by a 5-1 margin, to strengthen their grip on the National League Central.
But it was center fielder Carlos Gomez who nailed the second-most important outcome of the victory when he noticed Mark Reynolds surrounded by a media scrum for the first time in weeks.
"Hey, Grumpy's back!" Gomez bellowed, rolling a long "R" that ricocheted around a happy clubhouse. "Grumpy's back!"
"Grumpy" is the nickname bestowed upon the slugging Brewers first baseman, who does his best to maintain a surly demeanor. But Grumpy was smiling Wednesday after snapping out of a 3-for-38 funk with three hits -- including two home runs -- and a trio of RBIs, helping to send Kyle Lohse and the Brewers to their fifth series sweep of the season.
After losing 11 of 12 games in one stretch before the All-Star break, the Brewers have now won five of their last seven. Reynolds' breakout came a day after All-Star catcher Jonathan Lucroy, who had three hits in his previous 30 at-bats, hit two home runs of his own.
"We've been scuffling, obviously, since before the break," Reynolds said, "and [it helps] to get a couple of wins in a row and kind of get that feeling back in here that we expect to win every game. Every team goes through it, but ours was a little prolonged."
The Reds might be entering one now. They finished an 0-6 road trip and fell 5 1/2 games behind the Brewers' division pace. Before this week, the Reds had won seven of the first 10 matchups between the teams.
"It just shows you are going to have ups and downs," Lohse said. "We went through a tough period, but we're still in first [place] and we knew there was a lot of season left. We're just going to keep it going."
Lohse said he endured a terrible pregame warmup, but once the game began he held the Reds to one run on four hits in 6 2/3 innings, with an assist from left-handed reliever Zach Duke to preserve what was a 4-1 lead in the seventh. Will Smith pitched a scoreless eighth inning and former first-round Draft pick Jeremy Jeffress worked a 1-2-3 ninth in the debut outing of his second stint with the Brewers, touching 100 mph on his final pitch.
Lohse also contributed at the plate with a fifth-inning single off Mike Leake that sparked the Brewers' first scoring rally.
Speedster Gomez followed with a triple that bounced past diving Reds right fielder Jay Bruce, and Lohse scored the tying run all the way from first base with a somewhat awkward slide into home.
"I need to work on that," Lohse said with a grin.
Gomez scored two batters later when Ryan Braun beat out a two-out infield single, and Reynolds padded the lead in the sixth with a two-run home run before adding insurance with a solo shot in the eighth. The long balls were Reynolds' first since July 8 and his second and third since June 2, before he slipped into the longest power outage of his career.
Reynolds blamed some bad mechanical habits, and had been working to correct them.
"When I struggle, my head moves a lot, and I'm jumping at pitches," Reynolds said. "We just tried to calm everything down and stay relaxed. It's easier said than done, and until you get some results, you kind of want to scrap it. To get some results is nice."
"Hopefully, this is the start of one of those good streaks," Brewers manager Ron Roenicke said. "We knew it was going to come. Hopefully, this starts it."
A "good streak" would be well-timed for Reynolds, who has teamed with Lyle Overbay in a first-base platoon that had produced a .639 OPS entering Wednesday -- third lowest at the position in the Major Leagues. Only the Padres and Astros were getting less production from their first basemen, and while the options are limited, some have speculated that Brewers general manager Doug Melvin would monitor the market ahead of the July 31 non-waiver Trade Deadline.
Melvin has downplayed the likelihood of trading for a first baseman, noting Reynolds' surprisingly effective defense and Overbay's value when he's on the bench.
"One game, obviously, will get your confidence going, but you'd like to see a stretch of consistency," Reynolds said. "That's kind of been my thing my whole career -- it's been up and down, up and down. Hopefully, I can kind of clear my head with this game and stay as consistent as I can the rest of the year."
Adam McCalvy is a reporter for MLB.com. Read his blog, Brew Beat, and follow him on Twitter at @AdamMcCalvy. This story was not subject to the approval of Major League Baseball or its clubs.