De La Rosa's 11-K gem helps Rockies halt slide
Bats produce as players stay loose; Hawkins makes it tight in ninth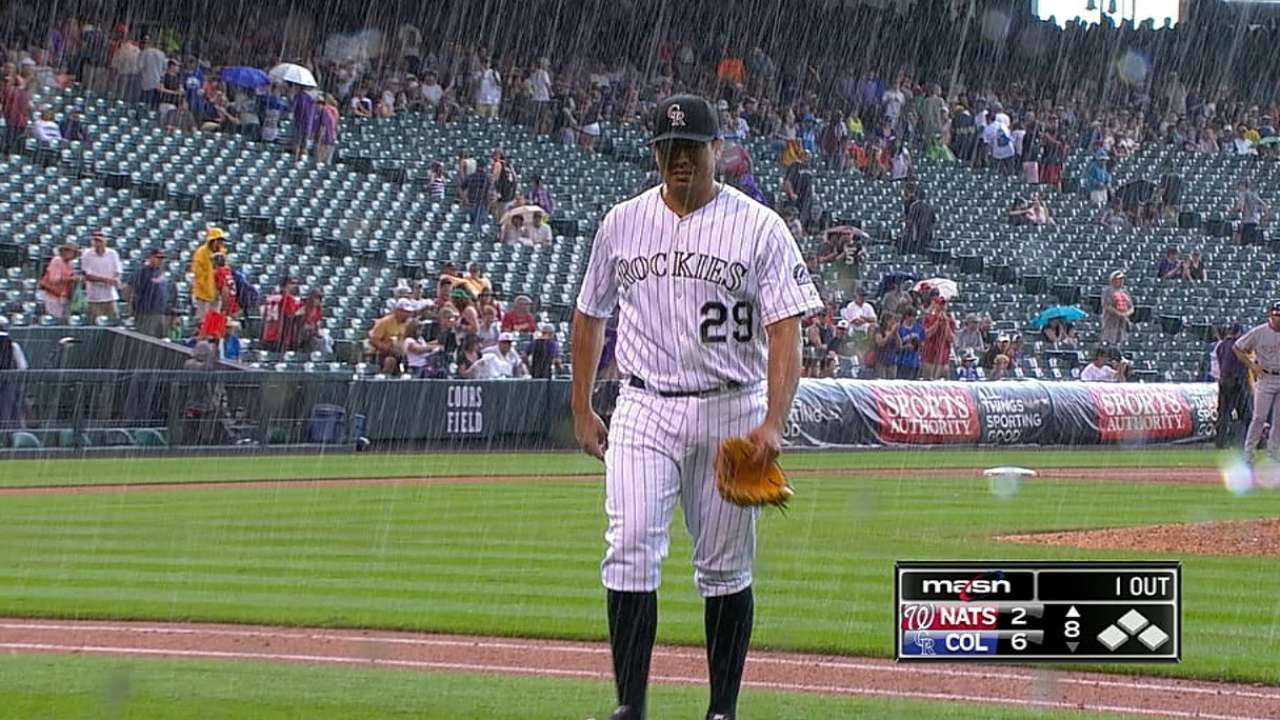 DENVER -- It took a combination of synchronized high-socks, a pregame standoff, a ninth-inning nailbiter and left-hander Jorge De La Rosa's best game of the season, but on Wednesday, the Rockies finally busted their slump.
De La Rosa struck out 11 Nationals -- all swinging -- in the Rockies' 6-4 win at Coors Field to put a stop to their seven-game losing streak.
"We all decided to go pants up, just to change it up," said Nolan Arenado, who finished the game 1-for-3 with two runs and an RBI double. "It was fun, but De La Rosa pitched a great game. We needed that from him, big time."
De La Rosa finished just one strikeout shy of his career high while outshining right-hander Stephen Strasburg over his 7 1/3 innings. De La Rosa surrendered two runs (one earned) and eight hits without issuing a walk.
With his changeup-cutter combo working in full effect, the Nationals only had one hit in 14 at-bats with runners in scoring position against the Rockies' ace.
"That's what the really good ones do," manager Walt Weiss said. "When they do get in trouble, they're able to wiggle out of it. Jorgy has been real good with that with us over the years."
The Rockies have only seven victories over their last 32 games, but De La Rosa has been the winning pitcher in four of those. And he's done it all while fully aware that an audience of potential Trade Deadline suitors has been watching closely.
"I don't want to hold those things in my mind," De La Rosa said. "I just want to go out there and pitch for my team. If I get traded, I get traded. But I don't want to think about those things."
In the ninth, the usually reliable LaTroy Hawkins came on, and the wheels nearly came off for the Rockies.
The Nationals rallied for two runs with two outs in the final frame, starting with four consecutive singles. Hawkins regained his composure enough to induce Adam LaRoche into what would have been a game-ending grounder, but Josh Rutledge botched the routine play to keep the inning alive. Yet after a seemingly never-ending battle with Ian Desmond, the Rockies' closer finally rung him up with the bases loaded to end the threat.
"I was in the at-bat," Desmond said. "I was happy with where I was at. But you have to tip your cap sometimes. [Hawkins] did a good job. He made some good pitches on me."
After Washington's Denard Span, who had four hits, led off the game with a single, Scott Hairston grounded into what appeared to be a surefire double play. But second baseman DJ LeMahieu had trouble receiving Arenado's throw from third and didn't do Ben Paulsen any favors on his ensuing double-clutch toss to first.
The ball skipped past Paulsen into the camera bay, allowing Span to score before there was an out.
Back-to-back doubles from Rutledge and Corey Dickerson off Strasburg tied it up in the bottom of the first, though, before Paulsen and Michael McKenry each chipped in RBI singles to forge a 3-1 lead.
Overall, Strasburg was charged with four runs on nine hits, while walking three and striking out five over 5 1/3 innings before left-hander Ross Detwiler took over. Arenado, for one, knows how fortunate the Rockies were to get to Strasburg early.
"I saw him last year, and I thought he was one of the nastiest pitchers I ever saw," Arenado said. "In the first inning, we were able to get some pitches up, and he was a little rowdy for a little bit there. He obviously settled in, but we were able to get some good at-bats that first inning."
Span's third single of the game plated one Nationals run in the fifth, but Charlie Blackmon answered back in the following inning with an RBI single of his own, making it 4-2.
As wind and rain suddenly began to swirl in the seventh, the man who defeated Brandon Barnes in a curious national anthem staredown, Nats right-hander Aaron Barrett, came on to relieve Detwiler. This time, the Rockies would get the best of him.
Arenado's double scored Dickerson after he reached on a leadoff walk. Barrett struck out the next batter he faced, but catcher Jose Lobaton dropped the third strike and misfired on his throw to first, allowing Paulsen to reach and Arenado to score.
"I didn't really pay too much attention to [the staredown], but I think we lost," Arenado said. "That's not good. ... But we'll do any staredown to win games, that's for sure."
As for the socks, Weiss wasn't sure whose idea it was, but he was just happy to see his team letting loose during a trying time.
"We all know where we're at," Weiss said. "And how tough it's been. ... It's tough to have fun. But they're still trying to find a way to enjoy being out there and competing and not lose sight of that."
And judging by the level of competition the Rockies produced against the NL East-leading Nats, Weiss wouldn't be surprised to see his players rolling up their pants at a later date.
"I think you'll probably see it again knowing how [superstitious] baseball players are," Weiss said.
Cody Ulm is an associate reporter for MLB.com. This story was not subject to the approval of Major League Baseball or its clubs.