Streak halted at four as Nats' late rally falls short
Club plates two in ninth, leaves bags full; Strasburg allows four runs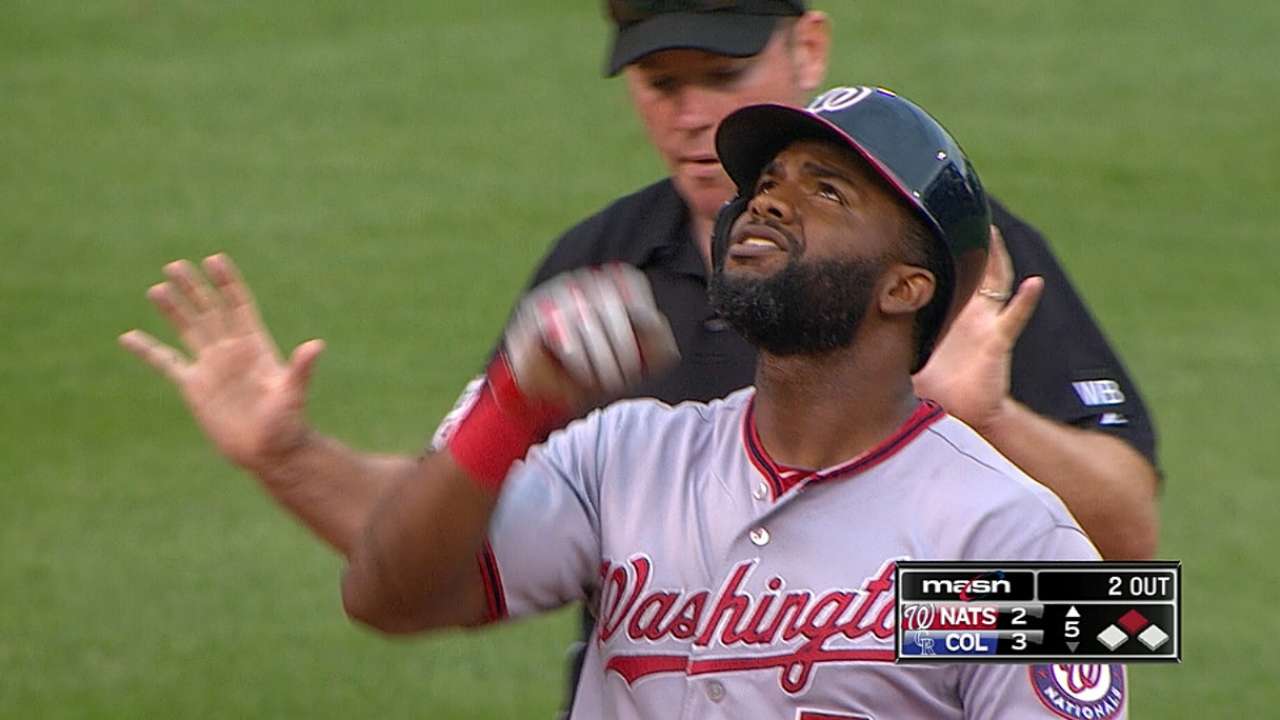 DENVER -- Matt Williams, on multiple occasions this week, used the same three words to describe baseball at Coors Field.
"Things happen here," the Nationals manager said.
Plenty of those things happened Wednesday, from a post-national anthem standoff to a swirling mix of wind and rain and a spirited ninth-inning rally, but a win and a chance to sweep wasn't one of them for the Nationals.
Washington swallowed a 6-4 loss to the Rockies, ending its four-game winning streak on the same day the team stomached news that Ryan Zimmerman was sent to the disabled list for the second time this season.
But even in defeat, while shouldering word of Zimmerman's "substantial" strain, the Nationals displayed the type of resolve Williams has lauded in his team.
Washington, facing a four-run deficit and down to its final out in the ninth against closer LaTroy Hawkins, rallied for two runs on four straight singles from Zach Walters -- called up earlier in the day from Triple-A Syracuse -- Denard Span, Jayson Werth and Anthony Rendon, followed by a Rockies error.
After that sequence, Ian Desmond stepped to the plate with the bases loaded and fouled off three pitches before finally coming up empty on a 2-2 slider to end the game.
"We did a good job battling back," Desmond said. "We kept on grinding away. I'll take us in that situation a lot of times."
The Nationals were forced onto the comeback trail by Rockies starter Jorge De La Rosa, who struck out 11 and surrendered only one earned run in 7 1/3 innings.
"He knows how to pitch here," Williams said. "He has a surprising fastball when he needs it, but he relies on his changeup a lot. That's a great strategy here. He has the ability to throw it for a strike when he needs to and off the zone when he needs to."
Stephen Strasburg, making his second career start at Coors, staked the Rockies to a 3-1 lead in the first inning. Trouble with his curveball led to four Colorado hits, including doubles from two of the Rockies' first three hitters.
Strasburg (7-8), who lasted 5 1/3 innings, yielded just one run after that, finally grasping control and altitude issues following the rocky start.
"I gave up three runs early, and I easily could have shut it down," he said. "I didn't want to do that. I wanted to give these guys a chance to come back. Anything can happen here."
Span had four hits, including an RBI single in the fifth that briefly cut the Rockies' lead to 3-2. But Washington couldn't capitalize on opportunities that were few and far between before the ninth.
The Nationals had their best chance to draw even in the seventh. Jose Lobaton singled and pinch-hitter Kevin Frandsen notched an infield hit with a bunt to start the inning. But Span's sacrifice-bunt attempt went too close to the mound, leaving De La Rosa time to field the ball and fire it to third for the force.
"He got off the mound and made a great play," Williams said of De La Rosa.
Werth, who was out of the starting lineup to rest a sore right knee, then struck out as a pinch-hitter, becoming De La Rosa's 11th punchout victim. De La Rosa (11-6), who struck out Bryce Harper three times, then got Rendon to ground out and end the threat, preserving the Rockies' 4-2 lead.
"For Jorgy, another great outing," Rockies manager Walt Weiss said. "He did it again. We've been scuffling like crazy, and Jorgy takes the ball, goes out and gives a great performance to win the game."
The Rockies, who snapped a seven-game skid, added two runs in the bottom half of the seventh off reliever Aaron Barrett, who was victorious in a battle of wills against Rockies reserve Brandon Barnes before the game. After the national anthem, both players stood firm near their dugouts. Barnes finally relented, and Barrett retreated to a celebratory dugout.
One run against Barrett was unearned, the result of a wayward throw by catcher Lobaton following a strikeout in the dirt of Ben Paulsen.
After the game, Zimmerman said he wasn't sure how long the strained hamstring would keep him out of the lineup.
"It's hard to say anything in the long term," Zimmerman said. "I'm sore today, just like we thought I'd be. We don't have any sort of time table or anything like that, other than it's a pretty decent strain and I'm pretty sore today."
Nick Kosmider is a contributor to MLB.com. This story was not subject to the approval of Major League Baseball or its clubs.