Swarzak called upon, delivers sharp spot start
Right-hander allows two hits over five innings to cap series victory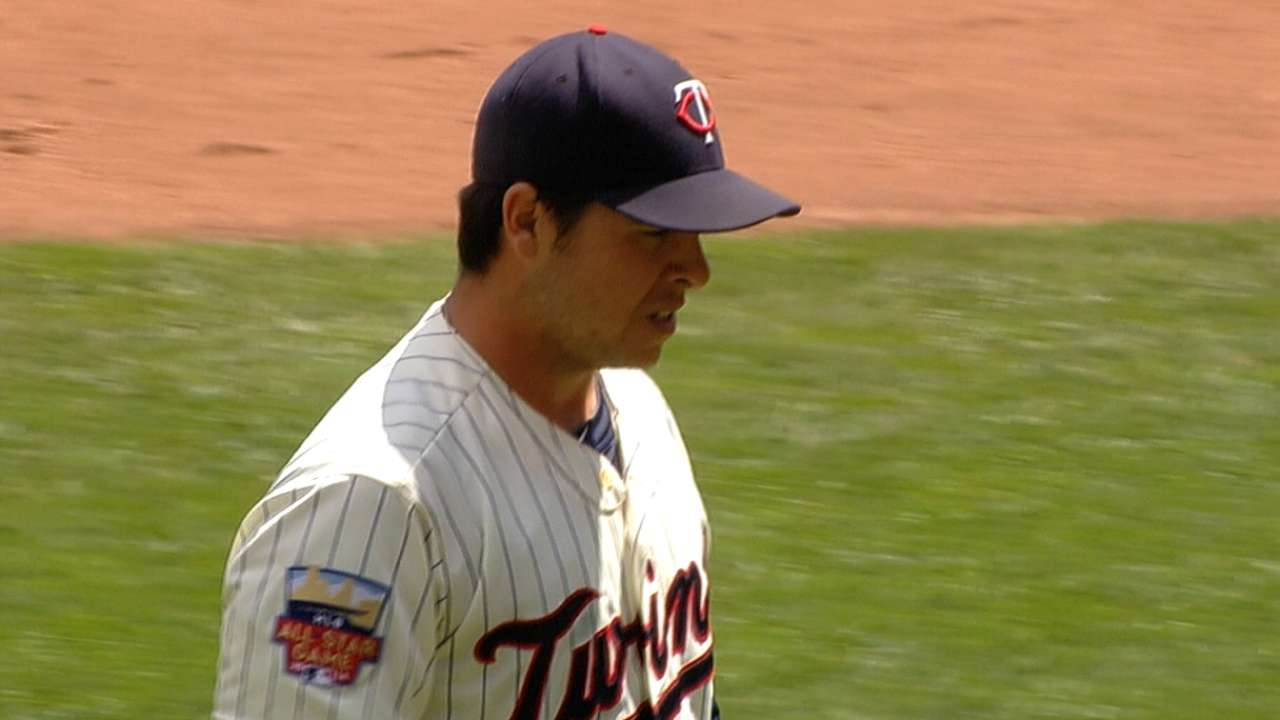 MINNEAPOLIS -- As Twins manager Ron Gardenhire puts it, Anthony Swarzak has practically been begging for another chance to start the last few seasons.
Swarzak will go up to Gardenhire before just about every game, and he'll let his manager know if he ever needs a spot starter, Swarzak is ready to go.
Swarzak finally got his chance to make his first start in nearly two years, and he made the most of it against the Indians on Wednesday afternoon. The right-hander impressed with five strong innings, and the offense did just enough to lead the Twins to a 3-1 win over the Indians at Target Field.
"It felt great," Swarzak said. "The most important thing was to get the win and give your team a chance to win. The bullpen came in after me and did an outstanding job. They're fun to watch. And we had great defense today."
Swarzak, who didn't even find out he was starting until late Tuesday night with Kyle Gibson scratched due to lower back stiffness, was expected to throw about 60 pitches. But he ended up throwing a season-high 74 pitches in his first big league start since 2012.
The long reliever gave up just one run on two hits and a walk to pick up his first win as a starting pitcher since Sept. 27, 2011. He also improved to 2-0 with a 4.10 ERA in 31 appearances this season, and he finally got his chance to snap his streak of 78 straight relief appearances.
"He's in there every day saying, 'I'm here if you need me. I can start. I'm good to go,'" Gardenhire said. "That's the way he comes to the ballpark every day."
Swarzak was also able to maintain his stuff deep into his start despite his highest pitch count in the Majors since April 13, 2012, as he was still hitting 93 mph on the radar gun in the fifth inning and struck out the last two batters he faced.
"Swarzak is such a valuable guy to a team," Indians manager Terry Francona said. "That's not easy to do what he did. Coming out of the bullpen, and I think he's averaging one-plus [innings] an outing. He goes five, and he held his stuff, which was pretty impressive."
The Indians scored their lone run against Swarzak in the third on a two-out RBI double from Jose Ramirez after David Murphy singled and Chris Dickerson walked. But Swarzak got out of the jam thanks to a diving grab from shortstop Eduardo Nunez on a line drive from Michael Brantley that would likely have brought home two runs.
"That was the play of the game, hands down," Swarzak said. "That's why we won. Great diving play."
The Twins tied it up with a run in the bottom of the inning against right-hander Trevor Bauer. Danny Santana started the rally with a one-out triple to right field before scoring on a single from Sam Fuld.
Minnesota took the lead in the fifth on a two-out double from Brian Dozier to score Santana, who singled and reached second on a wild pitch from Bauer.
"Some of their hitters just found the hole," Indians catcher Roberto Perez said. "I don't think they hit the ball hard, but they just found the hole and scored some runs. You can't do anything about it when you make pitches."
The Twins padded their lead with a solo shot from Oswaldo Arcia in the sixth. It was the sixth blast of the year for Arcia, who hadn't homered since June 25. Arcia went 2-for-4 for his first multihit game since July 12.
"Arcia had a big day," Gardenhire said. "He had a big home run for us."
Twins relievers Caleb Thielbar, Jared Burton, Casey Fien, Brian Duensing and closer Glen Perkins combined to hold the Indians scoreless over the final four innings to preserve the victory. It gave Minnesota the series win after being swept by the Rays over the weekend.
Duensing got the Twins out of a bind in the eighth with runners on second and third and two outs, as he was able to get Brantley to pop out to third to end the inning. Perkins threw a scoreless ninth to get his 24th save.
"It felt good," Duensing said. "It was a big situation, so to be able to get that out was huge. Obviously, winning a series is a big deal. Today started with Swarzak pitching really well. So it was a good team win and good series win."
Rhett Bollinger is a reporter for MLB.com. Read his blog, Bollinger Beat, and follow him on Twitter @RhettBollinger. This story was not subject to the approval of Major League Baseball or its clubs.