Indians drop series despite Bauer's quality start
Prospect Ramirez delivers RBI double after callup from Triple-A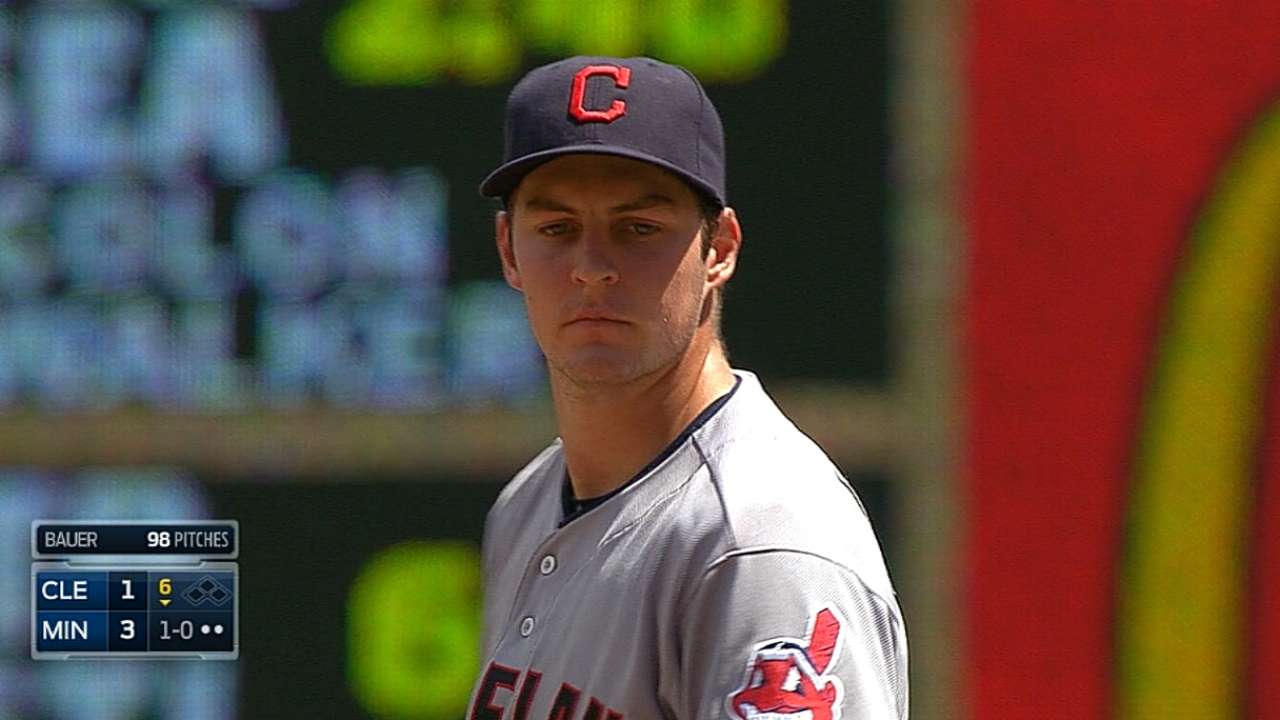 MINNEAPOLIS -- Ninety minutes before the first pitch off a 3-1 loss at Target Field on Wednesday, first baseman Carlos Santana posed a question to the Indians' clubhouse.
"Who's pitching for Minnesota today?" Santana asked.
Reliever Marc Rzepczynski chimed in from the corner: "Frank Viola."
After expected starter Kyle Gibson was scratched late Tuesday with lower back stiffness, his replacement was not the 1988 American League Cy Young Award winner, but rather Anthony Swarzak, a bullpen arm who last started a game in 2012.
"We've seen him a bunch," manager Terry Francona said. "He's not going to pitch different just because he starts. We've seen him a lot. He's aggressive. He throws strikes, and he moves the ball in and out."
Swarzak threw 74 pitches -- 22 more than his season high -- to hold Cleveland to one run on two hits through five innings, more of a Viola performance than anyone in the Indians clubhouse expected.
"Swarzak is such a valuable guy to a team," Francona said. "That's not easy to do what he did. Coming out of the bullpen, and I think he's averaging one-plus [innings] an outing. He goes five, and he held his stuff, which was pretty impressive. That kind of set the game up for them, where they can get to their bullpen and not have to go longer on guys than they wanted to."
Meanwhile, Indians starter Trevor Bauer succumbed to a plucky Twins lineup that sunk the Tribe with timely hitting. The 23-year-old managed a quality start (six innings and three earned runs), but he couldn't hold an early 1-0 lead.
"He threw the ball well," catcher Roberto Perez said. "Some of their hitters just found the hole. I don't think they hit the ball hard, but they just found the hole and scored some runs. You can't do anything about it when you make pitches."
The Indians got on the board in the third inning, but their only lead was short-lived.
David Murphy reached on a single off Swarzak -- the first hit of the day for Cleveland -- and then advanced on a sac bunt by Perez. After a Chris Dickerson walk and a Jason Kipnis popout, Jose Ramirez lined a double into left field that drove in Murphy.
Playing his first big league game since May 19, Ramirez was called up on Wednesday to sub at short while Asdrubal Cabrera works through lower back pain. Ramirez accounted for two of the Tribe's five hits, and he almost got a rally started in the eighth with a single that forced Brian Dozier into a throwing error and put runners on second and third.
But the rookie's third-inning RBI was the only Indians run of the day, thanks in part to an outstanding diving catch by Eduardo Nunez to rob Michael Brantley up the middle and strand the runners.
"That was the play of the game, hands down," Swarzak said. "That's why we won. Great diving play."
Danny Santana tripled to the right-field corner off Bauer in the third, and then came home on a Sam Fuld single up the middle.
After Swarzak sat down six straight Indians, the Twins' lineup went to work again.
Santana singled and advanced on a wild pitch before Dozier doubled him home for Minnesota's first lead. One inning later, Oswaldo Arcia sent a 2-2, two-out fastball from Bauer packing to the right-field concourse.
"It was exactly where I wanted to put it," Bauer said. "Good for him. He hit a good pitch. Sold out for it."
Cleveland's last real threat came in the eighth, after Ramirez's second hit and Dozier's error.
"Because of his speed, he gave us another chance where Dozier tried to glove it over there," Francona said. "So we got the tying run on second with Brantley hitting. We'll take that."
But there would be no heroics on Wednesday afternoon, as Brantley popped out to third base to end the inning.
Both teams' relievers did solid work in the later innings, and the Indians couldn't do much against a bullpen platoon capped by All-Star Glen Perkins, who collected his 24th save.
Wednesday's result was the Indians' second loss in three games against the Twins. Cleveland had not lost a series since June 27-29 at Seattle, and the Tribe hovers one game over .500 at 51-50.
Alex M. Smith is an associate reporter for MLB.com. Follow him on Twitter @asmiff. This story was not subject to the approval of Major League Baseball or its clubs.