A's edged in extras after Kazmir's sharp start
Astros hit solo homer off Abad in 12th as Oakland drops series opener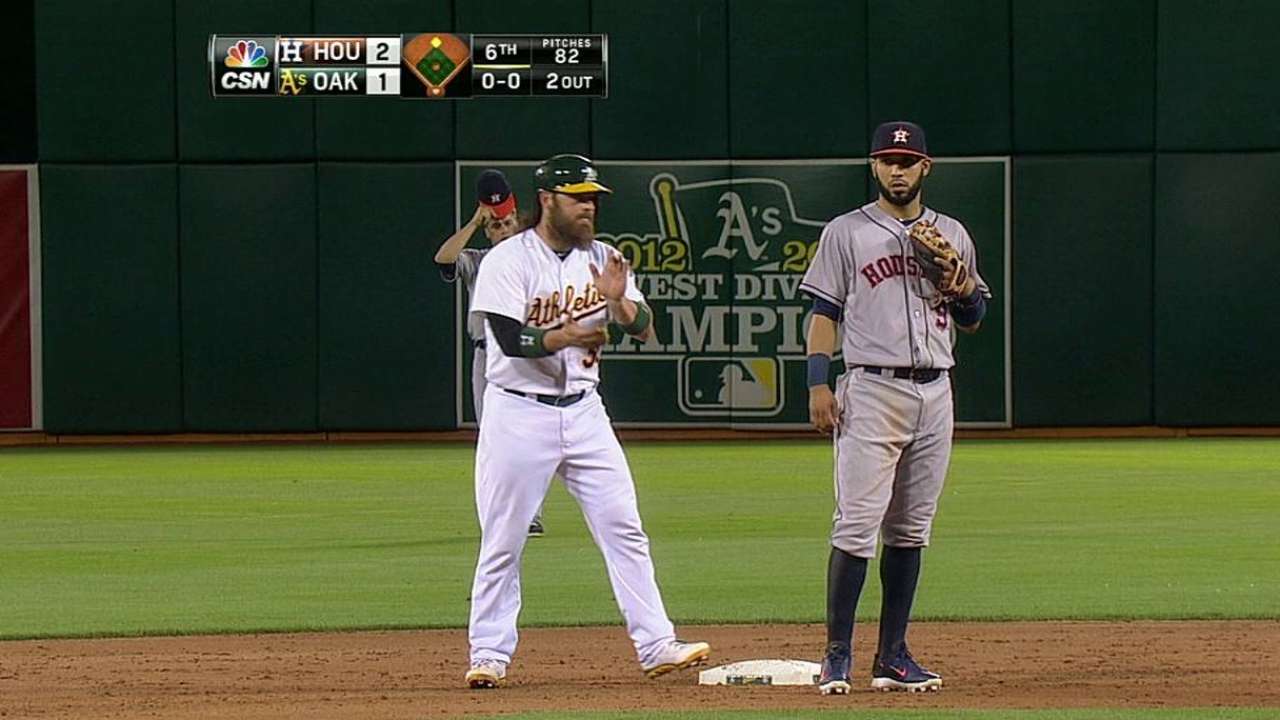 OAKLAND -- A's manager Bob Melvin isn't interested in talking strength of schedule. Any further questions about it will likely be directed to a replay of Tuesday's 3-2 extra-inning loss to the Astros.
The 12-inning affair marked the first of 20 consecutive games in which baseball's best team is playing against clubs under .500.
But Melvin's A's thrive in a bubble and, thus, are likely unaware of this. They play for the day.
This one could've ended by extending their lead in the American League West, thanks to an Angels loss. But the A's remain two games ahead of them and haven't gained a full game since July 8.
They've lost each of their last three vs. the 42-58 Astros, though they had won each of their last six against them at the Coliseum.
"They're still a big league team," said John Jaso. "They're going to compete."
"We don't overlook anybody anyway," said Melvin, "and you know you can always come up against a pitcher that's going to shut you down and it's going to come down to a couple plays at the end of the game, which it did again."
In this instance, it was lefty Fernando Abad serving up a one-out homer to L.J. Hoes in the 12th, just the sixth extra-base hit he's given up in 40 1/3 innings.
"It was a fastball away that kind of cut down the middle of the plate, so he did what he was supposed to do with a pitch like that," said Jaso. "I was pretty surprised, because there were some balls hit hard that didn't carry like that one. I thought it was just going to hit off the wall."
"I didn't think it was going to be a homer," admitted Hoes. "I thought it was going to be a double to be honest, with the way the ball carries here and it being night time. I thought it was going to hit off the wall."
Instead, the A's lost for just the fifth time in 20 tries in games Scott Kazmir starts.
The All-Star lefty said he wasn't in top form on this night, but it didn't show. He whirled 107 pitches in seven innings, all the while giving up just one earned run (two total) on seven hits and one walk with six strikeouts.
He has now tossed seven innings and allowed one earned run or fewer in three consecutive starts.
"He pitched in the same fashion he has all year for us," said Melvin, "but we just didn't score him enough runs -- and maybe that play affected things."
It was the top of the third inning when Jose Altuve's one-hop shot hit off Kazmir's midsection. Josh Donaldson scooped it up and made a throw that first baseman Nate Freiman couldn't snag, putting runners on second and third -- except Melvin believed Altuve to be running outside the baseline.
Chris Carter followed with a two-run single.
"No question for me he's on the grass, it looked like," said Melvin. "They said they didn't think it affected it from the angle where JD threw it from, when it did. That ball was up the line and Fry had to go get it, and it looked like he was inside the line, and my opinion was he should have been called out."
"I was searching for the ball and then I saw Donaldson," said Kazmir. "I didn't see how far he was inside the baseline, but a lot of people were saying that."
The A's got a run back in the third and tied the game in the sixth on Jed Lowrie's sacrifice fly, but they were held scoreless through the next six innings.
Jane Lee is a reporter for MLB.com. This story was not subject to the approval of Major League Baseball or its clubs.