Twins fall behind early, then Tribe pulls away
Pino allows three runs in second, and offense struggles with RISP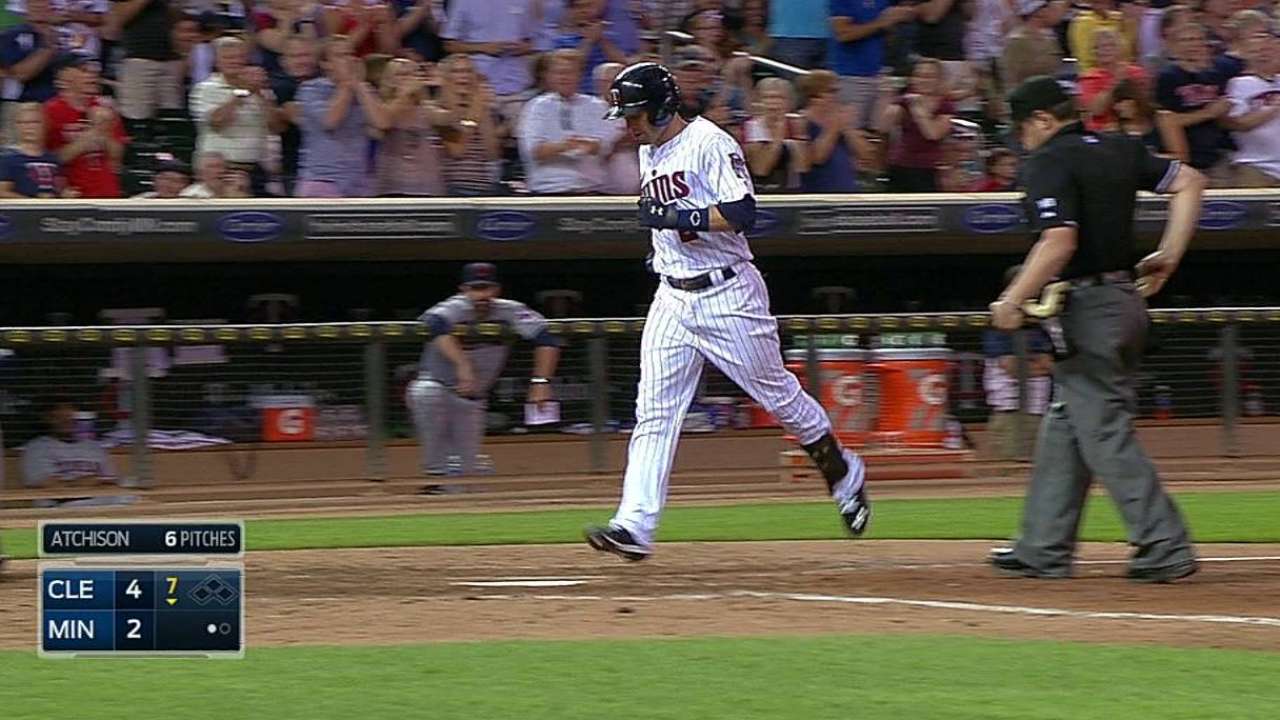 MINNEAPOLIS -- The Twins have fallen into bad habits after the All-Star break.
They keep finding themselves down early in games, and the offense hasn't been able to pick up the slack due to struggles with runners in scoring position.
It continued Tuesday night, as the Twins found themselves in an early hole yet again, and they couldn't climb out of it in an 8-2 loss to the Indians at Target Field.
The Twins have trailed by three runs within the first three innings in four of their five games since the break and have lost all four of those games. They're also 4-for-41 with runners in scoring position over that stretch.
"We've been falling behind early, but at the same time good offensive teams can find a way to scrape some runs together over nine innings," said second baseman Brian Dozier. "But it just seems like when we get down early, we're not very good when that happens. So we have to do a better job."
Right-hander Yohan Pino got through 6 1/3 innings for the Twins, allowing four runs on seven hits and no walks with five strikeouts to get stuck with the loss.
The Indians scored three times off Pino in the second, but he settled down from there for his second-longest career outing in six tries. The three early runs, however, put the Twins in another tough spot from which they couldn't recover.
"We got behind early but [Pino] hung in there," Twins manager Ron Gardenhire said. "We just didn't do much offensively again. We misfired a couple times when we had opportunities."
Carlos Santana started the rally in the second for the Indians with a leadoff double before Lonnie Chisenhall was hit by a pitch and Nick Swisher singled to load the bases with nobody out. Pino struck out Yan Gomes but gave up a two-run single to David Murphy and a sacrifice fly to Mike Aviles to give the Indians an early lead they wouldn't relinquish.
Cleveland added another run in the fifth on a solo shot from Santana, who beat the shift in his previous at-bat on a bunt down the third-base line. The homer, which landed in Target Plaza in right field, came on a 3-2 fastball from Pino and was the 15th long ball of the year for Santana.
"I gave up a couple runs in the second inning, but other than that, I kept the ball down," Pino said. "In the second inning, they found holes. But I just tried to do my job. Against Santana, I tried to go outside but it went over the middle."
The Twins didn't get on the board against Indians right-hander Danny Salazar until the fourth inning on an RBI fielder's choice groundout from Sam Fuld. They were unable to cash in on a prime scoring chance in the second when Salazar issued three straight walks with one out, as Salazar struck out Fuld and Danny Santana to get out of the jam.
"I thought when he did run into trouble, I thought he really reached back for his best stuff," Indians manager Terry Francona said about Salazar, who lasted five-plus innings. "Because of that, the pitch count got pretty high. But I really thought he looked good."
Minnesota scored again in the seventh on a solo shot from Dozier off reliever Scott Atchison. It was Dozier's team-leading 19th homer of the year and came on a 1-0 slider. It also set a career high in homers for Dozier, who set the club record for homers by a second baseman last year with 18.
"My focus is winning games, so whether you hit a homer or not, it doesn't seem as good as if you're winning," said Dozier, who, like Santana, finished a triple short of the cycle.
But the Twins went 0-for-8 with runners in scoring position a night after going just 2-for-10 in those situations in a 4-3 win over the Indians on Monday.
The Indians broke the game open with four runs in the ninth against right-hander Matt Guerrier, who saw his ERA rise from 2.67 to 3.86 on the season.
"The game got a little out of whack there at the end," Gardenhire said. "Matty didn't have a good night."
Rhett Bollinger is a reporter for MLB.com. Read his blog, Bollinger Beat, and follow him on Twitter @RhettBollinger. This story was not subject to the approval of Major League Baseball or its clubs.