Santana collects four hits in Indians' rout of Twins
First baseman kicks off second-inning rally, homers in the fifth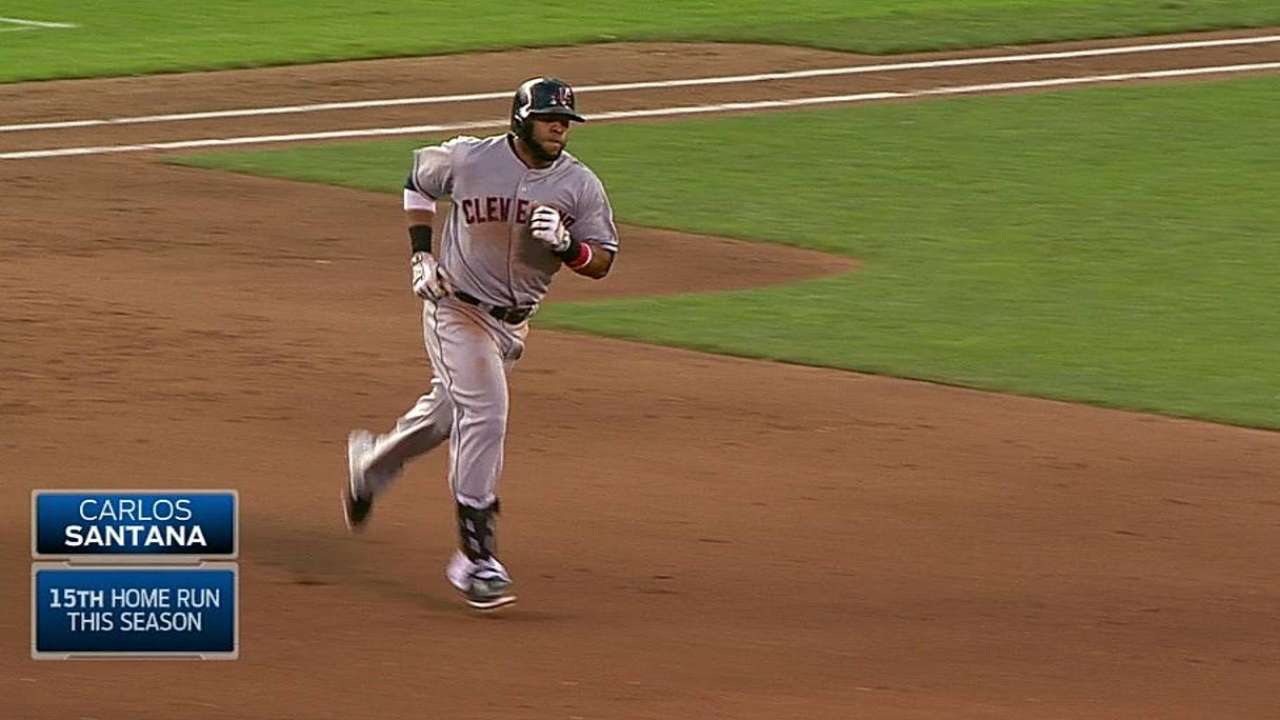 MINNEAPOLIS -- Facing a heavy infield shift with two outs in the third inning, Carlos Santana laid down a perfect bunt.
He picked up a single on the play, but the Twins were lucky -- it was the only time during the Indians' 8-2 win on Tuesday night that a ball hit by Santana didn't fly over everyone's heads.
"It's basically free," Santana said. "My first at-bat, I got a double, and then early in the count, I said, 'Oh, they're playing the shift,' and did a bunt."
The first baseman finished 4-for-5 -- including a home run off Minnesota starter Yohan Pino that traveled 415 feet into the right-field concourse at Target Field. He also helped the Tribe get out to an early 3-0 lead in the second by swatting a double off the top of the right-field wall to begin the inning.
After that double in the second, Pino proceeded to hit Lonnie Chisenhall in the lower body with a slider, and then Nick Swisher loaded the bases with a single to center. One Yan Gomes strikeout later, David Murphy singled to bring two runners home, and then Mike Aviles pushed the lead to three with a sacrifice fly to score Swisher.
Meanwhile, Indians starter Danny Salazar employed an effective bend-but-don't-break strategy in his first Major League start since May 15.
Officially added to the roster earlier in the day, the 24-year-old righty loaded the bases with three straight one-out walks in the second. That's when catcher Gomes came to the rescue with a quick mound visit.
"He told me to stay back and breathe and focus on the pitch I wanted to throw," Salazar said. "That was good. Because if he doesn't come out, I wouldn't go back and try to rest for a couple seconds."
After a few deep breaths, Salazar escaped by fooling Sam Fuld and Danny Santana with changeups for strikeouts in consecutive at-bats.
While the offspeed stuff helped early, Salazar ramped up the heat when he wanted.
After the Twins got on the board in the fourth, Salazar faced runners on first and second with two outs. Holding a 3-1 lead, he hummed a 97-mph fastball past Brian Dozier for an inning-ending strikeout.
"I'll tell you what: That was more of the stuff we had come to appreciate last year," Indians manager Terry Francona said. "If he's gonna pitch like that, and move forward with it --- man, what a shot in the arm for us."
In the fifth, Santana launched his home run past the seats in right field and into the concourse for a 4-1 margin.
"It's nothing we haven't seen before," Swisher said. "The kid's got super light-tower power, man. He's a huge part of our lineup. We're really going to need him down the stretch, and I think if he just continues to do this, we're going to win a lot of ballgames coming up here."
Thanks to his trio of walks in the second, Salazar's pitch count ballooned quickly, and he was pulled after facing one batter -- Kurt Suzuki, who singled -- in the sixth. Reliever Kyle Crockett ended up sailing through the inning with some help from Jason Kipnis, who made an outstanding diving play to rob Fuld for the third out.
Minnesota was not done, however.
Brian Dozier knocked a solo shot to left -- his 19th of the season, a new Twins record for a second baseman -- off reliever Scott Atchison, and then Kendrys Morales lined a single to left two batters later. But Morales tried to stretch it into a double, and he almost avoided a tag by Kipnis with a nifty stop-slide but could not quite stretch to the bag in time to avoid ending the inning.
"We've been falling behind early, but at the same time, good offensive teams can find a way to scrape some runs together over nine innings," Dozier said. "But it just seems like when we get down early, we're not very good when that happens."
The Twins were poised to get a bit closer in the eighth when pinch-hitter Eduardo Nunez pulled a triple past a sprawling Murphy to the right-field wall. But Cody Allen entered for Marc Rzepczynski and struck out Chris Parmelee.
With Minnesota reliever Matt Guerrier on the mound in the ninth, Cleveland added four runs to its total on a pair of doubles by Swisher and Gomes, an intentional walk to Kipnis and a two-run single by Dickerson to left field. Santana added one more double to right, which scored Chris Dickerson.
The sequence cemented a win for Salazar, who played an important part in the Tribe's playoff run last season before slowing down significantly at the beginning of 2014. The starter collected six strikeouts against the three walks to keep the Twins off balance and run his record to 2-4 on the season.
"Today was better," Salazar said. "In the beginning of the season I was struggling a little bit with my delivery and everything. They sent me down to Triple-A to work on that, and I was working really hard. I got called back up again, and I tried to do my best out there."
Alex M. Smith is an associate reporter for MLB.com. Follow him on Twitter @asmiff. This story was not subject to the approval of Major League Baseball or its clubs.